360 Essentials: Top Ten Time-Wasting Websites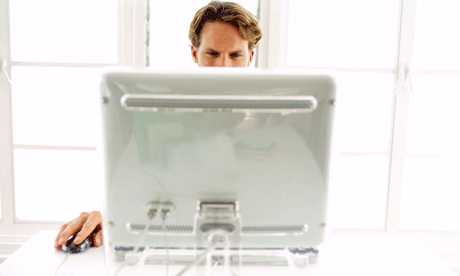 So you love surfing the web, finding videos of babies b iting their sibling's fingers,
fawning over pictures of 'the cutest puppy ever,' or what have you. We've
compiled a list of some our favourite websites to waste time on– when you're
not at work of course. Time flies; so start wasting!
FAIL Blog: If you're the kind of person that can't tear your eyes away from a
trainwreck; FAIL blog is for you. Hilarious mishaps, well-intentioned
disasters, and unfortunate slips of the tongue are documented and posted on
this user-generated-content site. We occasionally suffer pangs of guilt
about laughing at these debacles, but that is nothing compared to the pain that
we get in our stomach from laughing so hard. A warning to all: most of
FAIL blog's content is video. Even if you have a set of headphones, don't
think for a minute that you can watch these clips discretely at work. They can hear you laughing from the street.
The Onion: News junkies with a sense of humour love The Onion's brand of intelligence.
An extension of the printed publication, The Onion claims to be 'America's
Finest News Source,' and who are we to argue? Spoofing all the newsworthy
essentials, the extensive site features politics, economy, entertainment, world
and local news. Just remember, like with any other trusted news source;
take their stories with a grain of salt.
Awkward
Family Photos: This site is exactly how it sounds: filled with the most embarrassing
moments from thousands of childhoods. If you've ever stood
shoulder-to-shoulder in matching polka-dot outfits with your siblings, you may
have the perfect photo to submit. Many photos are submitted by someone in the
image, so we don't feel too bad about laughing at bygone fashion and
uncomfortable moments with the in-laws.
Zynga: Satisfy the gamer in you at Zynga. The social network game developer is
responsible for a slew of games such as Mafia Wars, Café World, and Texas
Hold'Em; keeping Facebook members occupied for hours. However, consider
yourself warned; some of the advertisers that you'll find on Zynga have been
accused of some shady activity; so as always, be savvy about giving out your personal
information to these sites.
Urban
Dictionary: Broaden your vocabulary at Urban Dictionary, which has five million
definitions of some of the best slang in the English language. Not your average
Merriam-Webster, this dictionary provides user-generated definitions straight
from the street. Our personal favourite use of this website is to find
out what the names of our friends really mean.
Trend Hunter: What's all the buzz about? Find out first at Trend Hunter. Let
the hunters do the hard work, while you browse the pages of micro-trends in the
world of business, fashion, art and design and much more. With daily
updates, you'll have your hipster friends coming to you for news on the next
big thing. Developed by Jeremy Gutsche, who is widely respected for his
ability to spot what's going to be hot, you can't go wrong by spending a coffee
break or two at this site.
Cracked: Cracked.com claims to be 'America's Only Humour and Video Site since 1958,'
which is a bold-faced lie…sort of. Originally a printed publication in
1958, Cracked was modelled after Mad Magazine. Recent decades of low readership
prompted the switch to their online venue. And although they aren't the
onlyhumour site, Cracked may be the only humor site that you'll ever
visit again. Their highly addictive articles often poke fun at our
collective misinterpretation of history. The immense number of droll 'bet you
didn't know' pieces will keep you laughing and learning for hours on end.
Rafael Rozendaal: Artist and webpage designer Rafael Rozendaal is responsible for Internet
treasures such as 'jello time' and 'deep black hole.' His main page links to
dozens of individual websites of the simple pleasure persuasion. Some
sites are interactive – scroll over the image or click and drag an object–
while others are simply great for sitting and watching while letting your mind
wander.
Dangerous Minds: The policy behind this eclectic website's quirky, thought-provoking posts is
very simply, 'take it or leave it.' Everything from socially innovative ideas
and pop-culture musings to unreleased songs find a place in this hotbed of the
new and interesting. You may not agree with everything posted on Dangerous
Minds, and frankly neither do they. However, the idea here is that in our
ever-changing world, innovative thought is presented for your
consideration.The site prides itself on its intelligent, attractive
readership, and who doesn't love being reminded that they are brainy and
beautiful; so jump on the bandwagon of Dangerous Minds.
StumbleUpon: Perfect for jaded websters,
StumbleUpon brings the surprise back to your surf. Go to the site,
download the toolbar and set up some personal preferences about what you want
to see on the web. Every time you click on the Stumble button, you will
be brought to a different webpage.With options to 'like' or 'dislike'
each page, the application adapts accordingly and specialises the Stumbles just
for you. You have the option of further narrowing your stumbles to pictures
or videos or stumbling through websites such as news sources and
Wikipedia. Seriously, we don't know how we ever surfed the Internet
without it.