A Foodie's Guide to: Setting up a Summer BBQ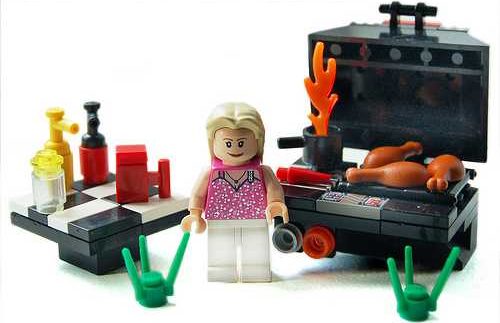 What's not to like about the summer? The daylight hours are longer, you
can wear shorts and sunglasses on the street, and suddenly the weekends are
like mini-vacations spent tanning on the beach. However, if you've developed a
case of midsummer event fatigue; then you may want to change up your repertoire
a bit. Get some coal, drinks and friends; and grill some meat.
Setting up a barbecue is not unlike organising a party. You need to
think about location, equipment and menu as well as the guest list. Don't make
yourself crazy and try to wing it. Make a list and ask for help. Or read on.
Location
While the venue for a barbecue is less important than the menu or the
guest list, it can help set the tone for the entire affair. A private beach or
backyard tells your guests it's ok to let loose, and they'll be running around.
Rooftops and Wadi Degla inform us that we're adults; horseplay is at a minimum
but there will be music and great conversation. Desert barbecues are not for
everyone and require a special bit of planning, since you're cut off from
civilisation and don't have a plan B if your ice has melted or you need more
coal.
Tools of the
Trade
Get yourself a nice grill. Things to look for are stability and space.
You want enough space so that you can accommodate more than a few pieces of
meat, and also so that you can manipulate the coals underneath by stacking them
from an area of high heat down to an area of low heat. This allows flexibility
when cooking and ensures even cooking throughout the meat. Cairo's hypermarkets
have very impressive selections of barbecue grills, both gas and coal powered;
but unless you've got a great backyard spread (swimming pool included), you're
better off getting the modest coal-powered versions.
You only ever need two pairs of tongs; one for the coals, and the other
for the meat. Both tongs should have rubber handles to insulate your precious
soft hands from the intense heat of the grill. Ebiary in Zamalek has an
excellent selection of kitchen utensils, and you would be wise to check them
out for any accessories you may need for the barbecue.
Every barbecue needs foil trays and paper foil to keep the food warm once
it's done cooking. Coal can be purchased at any local spice merchant. Stay away
from the self-lit coal; this stuff will add a gasoline note to whatever you're
cooking. It's a slower method, but light the coals on a gas flame (if
available) and use those coals to light the other coals. General rule of thumb
is about one kilo of coal for three people; you may have some leftover, but you
can use the dying embers to dance around like savages. Obviously, plates,
spoons and forks are needed; but you don't really need to hear that, do you?
Guest List
Vegetarians rightfully feel very out of place at barbecues– while
everyone else is chewing on a rib of beef and playing Frisbee, veggie-lovers
are sitting in a lonely corner next to a guitarist (there always is one)
singing 'Wonderwall' with a plate of bean salad in their laps. Be sure to take
into account the meal preferences of your guests; since it will inform your
menu planning.
And it has to be said: using a barbecue as a way to hook up/hit on/break
up can be tricky. Don't play cupid, stupid and stick to the plan: people, meat,
fire and not necessarily in that order.
Menu Planning
Ribs, chicken legs, hot dogs and hamburgers are by far the most popular
and reliable things to barbecue. Barbecuing relies on a slow cooking process;
so be sure to give the meat enough time to cook; nothing takes two minutes on
the grill. Metro markets and even some butchers actually have barbecue-ready
meats for sale; these are pre-marinated and can taste pretty good.
Chicken is a bit tricky: in the rush to get food out, most novices toss
a raw leg onto a burning hot grill and once it's charred call out 'Chicken's
done!' Novice, meet your new friend, salmonella. A neat trick to get around
this requires a little forethought and planning. Before the barbecue actually
commences, put all your chicken legs into a deep pan, and cover with barbecue
sauce. Cover with foil and put in an 180C-oven for an hour. Now when you're
barbecuing it, there is no question as to whether it's cooked or not. Just give
it a nice crispy char and serve it up.
Sides and desserts are very simple to make on a barbecue. Almost any
cairorevamp_user vegetable can be wrapped in foil and tossed into the coals, and retrieved
15 to 20 minutes later with great effect. Onions and potatoes are the most
popular options. Desserts are pretty easy; certain fruits lend themselves
wonderfully to barbecuing; just choose firm fruits that won't break down too
much from the heat of the grill. Slightly under-ripe mangos, peaches and
pineapples are perfect. Right before putting them onto the grill, just dust
them with some cinnamon or mint and cook until you get those wonderful grill
marks.
When the grill has died down, sit back, rub your belly and bask in the
adulation a great grill master deserves. You sir, are a living legend.