ByBike: A Q&A with the Street-Vending Couple Taking Cairo by Storm
You've probably seen them on Facebook – you might even have seen them on Instagram; and if you're lucky enough, you might have bumped into them in the street – we speak of course of Noha Magdy and Ahmed 'Majo' El Sherbiny. The plucky engaged couple have been the talk of the town in recent time for their novel sweet potato street-vending business, ByBike.
But as with most things that have come out of left-field in Egypt, Magdy and Majo have been a victim of their own success, with many questioning their motives. But as Cairo 360's Ramy Labib found out when he sat down with the couple, much bigger plans are afoot for this simple, humble, quirky entrepreneurial adventure.
How did ByBike Start?
Majo and I already had our full-time jobs, but we wanted to create some extra income for the two of us. He works in tourism and I manage a well-known optical wear brand. We've travelled a lot and became inspired by the many youth initiatives we've come by across the world.
When we started ByBike, the idea of a girl standing on a vending truck selling sweet potatoes with her fiancé or even buying from a vending truck was alien to so many people. So we weren't just launching a business, we were also going against the tide and the common belief that this is not a job for a woman.
How did your families react when you told them about ByBike?
Majo's parents were very supportive. My parents, on the other hand, were hesitant about the whole idea – especially because I told them about ByBike after Majo actually bought the bike. When we would start working from 9 PM and finish at 1AM, my dad was completely against the idea, because it's contradicting to our culture; but luckily, when I expressed to him how attached I became to ByBike, my brother [Ahmed] stepped in to save the day and supported us, even though we lose a lot of money because he eats our sweet potatoes! My family is now really proud of us; and they've become regular customers!
What's on ByBike's Menu?
Basically our main ingredient is Tabata, which is what we call our mashed sweet potatoes, in addition to dozens of toppings from seasonal fruits –including strawberries and kiwi—caramel, chocolate and berries syrups and many others. We also have a seasonal menu—which will not involve sweet potatoes – but it's still in the making.
What are currently your challenges with ByBike?
Besides the lack of sleep and having no time to prepare for our wedding, we were really disappointed by how some people manipulated our words and spread lies about the business. Majo and I are both financially secure and gathering money for our wedding through ByBike was not the main objective of this project, as has been mentioned on social media. This lie actually drove some people to go through our personal lives, gather our engagement photos and accuse us of fraud, but luckily this incident did not affect our spirit and determination.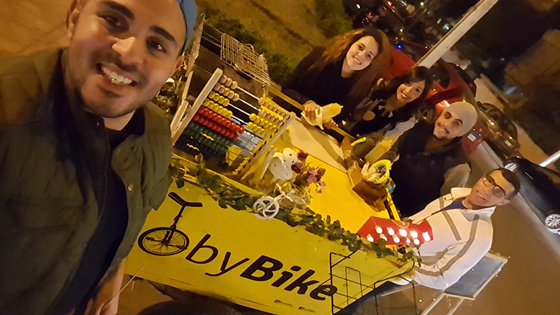 What's next for ByBike?
Our main aim is to legalise street food in Egypt. We also hope to become the biggest bike suppliers for those who want to start up their own street-vending business – we're receiving so many requests from people who want us to get them a vending bike. We want to help them with their marketing, their quality and their brand image. That's part of our long term plan.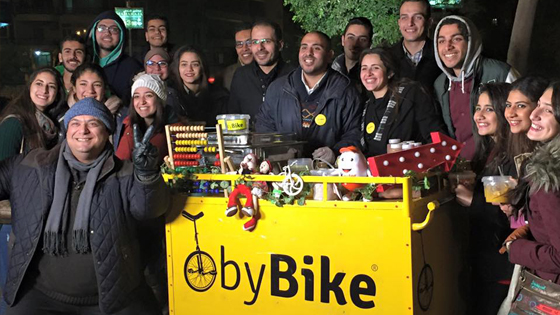 What steps are you taking to help legalise street-vending?
We're trying to use the media and spread awareness, because there are no laws supporting our initiative or any other on-the-go vending business – which is strange, because there actually used to be laws regarding street-vendors, which legitimatised the trade. The media is our biggest tool, but in the meantime, we're kind of worried the police may come arrest us anytime!
For more information on ByBike, check out their Facebook and Instagram pages.