Cairo 360 Editor's Choice Awards 2014: 'Lounging Around' Awards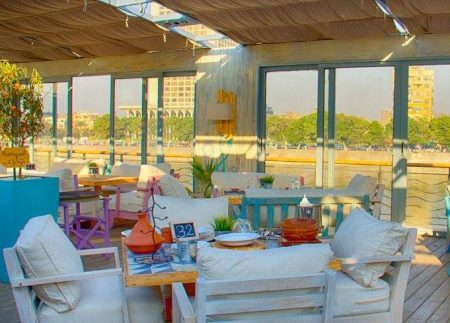 There are few things Cairenes enjoy more than lounging and loitering – it's in our DNA. We all have out our favourites, but whether with friends, family or with a member of the opposite sex, there are few places that excel in providing a unique socializing experience. This is, in fact, one of the toughest categories of the Cairo 360 Editor's Choice Awards, because all of the elements of the experience must be up to par – from the food and the service, location and comfort. You can forgive a restaurant's slow service if the food is excellent, but venues that fall into this category don't have that luxury. These winners provide a comprehensive experience and do so with style.
The Lemon Tree & Co. (Lounge & Restaurant Award)
Having opened earlier this year, the Lemon Tree & Co. has cemented itself as one of the trendiest – for lack of a better word – and hottest hang-out spots in Cairo. The Zamalek Nile-side bar/restaurant/ lounge serves up some excellent bistro-style dishes, shisha and an impressive collection of drinks.
Ney Lounge (Lounge & Restaurant Award)
Fairly new to Zamalek, Ney Lounge makes excellent use of its space – that space being an old, formerly-abandoned school. Simple, yet elegant, it provides comfort and respite from the usually busy and cramped Zamalek cafes.
Sequoia (Lounge & Restaurant Award)
So close to the Nile you could dangle your feet in it (but you shouldn't), Sequoia hasn't really changed over the years, but maintains a consistent barrage of patrons thanks to its unique location, décor and its all-round atmosphere. Even when busy, there's no place like it to kick-back and enjoy the view.
Left Bank (Lounge & Cafe Award)
Café, restaurant, lounge – call it what you will, Left Bank is an exceptional venue that provides the feel of a coffee house with the gastronomical intellect of a quirky, modern bistro. Whether it's a cup of coffee or a hearty meal that you're after, Left Bank doesn't disappoint.
Wel3a (Shisha Lounge Award)
You'd be hard-pressed to find a street in Cairo that doesn't have at least one – if not several – cafes serving shisha. Wel3a, however, infuses a little fun into proceedings with a restful, yet vibrant, atmosphere and a range of quirky shisha options.
For a full rundown on all the Cairo 360 Editor's Choice Award winners, click here.