Cairo 360 Editor's Choice Awards 2014: World-Class Hospitality Awards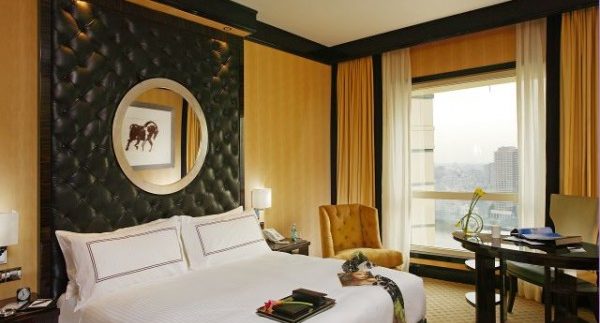 It's no secret that tourism in Egypt has suffered in the last few years, with the many hotels in Cairo suffering just as much as anyone else. But despite this, a few maintain a presence throughout the city with top-notch facilities, stunning restaurants, popular bars and perfect escape locations to enjoy a day in the sun by the pool.
The most accurate appraisal of these winners is that amidst the turmoil and uncertainty, these hotels have cemented their positions as the peak of luxury in Cairo, never wavering from the world class hospitality their frequenters have been promised and have come to expect.
Cairo Marriott Hotel & Omar Khayyam Casino
Built as a Palace by Khedive Ismail in 1869, the Marriott sites pretty in Zamalek with a rich history that surrounds tings through the walls and atmosphere. It's one of the few top international hotels that has maintained an authenticity without surrendering its top facilities and services.
Dusit Thani LakeView
Located in the rapidly expanding district of New Cairo, Thai hotel chain, Dusit Thani, brings that very specific type of eastern elegance to Cairo in a stunning location surrounded by lush greenery and some excellent restaurants and bars.
Fairmont Heliopolis
Housing a whopping eighteen restaurants, cafes and bars, Fairmont Heliopolis is as much a centre of dining and socialising as it is a hotel. With top facilities and a prime location not too far from Cairo International Airport, the hotel never stands still and is always looking for new ways to stay fresh and relevant, all the while maintaining typical Fairmont quality.
Fairmont Nile City
With a stunning Nile-view, its fantastic rooftop Sky Pool and some of the best dining and nightlife spots in the Cairo, Fairmont Nile City is one of the most popular and frequented hotels in the city – a standing that is paid testament to by the fact that it is a magnet for some Cairo's top performers and event organisers.
Four Seasons Nile Plaza
Boasting the largest spa in Cairo and just a small assortment of dining spots and lounges, there's a certain simplicity about the Four Seasons Nile Plaza that, unlike the gaudier tactics of its peers, gives the hotel a polish and effortless air that takes you out of the hubbub of modern Cairo and immerses you in a truly outstanding experience.
Four Seasons First Residence
Very different to its sister chain across the Nile, Four Seasons First Residence oozes a much more elaborate and intricate sophistication that is only further augmented by First Mall. There's a nostalgic luxury about the hotel that fuses local charm with the international-level facilities and services you'd expect of a Four Seasons Hotel
InterContinental Semiramis
One of the three Garden City hotels on this list the InterContinental Semiramis sits perfectly at the start of the Corniche going south, giving visitors easy access to Cairo's many attractions. With top facilities – including a huge rooftop pool area – and some excellent restaurants – including Cairo 360 Editor's Choice Award winner, Birdcage – the Semiramis is often irrationally overlooked.
JW Marriot Hotel
The newest hotel on the list, JW Marriott's location along the Ring Road hasn't stopped it becoming a popular hotel, with its top facilities – including a neighbouring golf course – making it one of the most in-demand hotels for events, functions and weddings. Three swimming pools, an eclectic range of restaurants and quality service round off one of the more modern hotel experiences in Cairo.
Kempinski Nile Hotel
With a heavy influence of European flair, Kempinski Nile Hotel combines the chic touches of a boutique hotel with the stateliness and quality of an international chain. Carrying the motto, 'Simple Things Done Beautifully', Kempinski's spa and Turkish restaurant, Osmanly, are particular highlights of themost unique and distinctive hotels in the city.
For a full rundown of the Cairo 360 Editor's Choice Award winners, click here.