Cairo Guide: A Walk on the Quiet Side in Maadi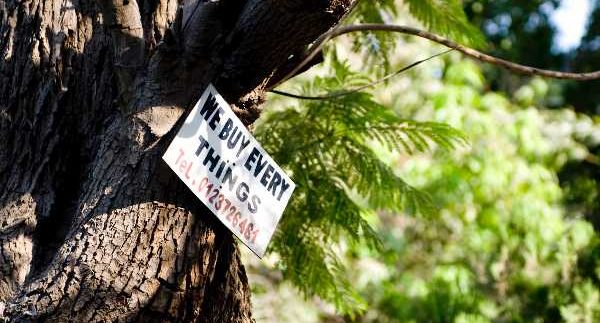 Admit
it: many of you non-Maadi residents turn up your nose at the mention
of Maadi. Those of us who call the neighbourhood home, however, enjoy a remarkable degree of peace, quiet and fresh(er) air on a daily basis. The
villa-laden neighbourhood is our closest version of a quiet suburb,
with patches of lush green lawns flanking quiet, tree-lined streets.
It has its fair share of elaborate villas, an expansive sports club,
and enough day-care centres to raise an army.
We
admit that Maadi is no party-central; in fact the social life here is
a bit like living on an isolated island. Not only does the rest of
Cairo seem intolerably far away, but the general mood is one of such
relaxation that Maadi locals have developed a notorious reputation
for being too lazy to leave the house. However, the key to enjoying
your time in Maadi lies in appreciating the relaxed pace and finding the
appropriate activities with which to wile away the lazy hours.
While
Maadi has expanded immensely in the recent years to include annexes
like Zahraa El Maadi and New Maadi, Old Maadi has maintained the
quiet, green streets that make for pleasant walks or bike rides.
Maadi is quite safe given the many embassies or diplomats residing in
the area, meaning that it's possible to go for a jog, ride a bike
or even take a walk on a late night without getting into trouble.
Rent in Maadi is comparatively cheaper than Zamalek, Mohandiseen and
Dokki, especially in New Maadi, Zahraa El Maadi and on Road 200. It's
recommended that you try several real estate agencies to compare
their prices, while regularly checking postings on the trees outside
Beanos and Greco on Road Nine, as well as in Volume One and Bakeer on
Road 209.
The
neighbourhood has several reputable medical centres, such as Degla
Medical Centre, which staffs credible and well-respected doctors for
your various medical needs. It also has several pampering options
such as N-Bar, Hammam El Talat and Tarek Nail Salon, as well as the
hair salons Butterfly and Hamada, all slightly cheaper than in
Zamalek.
With
enough shopping at Maadi
Grand
Mall and
Maadi Carrefour ,
indoor activities and cinemas at Bandar
Mall and
Family
Land ,
and a rumoured monopoly on Cairo's only genuine ice-rink (stay
tuned for our pending review), there's a lot to keep you busy. The
neighbourhood also has several attractive home accessories stores
(notably Cavalli Corner and Kartell) as well as La
Botega Italiana
and Le
Fromagerie ,
two delis that offer gourmet Italian and French food, dairy, spices
and sauces.
Besides
the usual coffee chains, Maadi is home to a few unique coffee places
that have become integral to socialising in Maadi. Greco
café
stands out as one of the best quality coffee-brewers in the Capital.
Its no-frills environment emphasizes the fact that its coffee
products are truly high quality, plus it opens as early as 8AM with
fresh muffins everyday. Be warned, though: rush hour generates long
lines at the coffee bar.
For
many Cairenes, late Friday brunches are traditionally held at Maadi's
cult favourite Lucille's ,
where queues of people from all over town wait up to an hour for a
table in the diner. Almost everyone has their regular order from
pancakes, omelettes and French toast to burgers and the American
classic breakfast burrito. Max's
is
a German-Egyptian restaurant that serves up a mixture of simple,
excellently-prepared European dishes, while Bua
Khao offers
seriously spicy South East Asian cuisine. Little
Swiss is
a cubby-sized delight of a Swiss-German eatery offering delicious
fondue.
Despite
housing a large expat community and some of the coolest people in
Cairo, Maadi has- for some obscure reason- failed at having one
self-respecting nightlife spot; the paltry three or so bars are slim
pickings for nightlife options. If you can't quite decide what kind
of evening you're up for, head to Villa
55,
marked by twinkling fairy lights strung around the Road Nine
entrance. Outside, the villa gardens are packed with low tables and
wicker chairs, perfect for lounging over a shisha. Downstairs, Pub
55
is quite a different story; it's a dark cave of a place, where live
music and a youthful crowd are featured most weekend nights. Red
Onion
and Boss
Bar
are both local, low-key dives that feature drinks by the pitcher and
a faithful expat following.
For
a look around a few local shops and cafés, take a jaunt down Road
Nine, beginning at the Metro Market where you will find Cilantro.
Don't be surprised if you see a fair share of cyclists,
sportswear-wearing pedestrians, and joggers along the avenues. If
you're planning to go for an afternoon jog, take a tour through the
canal streets, the area that runs parallel to Road Nine and all its
shady side streets, or Road 254, which is a good 2.5km-long and has
small parks and pavements for off-street running. If you're more of
a gym person, enjoy Samia Allouba's treadmills or work on your tan
at Gold Gym's rooftop pool. Take a cue from locals and use your
visit to the neighbourhood to stretch your legs and get some good
old-fashioned exercise. You can also enjoy Maadi by water; the
felucca port located near the TGI Friday's on the Corniche offers a
quieter, less heckled alternative to the more touristy Dok Dok spot
on the Garden City Corniche.