Cairo Guide: Life in Korba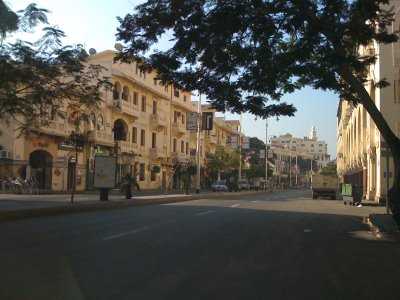 written by
Aleksandra Sekinger
One of the most attractive and exciting neighbourhoods
in Cairo, and perhaps Egypt,
is Korba, located in the Heliopolis
district. Built as a sanctuary for wealthy foreigners and aristocrats, the
earliest development of Heliopolis
was in the Korba neighbourhood during the early 20th century. Though modern-day
Heliopolis has
spread far beyond the limits of Korba, Korba remains its cultural centre. Modern-day
Korba is a quaint shopping district that boasts original architecture,
fascinating cultural sites as well as some of Cairo's finest cafés and restaurants.
Architecture
Korba is internationally renowned for its
architecture. The unique architectural design, commissioned by Belgian Baron
Empain, combines Islamic and art-deco styles. The elegant balconies and
spacious European-style sidewalks are located amidst buildings of stylised decorative
patterns, emulating the arabesque architectural tradition. Circular domes also
crown several of the buildings, enforcing the influence of Islamic architecture.
These styles unite further in their mutual regard for
geometric shapes. Columns, windows, domes and even air conditioning unit covers
follow a visually balanced ratio of shapes that lends an elegant, functional
and glamorous feel to the city. The heart of Korba is a walkable neighbourhood
of shops with antique francophone signs surrounded by villas, as well as old
apartment buildings with tremendous allure and architectural integrity.
In 2005, for the neighbourhood's centennial
anniversary, several buildings underwent major renovation. There are still
stringent laws about how the original architecture of the building or
foundation cannot be altered. This has allowed for the neighbourhood to maintain
a strong, cohesive visual narrative. Korba was recently beautifully captured on
film in Egyptian director Ahmad Abdalla's feature film Heliopolis,
as well as in the Canadian film Cairo
Time.
History & Sites
In 1907, Belgian Baron Empain began building
modern-day Heliopolis, a Cairo suburb that he envisioned would attract the
residence of wealthy aristocrats and encourage affluent foreigners to visit for
the day; entertaining themselves in parks, restaurants and shops. A tram
connecting Korba to Ramsis Square ,
which is still operating today, facilitated transportation to the wealthy
suburb.
Located on Orouba
Street , the Baron Palace
is the former residence of Baron Empain. The Palace was designed by French
architect Alexandre Marcel and was modelled after two Hindu temples in Cambodia and India . Unfortunately, the palace is
not currently open to the public, but it can be viewed from the street, and
especially from the side-street that faces the building's rear.
The Basilica of Notre Dame, a Catholic church on Al Ahram Street,
was commissioned by the Baron and is modelled after the Hagia Sofia in Istanbul . It's also where
the Baron was buried in 1929. Other antiquated places of worship include Saint
Maron and Saint Rita church on Beirut
Street as well as a Jewish synagogue on Al Missalah Street.
Many contemporary mosques lie on the outskirts of Korba, alluding to the once
harmonious fusion of the three Abrahamic faiths in the neighbourhood.
Dining & Nightlife
Korba is famous in Cairo for its dining scene. If the weather is
nice, head to Le Chantilly
to enjoy their outdoor garden space while you snack on their delicious fondue
and other Swiss delicacies. Don't miss the opportunity to try their delectable sweet
dessert profiterole suchard.
There are also several recommended cafés, including Harris Café, a
quaint place ideal for meeting up with friends or enjoying a light lunch. Don't
miss a visit to L'Amphitrion
if you're in Korba. As old as Heliopolis
itself, this restaurant was once a social hall for soldiers during WWII, as well as
a hip hangout for rich aristocrats and Mediterranean expats. One of Heliopolis'
popular bars Deals
is also located in Korba. This bar is great for an intimate gathering with
friends or a football match– and the prices are reasonable too!
But if all of this sounds too shi-shi foo-foo for you , and you'd rather kick it baladi-style,
Korba's got that too. Whether it's Ahwet el Sawaisa or Koshary Hind,
Korba also delivers up Heliopolis'
cheaper eats and hangouts.
Korba
Street Festival
Since its centennial anniversary and major renovation
in 2005, Korba has been holding annual street fairs on Baghdad Street. The festival takes place
in May, before Cairo 's
heat becomes unbearable.
The festival lasts the whole day from 10AM to 10PM,
and includes a parade, live music and various food vendors with interesting
international food and homemade crafts. There are also paints and chalks
available for children to play with. In previous years, Egyptian bands like
Wust El Balad performed and there have been puppet shows featuring songs by Om
Kalthoum. Unfortunately, the Korba Street Festival was cancelled in 2010 for
unknown reasons.
If you're looking for a fun activity for a free Friday
afternoon, have a walk around Korba. You're sure to fall in love with its
beautiful architecture, trendy shops and great eateries.