Cairo Guide to Life in Mohandiseen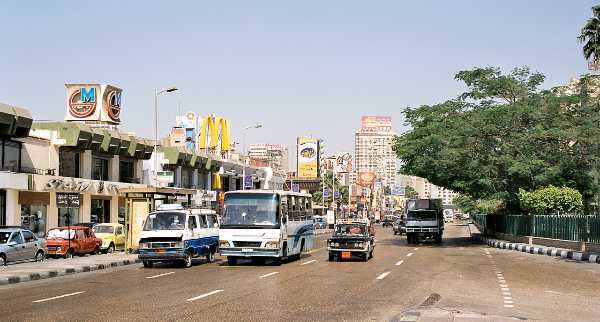 You may need
to scratch beneath the concrete surface of Mohandiseen to see the beauty of
this Cairo
neighbourhood. Having developed in the last 50 or so years, Mohandiseen is
known more for its wide avenues than its historic tourist attractions. However,
this neighbourhood has a lot more than state-of-the-art traffic lights;
Mohandiseen has streets lined with shops, a great café culture and a number of
quality restaurants.
Mohandiseen's
smaller side streets are packed with shops, so it's worth exploring the
neighbourhood for some unique boutiques or budget options, whereas the
neighbourhood's several main streets are lined with a vast number of popular
Egyptian brands as well as international names.
Geziret El Arab Street is
probably the best area to start a day of clothes shopping in Mohandiseen. where
names such as Tommy
Hilfiger, Massimo
Dutti and Nautica join the list of Geziret El Arab's high-end names. For anyone
looking to spend a little less for fashion, check out Bershka,
Pull
and Bear and Mango, or head to Ahmed Orabi Street for Egyptian department
store Omar Effendi. Sporting goods can
be found on Shehab Street
at one of Adidas several branches or the exceptionally well-priced Sports
Mall.
Mohandiseen
is a gadget geek's sanctuary with shops such as Compu
Me, Game Valley and Tradeline. Gamaat El Dowal Street even has a whole mall
devoted entirely to computers and electronics, where the prices of laptops and
sound systems are often negotiable.
Mohandiseen's
cafés include Cairo's
major chains such as Cilantro, Costa, Beano's and Cinnabon. If you're looking
for more than a cup of coffee, we suggest giving one of the neighbourhood's
many unique coffee spots a try.

Fratelli is
a great option if you're looking for a light meal with your coffee. It's a little pricey for a café, but it has a
great atmosphere. Beau
Jardin serves wonderful shisha, while Marsh
is a great spot for football and juice in the summer. Caracas
is one of our favourites in the area for its delicious food and great service
and Eros is a popular café during game time.
Mohandiseen has some delicious juice stands as
well, and we recommend the cocktail at Ganet
El Fawakeh Awlad Hesham or Toot Express. You may be tempted to stick with what you know when it comes to coffee,
but with names like Retro,
Zinc, Cloud 9 and Rasberry, how
could you resist Mohandiseen's charming and funky café options?
This
neighbourhood also has some of Cairo's favourite dining options. Neighbourhood favourites include Steakout,
where reservations aren't accepted, but the large portions of comfort food are
worth the wait. A number of seafood options are available in Mohandiseen such
as Samakmak
and Gandofli. For
foreign flare, we recommend the newly opened Essence
a Pakistani restaurant, Paxy's for
Korean barbeque, or Cedar's mouth-watering Lebanese cuisine.
Splurging at
a restaurant is not reserved to Cairo's
hotels: Mohandiseen has several upscale dining options. Charwood's
has delicious steaks and is a great spot for a special date. We love
neighbouring restaurants Kandahar
and Raoucha as well. The
former excels at Indian curries– the palaak paneer is a must– while the latter
gives Lebanese dining an elegant atmosphere. Cairo's
best-known sushi joint Mori also
has a branch in Mohandiseen, while Makani has a tiny
branch tucked around the corner from Syria
Street.
Mohandiseen's
budget restaurants are just as popular. Chicken Tikka is always
busy and Al Omda serves
Egyptian fare at a great price. El Tabei El
Domyati makes some of the best foul and taameya in Cairo. During Ramadan, this shop is especially
busy late into the night.
Unlike
Zamalek and Maadi, Mohandiseen isn't known as a great area to go for a stroll; so you have to hit the gym if you need a workout. Samia Allouba's very first branch is located
just off of Syria Street,
and recently a women's only branch opened next door. There's also Curves if all you have is 30 minutes to spare.
Men and women alike can build
strength at the Health &
Fitness Academy, but if you're
in the mood to be spoilt rather than svelte, check out La Rose Spa or Manuela Thai Spa for a
massage.
When visiting
Mohandiseen, we recommend taking a taxi. Parking is very limited in this part
of town, so unless you want to spend a lot of time searching for a spot or a
lot of money paying off parking attendants or policemen to unclamp your car;
it's best to avoid the hassle.
The
neighbourhood sees a lot of foot traffic too, and be aware that Gamaat El Dowal
has a reputation for street harassment.