Cairo Guide to Mosques in Ramadan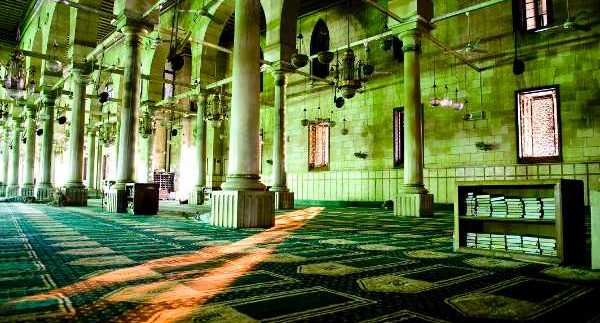 With Ramadan in full bloom, one of
the questions that many Muslims ask is: what is the best place for Taraweeh
prayer? Cairo 360 has compiled a list of some of
the most popular mosques in Cairo
for you.
Mohandiseen:
Most people living in Mohandiseen tend to venture towards the Shooting Club
Mosque during Ramadan. This mosque attracts such a large crowd, that large
areas outside the mosque's vicinity are taken over for prayers. One of the best
things about this mosque is that the number of men and women attending prayers
is almost equal. However, you should always remember to bring a prayer mat, and
that non-members have to pay 20LE to enter the club.
A smaller mosque in Mohandiseen is
the CIB Mosque on Mohy El Din Abul
Ezz Street . If you're after crisp sound quality
and a more intimate environment; this is the mosque for you. Sheikh Mohammed
Jibreel (a famous Koran reciter) is rumoured to visit this mosque often.
Zamalek:
This neighbourhood probably has the fewest number of mosques in Cairo. Your best option
is Al Rahma Mosque on Abul
Feda Street in front of Pizza Hut, where the
taraweeh prayers last under one hour and the sections for men and women are
well-ventilated with A/C and fans. On the other side of Zamalek, the Gezirah
Club's Mosque on the running track is a very popular destination, though its women's section is uncomfortably tiny. Be sure
to arrive before the call to the evening prayer, and park your car outside of
the club if you can, because it could take you quite some time to get out once
the prayer is over.
Maadi:
One of the oldest and most established mosques in Maadi is Al Farouq mosque
in Al Horreya square. Alternatively, prayer at the Maadi Club tends to
be the top preference for Maadi residents. It's best to bring your own prayer
mat and some water, as quite often, you'll have to pray outside due to the
large crowds. One of the best things about this mosque is that the sheikh tends
to take a short break between prayers, which helps you avoid sore legs. Another
mosque that draws the crowds is Al Sabbah on Al Nasr road, in front of Gandofli.
While this is quite a large mosque, it is best to arrive early as once the
mosque is full, people pray on the pavement. Last of all, Victoria College
Mosque in Victoria College
Square on Road 206 has two floors for prayers,
with an adequate women's section, and good ventilation of both A/C and fans.

Heliopolis:

The Abu Bakr Al Sideeq Mosque in Masaken Sheraton is popular among
younger Cairenes from as far as the 5th Settlement area, mainly due to its
consistency in excellent Koranic recitation and religious classes. It also has
a large open courtyard that's lined with fans as well as an air-conditioned
internal prayer section. One of the best features of this mosque is not only
the crowd and air-conditioning, but also the fact that it has a large parking
area, therefore offering a full package.
Residents of Korba should go to Turbo Mosque as it is dubbed by those
living in the area. Located next to Chilli's, the mosque's imam is renowned for
finishing prayers quickly. A prayer mat is a must-have for those venturing to
this mosque due to limited space.
Nasr
City:
If you're willing to brave the crowds and would like to pray at a mosque
named after an infamous Sufi mystic, then Rabaa Al Adawya in Nasr City
will become your Ramadan staple. It is best to take a taxi to this mosque;
parking there is quite a hassle on Al
Tayaraan Street.
5th Settlement/6 th October:
As for urbanising areas such as 6th October and 5th Settlement, landmark
mosques tend to take centre stage such as Al Hosary in 6th October. In
Katameya, the Andalusian-style Al Sahabah Mosque (in front of the GUC)
and the large Hassan Al Sharbatly off Road 90 tend to draw the crowds,
and are both air-conditioned. As these areas are less urbanised, you will
rarely need to bring your own prayer mat.
In Mokattam, the most popular mosque is Belal Mosque on Belal Road , mainly
due the fact that the Sheikh is said to have a heavenly voice. This mosque
often gets so crowded that people have to pray outside, which is why it
is wise to keep a prayer mat handy.
Old Cairo:

The best mosques for taraweeh are Al Azhar or Al Hussein Mosques
for Taraweeh; though they're not recommended for the faint-hearted. These
mosques are located in Islamic Cairo, and are surrounded by all kinds of
eateries. We'd recommend that you bring your own prayer mats here as both the
mosques tend to be crowded and also because the carpets tend to smell a little
mouldy. It's also recommended to arrive early to guarantee that you're not
pushed in by late-comers.
Finally, Ramadan wouldn't be complete without a visit to some more
traditional mosques. Head towards Cairo's first mosque, Amr Ibn Al As in Old Cairo or behind the Citadel
towards Al Reffai Mosque and Al Sultan Hassan for a truly
traditional experience. Once again, due to the popularity of these mosques;
it's best to come armed with your own prayer mat.