Cairo Neighbourhood Guide: Nasr City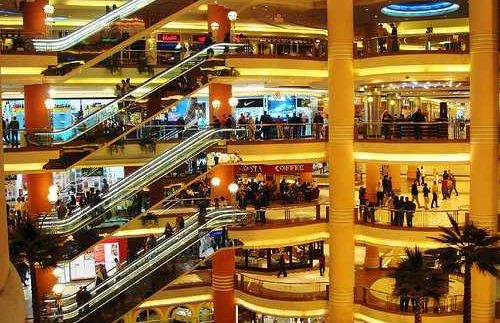 First rule of Nasr City
is: the traffic is crazy. Second rule of Nasr City
is: the traffic is crazy. There is a reason for the extreme congestion in Cairo's largest district,
and it is The Mall. Originally conceived as a suburb of Heliopolis,
Nasr City has swelled exponentially due to
the return of an entire generation of expatriate Egyptians from decades of
working in the Gulf. All this newfound money funded the high-rise apartment
blocks, and then informed the explosion of retail outlets over the past decade.
First and foremost is
City Stars; the largest mall in Egypt,
and if the advertising is to be believed, the Middle East (let's assume that Dubai doesn't count as part of the Middle
East). Boasting hundreds of stores, restaurants, over twenty
cinema screens, five levels of underground parking and the only Virgin
Megastore in Egypt;
it is the answer to the question first posed in the Jungle Book: What do you
want to do?
Yet the bacchanalian
orgy of consumerism does not stop there. Genaina Mall on Batrawy Street also boasts more of the same,
nixing Virgin Megastore for an ice-skating rink. Serag Mall at the end of Makram Ebeid Street
also has cinema theatres, but also boasts a labyrinthine layout and a wealth of
second-hand mobile stores and shopping options plying synthetic and Chinese
manufactured clothing for the spiritually and fashionably veiled. Anchoring Makram Ebeid at its other end, and five
minutes walking distance from City Stars is the City Centre Mall. Four cinema
screens and more mid-range clothing options are also on offer, next to the only
Starbucks in Nasr
City that's not located
in City Stars.
Oh, you thought we were
finished! Abbas El Akkad is not to be outdone, and right after the International Park, there sits the Wonderland Mall,
famous for its Renaissance Cinemas and attached theme park. And right at the
intersection of Abbas El Akkad with Nasr Street, there is the Akkad
Mall, where commerce has apparently gone to die. When it does die, look no
further than Tiba Mall; once a shining beacon of activity in its heyday fifteen
years ago, it is now deserted, awaiting reincarnation as an outlet mall
sometime in 2011.
In addition to the aforementioned
International Park, Nasr City also touts a second
large expanse of greenery on Makram Ebeid: The Children's Park. Across the
street from the park is the Middle East
Headquarters of the World Health Organisation, the Red Crescent Society and the
Arab Open University. At sunrise and sunset, you can see joggers of all ages
and physical types running around the park, a welcome and unexpected sight in a
district that relies heavily on the automobile.
Yet Nasr City
excels at providing some quality street food, an oxymoron though that may be.
Abo Ramy at the end of Tayaran
Street began as a modest cart selling liver
sandwiches, and it has since grown into a two-story restaurant serving
everything from shrimp sandwiches to sugared fiteer. The owners are also the
people behind Limozen,
arguably Cairo's
most progressive ahwa baladi, and serving up free Wi-Fi, good shisha and
satisfying café food in a testosterone-drenched atmosphere. Al
Ouda restaurant off of Mustafa El Nahas prepares some seriously delicious Palestinian
foul and taameya, and is worthy of making a special trip to Nasr City; the
other districts cannot even compare.
Upscale outings do
exist: the casino and restaurants at the Sonesta Hotel on Tayaran Street provide some high-rolling
entertainment, while the Intercontinental
Hotel at City Stars bring an element of refinement for those so inclined.