Cairo Neighbourhood Guide: Zamalek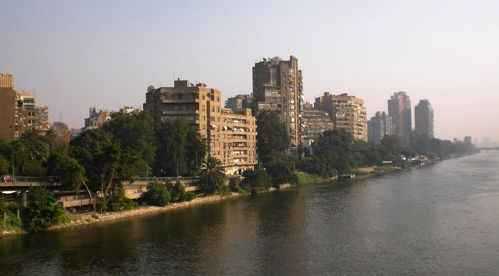 True fact: anyone who's lived on the island
of Zamalek long enough will find it very hard to leave. Zamalek is centrally
located, charming and lively, and full of boutiques and art galleries. With
everything in walking distance and the streets lined with trees and semi-decent
pavements, Zamalek is a shady, walk-friendly area.
Zamalek is also very safe. The
neighbourhood is divided by 26th July Street into two sides, both of which are
dominated by embassies, consulates and the residences of diplomats. So, there
are security check points on several street corners; which means that it's
quite safe to walk around on late nights. Plus, micro-buses and trucks are
prohibited from entering the island until very late at night, which means
traffic is a little smoother.
Where to Walk: While 26th of July Street is your basic downtown street with car
fumes, traffic noise and flashy shops, a detour to either side of the street
will lead you to shady streets full of beautiful buildings and old palaces. Abul
Feda Street is a great jogging route to take in the mornings (think 6AM to
8AM) before the morning traffic hits. Avid joggers take the street from Sequoia all the way until the Ahly
Club and then back again; it's a good 6KM or so run. Dog owners and joggers will love Gezirah
Club's running track, which mysteriously stops about 3/4 of the way and you
have to turn around and run back again. However, it is a social hot spot for
dog owners and dog lovers, and many a successful liaison has been made through
walking one's dogs. If you don't have access to the club, try the Gezirah Youth
Centre's 400-m running track next door for just 15LE.
The Best Views: Montazah Street is a quiet Nile-side street off Mohamed Mazhar, and
it's a popular couple's spot with the best ground view of the Nile and Nile
City Towers in all its splendour at night. Nile Zamalek Hotel's rooftop is another popular spot with ok shisha and cold
drinks, and an amazing view of the Nile at night. Sequoia has an unparalleled
view of the Nile from the other side of Zamalek, and you can dine while
watching fishermen boats float by.
Artsy Fartsy: there's always something artsy to do in Zamalek; because it's full
of art galleries, from the always busy Safar Khan to Lot 17. El
Sawy Cultural Centre offers concerts, exhibitions and workshops almost
every day, and a cool nile-side concert hall under the 15th May bridge. On the
tip of Zamalek, the Cairo Opera House offers classical concerts, operas,
theatre plays and ministry-sponsored art exhibitions.
Where to Shop: While Zamalek lacks malls and major brands (H&M, Zara, etc.), the
neighbourhood is full of charming little shops and boutiques, mostly focused on
clothing and home accessories. There's Villa Baboushka, 69, Loolie's, Mounaya, Ghazl Banat, L'Oiseau Du Nil, Katr El
Nada, Market Mix, Fostok, The Little Shop, Clara and Mom's, to name a few. The
Faculty of Art's stationery shop, Alwan, has the best art supply collection in
the neighbourhood, while Baraka Optics on 26th July Street offers the best
designer deals.
Eating Out: While
Sequoia is a popular evening lounge spot, locals head to Pub 28 on weekend
afternoons for family lunches or the Cairo Marriott's garden for a late Friday
brunch. L'Asiatique, Mori and Makani cater to our sushi craves, while Le Caire
1940 and Abu El Sid offer fine Egyptian cuisine. Sugar n' Spice
offers cupcakes for the sweet-tooth-inclined, while Mandarin Koueidar makes the
best frozen yoghurt with berry in Cairo. L'Aubergine and The Cellar provide
quiet watering holes, while Eurodeli and the Crave cater to easy, quick
and delicious bites.
Working Out: Visitors can use the Gezirah Club's facilities for 30LE (100LE for
foreigners) as long as they're accompanied by a member; and it's best to avoid
weekends as front-door policy seems to be tough on visitors. Try their Olympic
swimming pools, tennis courts or gym. FDA in Yamama Centre boasts two
floors of gym machines and equipments, as well as workout classes like
spinning. Otherwise, there's Ashtanga Yoga by Mira Shihadeh in her studio behind
Beano's, and several pilates instructors including Reform Pilates on Taha Hussein Street.
Where (Not) To Rent: Zamalek is the third most expensive neighbourhood to rent in after
Mohandiseen and Dokki. Don't bother
asking doormen if they have any vacant flats in their buildings; they're all in
cahoots with the area's simsars (real estate brokers), and you'll merely be
sent their way. Most simsars will take you to the Metro Market building complex
on Gezirah Wusta Street. If this happens to you, take our advice and run.
Although it's quite a popular choice for expats and year-abroad students, the
building is overpriced, dirty and unsafe at night with severely over-intrusive
doormen. We recommend ERA,
a professional real estate company that is contractually bound to find you
flats for six months if you don't like anything they show you. If you're
craving a Nile view or a prime location such as Bahgat Ali or Mohamed Mazhar,
be prepared to pay at least US$1000 and upwards.
Where to Park: Zamalek is notorious for not having any parking spots; so you'll
just have to be best friends with all the doormen in the area. Your best bet is
to double park and leave your key with a doorman or sayes (concierge), which
you can usually find outside a restaurant like Mori's, Abu El Sid, La Bodega or
The Crave. There's also an adequate parking spot under the bridge across from
La Bodega, while the area around the Cairo Marriott usually has free parking
spots. Word of advice: stop trying to park on Merashly Street in front of Café Tabasco. There's always some clamp-happy policeman lurking there, so try
and park in a neighbouring sidestreet. Since Zamalek is quite small and easy to
walk around, park your car wherever you can find a spot and walk the rest of
the route. Trust us; it's better than getting clamped.