Cairo Weekend Guide: Anniversary Celebrations, Crack the Case & Chocofest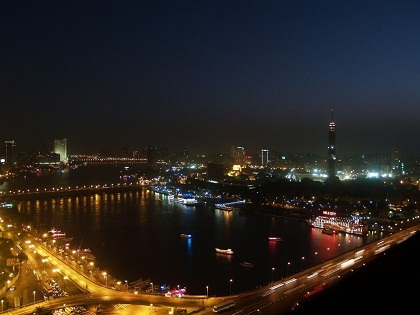 Hello Cairo!
It's Thanksgiving weekend and while we give our thanks to all our readers out there who help keep the train that is Cairo 360 chugging, something tells us that you're just as thankful to us for diligently bringing you the best of what's happening in Cairo, over and over again – right?!
Anyway, although Egyptians aren't too big on this holiday there's no reason you can't celebrate by enjoying a night out after stuffing your face with turkey (if that's what you tend to do). This
Thursday
, Tamarai will be getting down and dirty with this week's
Live
event; DJ Marwan brings a little alternative flavour to the evening with some never heard before beats.
Risas is getting in on the whole Bond thing (who isn't?) and are adding a little mystery with a secret case waiting to be opened by a magical key in
Crack the Case
; the more beer you drink, the more likely you are to find it – doesn't sound like a bad trade-off.
Massar Egbari
are gracing the Cairo Jazz Club stage this evening,
Salalem
are back in their usual spot at After Eight, and Sufi welcomes reggae and hippy singer,
Weam Ismael
. El Dammah Theatre hosts
Bedouin Band and Jerrycan
for a night of percussion, just before they go off on their tour of France, while
Cairokee
celebrate their 10th anniversary of making music, at El Sawy Culturewheel – whoop whoop!
A cultural evening may ensue if you choose to head over to the Italian Cultural Institute where '
Between Colours & Transparencies
' exhibition has been running since Monday. They will also screen '
Il Paese Delle Spose Infelici
'; a 2011 film about two men who become devoted to taking care of a suicidal woman.
Another exhibition that started recently is '
On Photography
' at Studio Viennoise, which commemorates the art of photography, celebrating the pioneers in Egypt.
More music comes in the form of Fayrouz Karawaya at El Genaina Theatre, who performs in memory of the children lost in the tragic school bus accident, and Oshak El Nagham – conducted by Mohamed Abdel Sattar – take to the stage at Cairo Opera House.
Friday
, aka everyone's favourite day, brings more musical performances with
Double Barrel
taking over Bikya Maadi and award-winning jazz musician,
Fathy Salama
, along with
Sharkiat
, doing their thing at Cairo Jazz Club – seems appropriate.
Start your night out with a screening of Yugoslav production '
Black Cat, White Cat
' at Sufi, or check out
Yara Mekawie
's experimental music at 100Copies Music Space in Downtown Cairo. Also celebrating their 10th anniversary are the
Riff Band
, who perform at MUST Opera House.
If a little more pump in your beats is what your heart desires on this glorious day, then head to Cavallini for
Circus
, which has quite an intense line-up of DJs waiting to hypnotise your ears and feet. Cairo Jazz Club also picks up the pace with
DJ Misty and DJ Hafez
spinning funky house.
More music can be found at Cairo Opera House, where Mohamed Hamdy conducts a
Chamber Music Concert
in the Small Hall, and
Abdel Halim Nowera
Ensemble perform classical Arabic songs at El Gomhouria Theatre. If you haven't had the chance to see
The Magic Flute
, tonight is your last chance.
On
Saturday
, the music continues with the daytime shindig,
White Party
, at Amici, which can't seem to let go of summer.
Dina El Wadidi and Dor El Awal
will be performing at Cairo Jazz Club, while
Yorka Band
blend Andalusian and western music at Cairo Opera House. Shaabi rappers,
No Comment
, are back at After Eight.
Seeing as Saturdays are always a good time to recuperate and shop, Nūn Center bring yet another one of their
Farmers Market
s, while the BCA in Maadi begins the festive season with their '
Shop for Xmas
' bazaar and Fairmont Heliopolis encourages all those brides to head to their Canyon ballroom for the
Wedding Festival
.
Saving the best for last, El Sawy Culturewheel has
Chocofest
, which runs until mid next week. Head over for their endless children entertainment and, of course, chocolate market.
Happy Thanksgiving everyone!