Cairo Weekend Guide: Concerts Galore!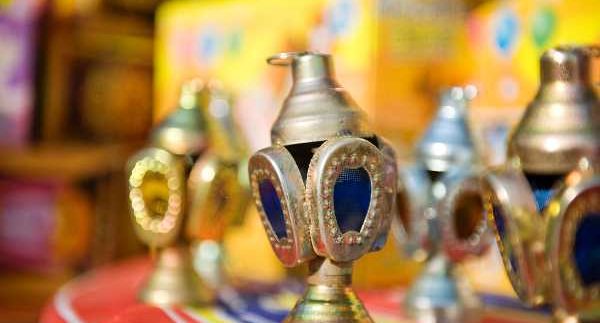 We've made it
through yet another sweltering and festive week of Ramadan. While many of us
are lagging under the fetars, sohours and humidity-inducing bad hair days, we'd
like to remind you that the fun is just beginning.
This weekend is looking full of musical festivity: This Thursday, Beit Al Harawi will host a concert
of Nubian music by Angelica Group,
Wikalat Al Ghouri presents a memorable evening of oriental culture with Oud Night,
and Beit Al Suheimi presents an evening of traditional songs.
For some modern flavour,
swing by Al Genaina Theatre to catch a concert by Fonkiat Donia,
led by Alexandria native Donia Masoud as part of Azhar Park's festive Ramadan
concert series. A stroll through the park makes for an excellent post-fetar exercise
and a perfect opportunity to appreciate the beauty of our Cairo skyline. Al
Genaina Theatre has a full house this Thursday with a performance by Macadi Nahas,
a Jordanian vocalist known for her unique style of reviving traditional music
with a modern edge.
If you're in the Old
Cairo area, don't miss Fathy Salama's
concert at Darb 1718. The gallery's Mawaweel Ramadan weekend begins with this
lively performance of acoustic percussion.
For some family-friendly
activities This Friday, Talaat Harb Culture Centre presents Puppets Theatre,
brought to you by the Theatre Art House. Escape the midday heat and take
advantage of the smooth prayer-time traffic to visit Darb 1718's ongoing
exhibit A Voice from the
Clouds ,featuring local artist Ali Abdel Mohsen's
unique sketches. Afterwards, you can participate in the gallery's Crafts Workshop and
Bazaar, where visitors can both view local art and
participate in creating their own.
Everyone has been
talking about the Ramadan football teams; here's the chance to get a place in
the grand tournament by E-Z Sports, in which 64 teams will compete for the
grand prize in their Ramadan Champions
League. Palm Hills' Ramadan Challenge 3 will also hold its competition practice, with separate events for men and
women's teams.
Saturday brings us more
music, with Station Band performing at the Darb 1718 stage, which also hosts a Tanoura
performance and theatrical performance More Than the Sea.
The weekend promises to
be bursting at the seams with music, theatre and more; so take advantage of our
beautiful city and its display of local art and talent, and above all, enjoy!