Cairo Weekend Guide: D-CAF, Live Music, Bazaars & Lots More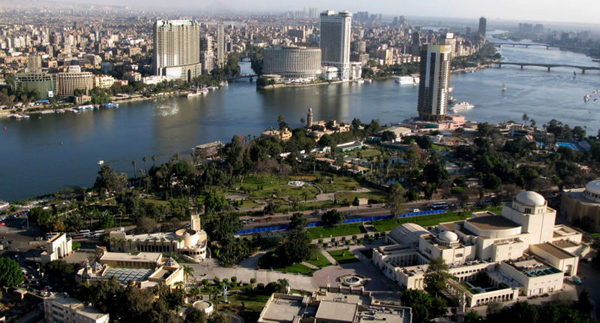 Hello Cairo!
Spring is well underway and though Sham El Nessim is just on
the horizon, we still have one more weekend to go in Cairo and the city, as
always, has a lot of great events to offer.
The Downtown Contemporary Arts Festival (D-CAF) continues
this Thursday with Lebanese visual artists, Munma and Engram presenting
their show 'Aegri Somnia' at the Radio Theatre, followed by DJs Sosta and
Shaawaza shaabi music and dance performance. The festival will also have the
screening of 'The Lost Film' at Townhouse Gallery and a visual theatre
performance of 'If I weren't Egyptian' at Falaki Theatre. OK OK and GuruGuru
will be at the Viennoise Space while 'I'm Not There' is showing at Townhouse
Gallery.
Another exciting event this weekend is Hallucinate ft Illuminate
show at the Mövenpick in Haram. Gaining
popularity on America's Got Talent, the group are sure to lighten up the city
with their eye catching performance. Damascus based Pressure Pot will be
playing their progressive rock matched with Arabic lyrics at
CJC, while Salalem will entertain with their funky sounds at
After Eight.
Get your dancing shoes
on and head to Dance Relief at Le Passage Hotel, which will feature DJs Toyboys
and Misty + Hafez spinning to the crowd from an inflatable dome. Yasso is still
the place to be with DJ Mokay bringing down the house; house music and r&b
are taking it head to head at Stilleto, with different DJs playing tracks from
their chosen genre.
If you prefer to have a
more cultural end to the week; conducted by Nayer Nagui, Tchaikovsky's Swan
Lake will be showing at the Cairo Opera House, where Aya Shalaby will also be
performing. El Mesa7a Art and Culture Center celebrates Indian Day with films,
food, music and bazaars.
On Friday, Jazz legend Fathy Salama will
play at the Radio Theatre as part of D-CAF, while Egyptian band Lel We
Ein will fuse the old and the new at After Eight. El Sawy Culturewheel has
another edition of Metal Blast with Wyvern, Karma and Blaak Yun taking to the
stage as well as a concert by eclectic band Foo2 2el Soto7.
Cairo Opera House
will host the Abdel Halim Nowera Ensemble, featuring oud player Safwan
Bahlawan, as well as award-winning soprano Iman Mostafa.
Picking up the pace, DJ
Omar Sherif is back in town and pleasing the crowds at Mojo, while DJ
Fabric is back at the turn tables of Melouk. DJ Feedo is playing his signature
r&b hits at Purple.
D-CAF is still going
strong this Saturday as the
Radio Theatre will host Nassibian Orchestra, Dijit and Maurice Louca for a
night of unbeatable entertainment.
It's the last day of
the Hallucinate ft Illuminate show so make sure to buy your tickets before it's
too late. For more live entertainment, head over to CJC for a night of music
with Basheer.
The Cairo Opera House is
bringing you the Cairo Symphony Orchestra for a mix of classical music and
Raw'a El Nagham for some Arabic music. 'Opera Manon', shot using state of the
art technology, will be screened in HD.
For some shopping, the
Glamour Bazaar is offering cool trinkets, clothing and accessories; a special
Muppet show will be available for the little ones. Le Passage Hotel hosts the 5th
Annual What Women Want… fundraiser where all proceeds will go to orphans with
special needs. Nūn Center in Zamalek continues to champion healthy eating with another Farmer's Market.
Art is all around this
weekend with ongoing exhibitions by Iraqi artist Anas Al Alousi at the
Chocolate Lounge; 'Anachrony' by Nermine Hammam continues running at Safar Khan
Gallery; as well as 'Hoopoe's Heart' by Ahmed Abd Al Karem at Picasso Art
Gallery; 'The True Story of Mohannad's Death' by Ahmed Sabry at Mashrabia
Gallery; and finally 'Paris' by Farghali Abdel Hafez at Zamalek Art Gallery.
Get out of the house
and enjoy the fantastic weather and endlessly engaging events that Cairo has to
offer!