With Sahel season taking its last breaths, Cairo is getting back on track with a long trail of events that are sure to keep you entertained during the weekend. Here's a glimpse of what's going on in the city in the next two days:
Thursday begins with a Sufi night at El SawyCulturewheel's River Hall, where Amer El Touni and his troupe, El Mawlaweya El Masreya, take to the stage, and at Alrab3 too, as local chanters, El Hadra, take to the stage for a round of religious tunes. It's an Africanfolk night at El Dammah Theatre, courtesy of Rango, while an Arabic contemporary music night at Darb 1718, for this week's edition of MazzikaXElSat7.
When the night grows older, DJunkie takes to decks for another edition of The Tap Maadi's Cheeseballs as DJ Feedo spins some hip-hop and R&B tunes at The Tap West. Tech house is on the menu at Cairo Jazz Club 610, courtesy of DJ Shiha and DJ Ashmawy, and at 24K, where Tech it Up Arena Vol. 01 sees a lineup of Ebbo, Mo Ashraf, Abu Rayyea, as well as Shams.
Other than music events, Roznama Studio hosts The Act of Conversing in a Space that Remembers; a two-day performance by local multi-disciplinary visual artist, Enjy Mohsen, while the Netherlands-Flemish Institute in Cairo hosts the screening of BalashTebosny, a comedy that follows a sex icon, who, oddly enough, refuses to perform an on-screen kiss, for religious reasons.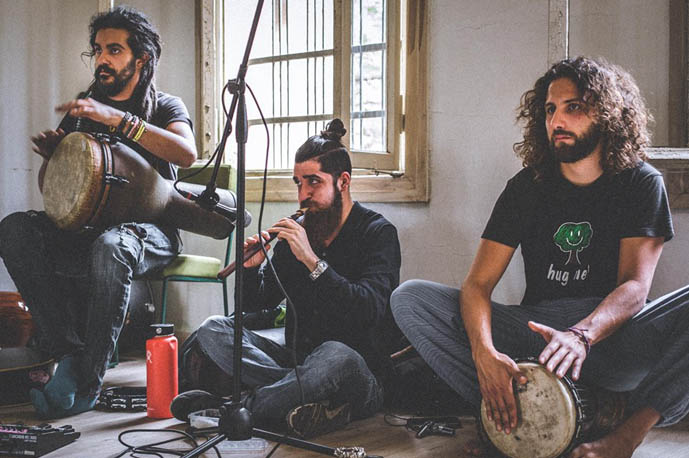 Yazan Sarayrah takes to the stage at Darb 1718, on Friday's edition of MazzikaXElSat7 (Photo: Yazan Al Sarayrah / Facebook)
On Friday, Waslet Sama' sings some spiritual tunes at El Sawy Culturewheel, Sol Diese take to the stage for a Flamenco night at ROOM Art Space, while Rouh Project takes to the stage of Alrab3 for a round of Oriental fusion songs. This day's edition of Darb 1718's MazzikaXElSat7 welcomes Yazan Sarayrah to the stage to play an acoustic loop of Arabic contemporary songs, while Yellow Umbrella, in collaboration with El Saginy Riding Club, hosts Retro Picnic, where food meets musicthanks to local band 199X.
Pink Floyd fans are lucky this Friday, as two local Pink Floyd cover bands take to the stage; Paranoid Eyes take to the stage at The Tap Maadi, while Andromida take over at El SawyCulturewheel. Elsewhere it's an Oriental night at Gu Lounge, where Mustafa Haggag takes to the stage alongside a belly dancer, and at 24K too, where belly dancer Aziza shakes it to the beats of DJ Sary on Cabaret Night.While Cairo Jazz Club sees the duo, Aguizi&Fahim, taking to decks for a house night, Cairo Jazz Club 610 hosts a hip-hop and R&B night, courtesy of DJ Feedo.
As for Saturday, Mahmoud Helal sings some spiritual night at El Sawy Culturewheel, while local band, Janan, take to the stage at ROOM Art Space for a pop/rock night. Alternatively, local band, Salalem, takes to the stage for a round of Arabic songs at Cairo Jazz Club. The weekend fades away with several acoustic nights around Cairo; Toasted Kings play some rock at The Tap West, Adam Daoud sings some popular covers at The Tap Maadi, while Hamed El Sayeh sings some originals at The Tap East.
That's just the tip of the iceberg, check the Cairo 360 Events page for more things to do and places to go this weekend.