Cairo Weekend Guide: Festivals, Live Music & More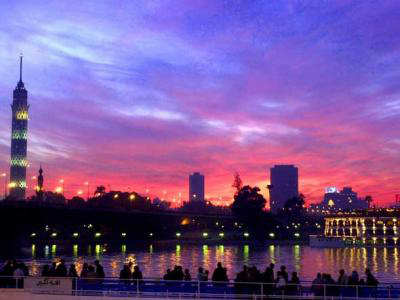 Hello
Cairo!
Is anyone
else feeling a little anxious about how early it's getting dark in Cairo? Is
summer really over? When did it all slip away? When will it be back? Will it
ever be the same again? Is this totally and completely rational panic a result of
a foreseeable bout of seasonal affective disorder? Are Cairo's medical
facilities fit to deal with this inevitable pandemic?
Embrace the
darkness, Cairo; lurk, loiter and loaf the streets of the city, enjoying what
this brilliantly unpredictable and fickle metropolis has to offer.
As per
usual, Thursday sees popular indie-pop band, Salalem, perform at After Eight in
Downtown Cairo, while across the river in Zamalek, Nile FM's DJ Feedo unleashes
the best r&b and hip-hop on the masses at Opium. One more hop across the
river finds soft rock band, Wust El Balad, on stage at Cairo Jazz Club.
Of course,
there's also this year's Citadel Festival for Music & Singing, which enters
its second day with performances by marimba player Nesma Abdel Aziz and singer
Marwa Nagi at Salah El Din Citadel. Meanwhile, Cairo Opera House welcomes Gamal
Bekheit as part of the festival's 22nd edition for an evening of
poetry and music.
El Sawy
Culturewheel hosts two of the most promising young bands in Cairo as Ta7abeesh
and Karakeeb both perform. Oriental music-purists can catch El Tanboura's
simsemeya and damma music at El Dammah Theatre in Downtown Cairo, while budding
filmmakers may find inspiration at Cimatheque's screening of the 48-Hour Film
Project's collection of shorts. Taking place in Beirut, the initiative
challenged amateur filmmakers to create a piece in the timeframe of a single
weekend and the results were impressive.
In one of
the standout events of the weekend, hip-hop collective, Arabian Knightz,
celebrate the release of new album UKnighted States of Arabia with a big bash
at Swiss Club.
There's
more; the Thai Festival continues at Dandy Mall, offering Cairenes a week of
Ram Thai performances, Muay Thai exhibitions and some authentic Thai nibbles.
The Citadel
Festival continues on Friday with a performance by the hugely popular
Eskenderella, who will be followed on stage at Salah El Din Citadel by Magd El
Kasm. Over at Cairo Opera House, veteran performer, Mahmoud Darwish, leads his
acclaimed group of rag-tag musicians in concert.
At the
other end of the music spectrum, El Sawy Culturewheel's perennial Walls of
Death metal-fest explodes with performances by Cairo's best and grungiest. Also
in Zamalek, Sufi serves up a slice of Americana with a performance courtesy of
Ryan Harvey, as part of the political folk singer's Occupy and Beyond Tour.
Elsewhere,
Red Beats stars, DJ Baher Eid and DJ Moniem let loose at Cairo Jazz Club with a bill
of techno and funk. In a pleasant, conscientious change of pace, Darb 17 18
hosts DEMENA's Recycling Festival. The day-long festivities bring together
Cairo's local green initiatives for a meeting of minds that will be brought to
a close by a performance from the quite brilliant El Zabaleen.
Saturday
ends the weekend with smorgasbord of
events, including a double bill of music at Cairo Jazz Club with debuting rock band,
050, and the always irresistible Nubian-inspired Basheer.
The Citadel Festival continues to champion Arabic music as the Cairo
Celebration Orchestra perform at Cairo Opera House, while oriental band, Manak,
are followed by musician Tarek Fouad at Salah El Din Citadel.
As part of their mini-tour of Cairo, Beirut hip-hop group, Fareeq El
Atrash, and Cairo's very own Deeb perform at El Genaina Theatre, while El Sawy
Culturewheel hosts 'Stories in Sand'; one of the more unique events of the
weekend. Performance artist, Andrew Fahim Magdy, tells his fables through the
medium of sand-art.
Speaking of art, 'Dance of Life' launched this week to at Cairo Opera
House to coincide with the release of the book of the same name. The
photography exhibition showcases Coucla Refaat's adventures in Thailand. Friday
will be the last chance for Cairenes to see Cala Art Gallery's 'Ramadan Kareem'
group exhibition.
Have a great, sunny weekend, Cairo!