Cairo Weekend Guide: Food Africa, Creative Industry 2015, Live Music & Much More!
Hello Cairo!
Mother Nature continues to tease us with unpredictable weather in the capital, but with beach season all but here, no number of surprisingly chilly nights in the capital is going to deter Cairene sun-worshippers from hightailing it to the country's beaches. In the meantime, though, Cairo has plenty to offer, across parties, live music, art and more.
On Thursday, event organiser, LaidDaze, returns with Back in the Daze and a line-up that includes Sebzz and Christoph at Zamalek's Riverside, while Downtown bar/art-space, VENT, hosts a night of top house and techno cuts with AMR* and Tamer Auf.
Meanwhile, Alexandrian favourites Massar Egbari return to Cairo Jazz Club for a night of Oriental jazz and blues fusion, while Korba bar, the Garden, hosts a night of hip-hop and r&b with DJ Mobbz at another edition of We Funk.

Mass Egbari are on a hot streak following the recent release of their latest album.
Elsewhere, versatile DJ, Man-O, provides an eclectic selection of music at Maadi bar, the Tap, while Heliopolis nightclub, Cavallini, goes all out with a no-nonsense commercial house music night.
Away from music, vendors gather for Food Africa at the CICC; an international trade exhibition for food and beverages serving Egypt and the African markets. The exhibition is on until Saturday, for more information, click here.
On Friday, Nader Tahawy and Omar Sherif take to the CJC decks for a night of indie, deep and tech house, while Riverside host Greek superstar DJ, Saccao, and local favourite Shady Ezz for this week's edition of Riverdeep.
VENT host a massive techno night titled Tagmageddon featuring $$$TAG$$$, Mostafa Onsy and Hassan Abou Alam, while the Tap hosts local rockers, Screwdriver, for a high energy night of music.

Co-founder of VENT, $$$TAG$$, heads a special night at the Downtown venue.
In one of the biggest events of the weekend, meanwhile, Creative Industry 2015 takes off at the Greater Cairo Library, featuring speakers from the fields of design, advertising, marketing, branding, fashion and film, with the second annual edition featuring workshops, seminars and more for two consecutive days. For more information, click here.
Vintage Bar & Lounge invites one and all to its special Karaoke Night, while Cavallini channel all things Levant for Lebanese Night.
On Saturday, unique oriental brass band, El Nafikha, take over the CJC stage for the Saturday wind down, while Shady Ahmed performs a selection of acoustic numbers at the Tap.
Mashrou3 Al Mareekh returns to Darb1718, meanwhile, with an open-mic night where everyone is encouraged to participate, while alternative Egyptian band, Black Theama, perform at El Sawy Culturewheel's River Hall.
As always, there's plenty of art around the city, too. Catch the expressionist group exhibition 'Directions' at Picasso Art Gallery, featuring works by Nazli Madkour and Amani Abd El Bari among others, or catch the abstract-expressionist exhibition exploring themes of contemporary Egyptian life by Ali Nabel Wahba at Al Bab Selim Gallery.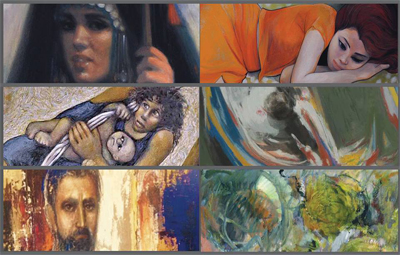 Some of the piece on show at Picasso Art Gallery for group exhibition, 'Directions'.
Other exhibition this week include Islam Zaher's 'Pink & Lamentations' at Gallery Misr, and the 'The Forbidden' by Yasser Nabaiel and Weaam El Masry at Art Talks.
All of this and more is going on around Cairo this weekend. For the full run down, check out Cairo 360 events calendar. Happy weekend!