Cairo Weekend Guide: French Electronic Music, Retro Arabic Pop & Revolution-Inspired Art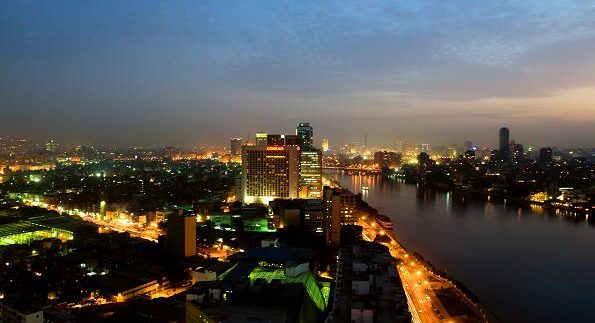 Hello Cairo!
It's been a tumultuous week; one that
has understandably stalled the city. We've said before though, and we'll say it
again; you can't keep Cairo down! Feast your eyes on this weekend biggest
events.
Thursday night has has served up a treat
for Cairenes, starting with Fathy Salama and his group Sharkiat, as they deliver a smooth
acoustic, jazz-infused night at Cairo Jazz Club.
Clubbers are in for a good night as some of
best DJs are out to play. We're excited about French DJ and producer Chloé,
whose minimalist electronic house music goes hand-in-hand with the music of
chicken-head-wearing NeoByrd. Both will perform tonight at the French Institute
in Mounira.
The Nile will be noisier than usual as DJ
duo Nadzie and Maykoul perform at Yasso Lounge in Giza. Across the other side
of the river in Zamalek, DJ Tony's commercial house and hip-hop will light up
Opium.

In a change of pace, influential author
Alaa El Aswany will host a seminar discussing post-revolution Egypt at El Sawy
Culturewheel- one of the few events that the Zamalek venue hasn't cancelled
this week.
If you think that's an impressive line-up,
then Friday holds more than a few surprises, starting with Nacelle at Yasso
Lounge, whose special guest this week is DJ and singer extraordinaire Ashibah.
Meanwhile, the one and only DJ Aly B is at Cairo Jazz Club for a night of
tech-house tunes, while Zamalek is
holding its own with DJ Feedo at Purple and a Arabish House Mafia at Opium where
partygoers can enjoy the cream of Arabic music from the last twenty years.
In Downtown Cairo, DJ Meto will get the
party started at After Eight, while El Sawy Culturewheel will host a
performance by popular Egyptian singer Akmal and the latest in a line of Al
Jazeera documentary screenings.
Saturday will definitely be the day for
recuperation and a night of smooth rai music from the brilliant Sahara may do
the trick at Cairo Jazz Club. Elsewhere, Arthropologie in Zamalek will screen
Charlie Chaplin's classic 1921 silent film The
Kid. Alternatively, why not head over to Wikalet El Ghouri in El Hussein for
some magical music combined with traditional dance performed by El Ghouri
Tannoura Dance Group.
As always, there's plenty of interesting
art exhibitions around the city, including 'Politica' by Ahmed Kassim at Safar
Khan Gallery in Zamalek. Our reviewer was impressed with Kassim's humerous and ballsy
critique of government. Similar themes are echoed in 'Bahgory on Revolution' at
Al Masar Gallery- also in Zamalek. Over in New Cairo, Nashwa Art Store hosts
Shaimaa Aziz's newest collection 'Special Characters'.
There you go Cairo! Stay safe and have a
great weekend.