Cairo Weekend Guide: Future Shorts, Chef's Table Cairo & the End of the World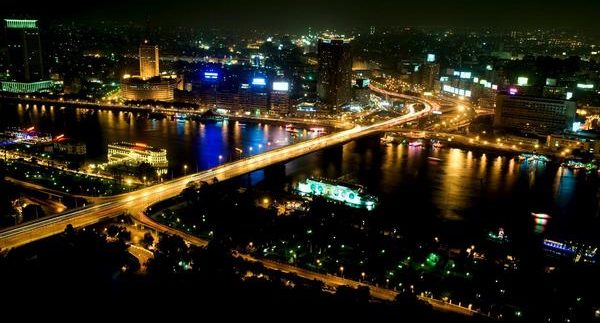 Hello Cairo!
So this is possibly our last weekend on this earth. Well, we had a decent run,
right? Now is the time to make peace with our enemies, tell our friends and
family that we love them and, of course, grind down the planet with one last
hurrah.
Thursday sees Awesome Magazine put together a little End of Days Party at the Nile Maxim, where
members of indie bands, Foals and Friendly Fires, take to the decks for DJ
sets, before real DJs, Tamer Auf and the UK's Klady, show them how it's
really done.
Elsewhere, the Fairmont Nile City's
Saigon Restaurant & Lounge hosts a special Christmas performance by jazz
specialist, Ahmed Harfoush. Also at the Fairmont, O Bar hosts
House Arrest, where this week, music comes via DJ
Louli, DJ Shaggy and a special performance by sweet-voiced Shaima.

More live music comes courtesy of Swiss musician, Sandro
Schneebeli who is joined by Oriental jazz group, the Egyptian Connection, at
Makan, while Michelle Rounds is back this weekend at the Kempinski Nile's Jazz
Bar.
Meanwhile, local favourites, Wust El Balad, are set to perform at Cairo Jazz
Club, while jazz pioneer, Yehia Khalil, is live at Cairo Opera House.
Christmas is all but here, and the
Nasr City branch of Bikya is hosting a Christmas Bazaar for last minute gifts, seasonal
treats and some carol singing! One of the more exciting events tonight will take
place in Cairo Opera House, where a production of classic Christmas opera, 'The Nutcracker', begins a short run.
There are more festive activities on
Friday, as Designopolis hosts a Christmas Flea Market, while Downtown Katameya
will be run with nervous Christmas shoppers at Jingle Bells Bazaar.
But tonight is overwhelmingly dominated by the possible end of the world;
Cairo's venues love a good gimmick and naturally, there's no better gimmick
than that of worldwide devastation, destruction and death.
We begin the fear- mongering at
Cairo Jazz Club's Dance Apocalypse, where DJ MMohasseb will soth
your troubles with a naturally soothing night of house music. Meanwhile, DJ
Moro and DJ Abou-Funky (best DJ name in Cairo) fuse Oriental, Latin, house,
r&b and reggae tracks at Berytus Pub's End of Days Party.
On a less morbid note, 100Copies
Music Space brings more of Cairo's best underground musicians to the limelight,
with a double bill of live music; an experimental audio-visual performance by Mohamed Abd El Kareem, before electro act, Dubosmium, takes to the stage.
There's more live music at Sufi,
where acoustic rock-folk band, Yadayn, perform. Elsewhere, Talta Talet are live at After Eight, while El 'Assifa – led by actor, Khaled El Sawy –
perform a rare gig at El Sawy Culturewheel.
There's more than music and mindless
parties this weekend, though. Pop-up film festival, Future Shorts, returns to Cairo for two days of
screenings at Bikya in Maadi, launches tonight, while the latest in the 'No Time for Art' series takes place at Rawabet
Theater.
Saturday brings us more Christmas cheer, as 1.2.3 Soleil in Dokki
hosts a special children's Christmas party – one that includes another
performance of Alumni Community Theatre's 'Dinosaur Play'. More festive fun is to ensue
around the city, with Christmas events taking place at First Mall, Beymen and Le Pacha 1901.
But it wouldn't be Christmas without
overeating, and that's the order of the day at Cellar Door Bistro in Maadi,
where travelling, pop-up fine dining event, Chef's Table Cairo, sets up shop at the Maadi
restaurant.
The Future Shorts Film Festival continues into its
second day, but that's not the only place you can find film screenings. Spurred
by the success of their perennial film nights, Sufi has put together a Film Festival of their own, with a program of the
best screenings of the year.
As always, they're plenty of live
music around, as influential Egyptian musician, Ahmed Rabie, takes to the stage at Cairo Opera
House and Cairo Jazz Club hosts performances by Dina El Wadidi and Sahara.
Remember, this is just a snapshot of
the events in Cairo this weekend; checkout the Cairo 360
events calendar for more live music, art exhibitions, Christmas
events and more.