Cairo Weekend Guide: Happy July 23rd!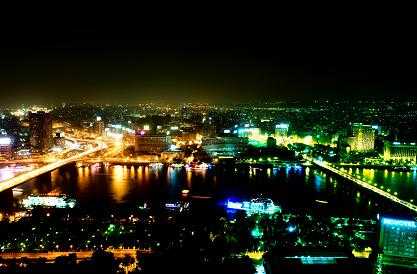 The weekend
is here at last!
With a mass
exodus to the North Coast every weekend, Cairo almost feels like a ghost town,
which, if you're anything like us, is a good thing. There's nothing quite like
a quiet, languid day by the Intercontinental City Stars Pool or a walk in Al Azhar Park followed by lunch at the Lakeside Café.
Weekends are also a great time to pummel your body back into shape, whether it's
with a spot of yoga in Downtown or with a relaxing pedicure at the N Bar in Maadi.
Men with bad cuticles, rejoice! The nail salon has opened up its first men's-only nail salon, The Grooming Lounge on El Lasilky Street– look out for our
upcoming review!
A good way to
stay out of the tarmac-melting hot sun is to head to the nearest mall and
exploit the ongoing summer sale. While most fashion chains in City Stars are
decked out in the red Sales sign, pricier boutiques are taking their piece of
the discount pie: fashion boutique Hip is offering up to 50% off its summer collection, including items by Lanvin,
Phillip Lim and Anna Sui. Turkish fashion department store Beymen is offering
up to 40% on all items including designer beachwear, while Ghazl Banat boutique
is offering up to 50% on its collection that includes Twenty8Twelve and Frankie
B. Jeans.
While
nightlife may have simmered a little for Egypt's hottest months, the Capital is
full of concerts, art exhibits, poetry performances and more. Start Thursday,
July 22nd off the old-fashioned way: on the dance floor, where Exodus is performing at Cairo Jazz Club.
More of a spectator? Wust El Balad's lead vocalist Hany Mostafa will play an acoustic show at Sawy Culturewheel, while
Banadra and Salalam will bring their
traditional folkloric music to Al Geneina Theatre.
On Friday
Night, DJ Amir Sharara will make his
electro-house magic at the Cairo Jazz Club, while over at Al Geneina Theatre, a
performance by Mohamed Mohsen and Band brings
more local flavour to our weekend.
If you'd
rather simply kick back and revel in the relative calm that comes with a summer
weekend in Cairo, why not dress up and treat yourself to an evening at the sophisticated Ambassador's Club at the
Intercontinental Semiramis– smoking jacket optional. Carmen's Pub serves a reputed Euro-Spanish evening of socialising
in Zamalek, while Bon Bini makes for
a pleasant evening by the Agouza Nile. If you're not shy about your love for
protein, Carnivore serves up Kenyan
barbecue fit for royalty, with a splendid Nile view to boot.
If you're
among the lucky few who get to enjoy a long weekend due to our June 23rd
holiday, don't worry, we won't hate you. We even have a free night for two for
you to enjoy at the Cairo Marriott Hotel in Zamalek.
Take a dip in their grandiose pool, enjoy their massive continental breakfast
and sink into their silky-soft sheets, all on us! You can thank us later. With cookies.