#DaWalaDa: Who Are Berry Man & Peach Man?
You must have seen them by now. Be it on your social media feeds or out in the streets – yes, we speak of the mysterious tandem, 'Berry Man' and 'Peach Man'.
Ok, hold on – let's rewind for a second. Some weeks ago, two colourfully masked fellows were spotted up and down Cairo carrying a message – one that urged Cairenes to 'choose' either peach or berry. It's something that led to a huge divide in the Cairo 360 office – one that still exists today – when we received a mystery crate of, you guessed it, peaches and berries.
Deliciousness aside, the fruit came with the same message that has flooded social media since the fruity men (yes, we know how it sounds) descended on Cairo – #DaWalaDa.
So, which one? Well what that 'one' is for remains a mystery to the masses and has spawned several guesses at Cairo 360 headquarters – some more ridiculous than others. Some believe it to be a campaign to decide Egypt's national fruit and others are under the impression that it's an art piece, while a few have even convinced themselves that we're all living some kind of weird collective dream – yours truly included.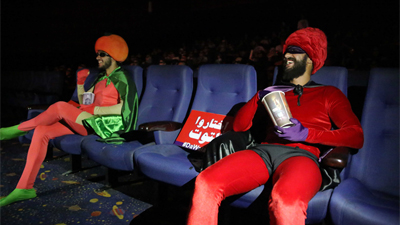 Whatever the case, more mysterious rumblings have suggested that we will find out more soon. Until then, stay tuned.