Eid 2014 in Cairo: Enjoying the Holiday at the Top Cairo Hotels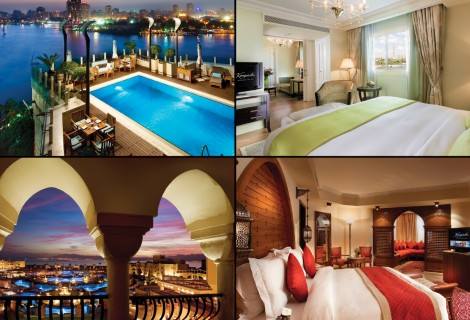 As half of Cairo embarks on trips to the North Coast, the Red Sea and other seaside destinations for the long Eid holiday, there will, inevitably, be a few stranded souls left in the capital, growing more and more bitter at the lack of sun, sea and sand in their lives right now.
But to that we say turn that frown upside down! No? There's not much anyone can say to console the poor souls that will be forced to scrounge for amusement as tumbleweed rolls across many a Cairo street – but there is an alternative.
The city's many world-class hotels always get into the spirit of Eid and this year is no different, with a range of offers, deals and packages tailored to make you escape the hustle and bustle of the city without ever leaving it.
Conrad Cairo Hotel
There's plenty going on at Conrad this Eid, with two special packages to choose from. The First, at 899LE, affords guests breakfast, while a second package, at 1199LE, gets you breakfast and lunch at restaurant, Solana. The hotel's other dining venues are offering special deals, too; Asian restaurant, Kamala, has put together special Eid menus starting from 180LE, while Solan is offering daily lunch buffets for 165LE, with the latter also offering special kids activities. For reservations, call 02-2580-8000
Duit Thani LakeView Cairo
New Cairo's only five star hotel is often overlooked because of its location, but is still popular with locals for it facilities and restaurants. This Eid, the Thai chain is offering double rooms for 850LE per person; a package that includes breakfast and dinner buffets, free parking and late checkout. Call 02-2614-0000 for reservations.
Fairmont Heliopolis
With a whopping eighteen restaurants, cafes and bars, Fairmont Heliopolis has always been a popular location for dining, entertainment and events, and will be offering a special family packaged this Eid. Starting from the 27th and going on until the 31st of July, Cairenes can get a rooms starting at 1300LE (inclusive of tax) and booking two nights gets you a third for free. Children between 6 and 12 stay for free and get 50% discounts on meals and can enjoy a range of different special, festive activities. You'll also get late checkout (4PM) and free parking. Call 16989 for reservations.
Four Seasons Nile Plaza
Garden City's Four Seasons Nile Plaza welcomes one and all to take advantage of its own special Eid offer. Room rates start at 1700LE, which includes bbreakfast buffets at Zitouni thrown into the bundle. The hotel's popular Pool Grill will also be offering special Eid seafood barbeque buffets at 330LE per person, with live music and a DJ throughout the holiday. Speaking of buffets, the hotel is also hosting a rather indulgent chocolate buffet in the Lobby Lounge between the 28th and 30th at 150LE per person. For reservations, call 02-2791-7000.
Four Seasons First Residence
A similar deal awaits you at Four Seasons First Residence, with bed and breakfast goring for a special rate of 1700LE. The Giza hotel is also offering a special daily Eid brunch buffet. For reservations, call 02-3569-2557.
InterContinental Semiramis
There are few, if any, fitting substitutions for the feeling of sand between your toes and skin crackling to a tan, but InterContinental Semiramis are offering the next best thing with their special Eid swimming pool day use offer. For 800LE, you get access to the pool, of course, as well as a double room for the day and lunch. For reservations, call 02-2795-7171.
Kempinski Nile
Another member of the row of hotels on the Garden City Corniche, Kempinski Nile, is taking the Eid spirit in stride with a special room rate at 1699LE. The Madina Junior Suite cater for two guests; the package includes a set menu lunch or dinner for two, complimentary parking, and a 10% discount at the hotels restaurants, bars and cafes. For reservations, call 02-2798-0000.
Mena House Hotel
The legendary Mena House has enjoyed a surge of popularity of late, with the opening of 139 Lounge and Terrace, which quickly became a popular sohour spot during Ramadan. For Eid, the hotel – which has been a favourite for some of the top celebrities and politicians worldwide – is offering Cairenes Garden View rooms at 777LE, Pool View rooms at 888LE and Pyramid View rooms for 999LE and what a view it is. The packages come with breakfast, early check-in and early checkout, too. Call 02-3377-3222 for reservations.
Radisson Blu
An often overlooked hotel when spoken about amongst its bigger, gaudier peers, the Radisson Blu in Heliopolis has good facilities and is offering a special Eid package that is excellent value for money.; 875LE per person in a double room. There are no extras, so to speak, but for less than a 1000LE, it's still a pretty decent deal, while the hotel's Lebanese restaurant Mezza, is reopening with live music and entertainment throughout the holiday. For reservations, call 02-2696-5656.
Sofitel Cairo El Gezirah
Similarly to Radisson Blu, Zamalek's Sofitel Cairo El Gexzirah is offering a deal that, while pretty basic, is excellent value for money; 800LE per person in a double room. With that, guests get breaksfast and late checkout. Apart from that, the restaurant's Nile-side restaurants, La Palmaraei, El Kebabgy and Le Deck are perfect for evening get-togethers.