Eid El Adha in Cairo: What To Do This Holiday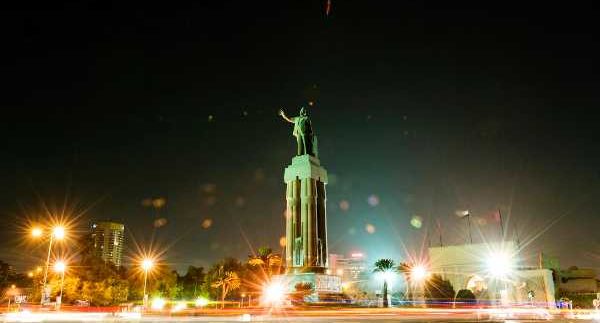 As Cairo
prepares for the festivities of Eid El Adha, the city is full of celebratory
concerts, shows, workshops, exhibitions and much more. Here is a daily
breakdown of what you can expect in the Capital for the coming holiday, and
where you can find the best parties for those who are already packing up and
skiving off work on Sunday to enjoy a last hurrah at Egypt's best beach party
destinations.
Here's how to have fun inside of Cairo:
Beginning Sunday, November 14th, kick off your holiday with a performance by
popular local musician Beshir at
After Eight. On Monday the 15th, you can catch a show by visiting Norwegian
musical duo Nils
Auckland Rolf Erik at Makan, or enjoy electronic music with a twist at
Cairo Jazz Club with Bikya's
special brand of house and trip-hop music.
On Tuesday the 16th, Cairo
favourite Wust El Balad takes the Jazz Club stage to play their biggest
hits, such as 'Magnoon' and 'Antika'.
The original Jazz Club boogieman DJ Selim
will be in the Cairo Jazz Club booth on Wednesday the 17th, giving us the
dose of boogie nights hits that became so successful.
Besides concerts and nights out dancing, the city has an exciting schedule of
local art exhibitions, Cairo Opera House spectacles, and more festivities to
keep you entertained. Take the opportunity to catch some of our favourite shows
and exhibitions, such as Katherine Bakhoum's ethereal exhibit 'Reves
d'Orient' at Safar Khan Gallery, Fransesc
Ruiz 'Paper Trail!' at CIC, the 'Human
Body' at Cairo Opera House, the 'Bidoun
Library Exhibit' at Townhouse Gallery, as well as Giuseppe
Fanfoni's exhibition at the Italian Cultural Institute.
To have fun outside of Cairo, you will most likely be tempted to attend
one of the numerous and notorious parties happening in El
Gouna, Sharm El Sheikh and Hurghada.
Tuesday, November 16th kicks off in Gouna with DJ
Dr. K and Nill at Angel Club Gouna, followed by a Greater
Than Party Night at Angel Club Gouna on the 17th. On Thursday, November
18th, workout gear and 80s wigs are expected at the byganz party Work It in DuPort,
featuring DJs Samba, Omar Sherif and the Toy Boys, as well as guest vocalist
Nalaya Brown.
For those of you in Sharm El Sheikh, iconic Ibiza nightclub Space is
celebrating the grand opening of its Sharm El Sheikh branch from Wednesday,
November 17th until the 20th, with an extravaganza of glitz, glam and excessive
celebration. On the 17th only, Pacha Sharm hosts club tour Street
Dance Tour for a party of multimedia entertainment, from dancing to singing
and more featuring Body Rox and Lisa Maffia.
Happy house fans rejoice; Bob
Sinclair will play at Pacha Sharm on the 18th for a concert that you won't
forget. Those who choose to holiday in Hurghada get the chance to attend a
party with DJs Fahmy, Samba and DJ Misty at the turntables of Little Buddha
Hurghada.
For those of you in search of a wide-open sky rather than deafening club beats
and high energy festivities; head to any one of Egypt's scenic Red Sea camps
for serenity and peace. We recommend Nuweiba camps Soft
Beach, The
Good Life, Ananda,
with a recommended stop at Castle
Zaman for its cold drinks, even colder pool and its slow-roast meals. If
you do find yourself in the dazzling lights of Sharm El Sheikh, try an
alternative approach to the notorious coastal party town by staying at Oona's
Dive Club. Others are packing up and heading to kite surfing hot spot
Ras Shaitan for more Red Sea adventures.
Whether travelling or staying put, this Eid El Adha promises to be a much
earned holiday to remember.