In one of the Mediterranean's most iconic cities, the Four Seasons Hotel Alexandria at San Stefano introduces sea-view villas, adding the luxurious flair we always hope to find. Stylish, elegant, spacious, and deeply Alexandrian, this new addition to the hotel offers amenities to satisfy your every need ranging from one to three-bedroom villas, private pools, and a fully equipped kitchen. These villas truly feel like home. 
Because no vacation spot is complete without activities to spice it up, the hotel offers a playground, tennis court, beach volleyball, gym, and fishing activities. Fitness coaches are also available for those who don't take holidays as an excuse to be passive.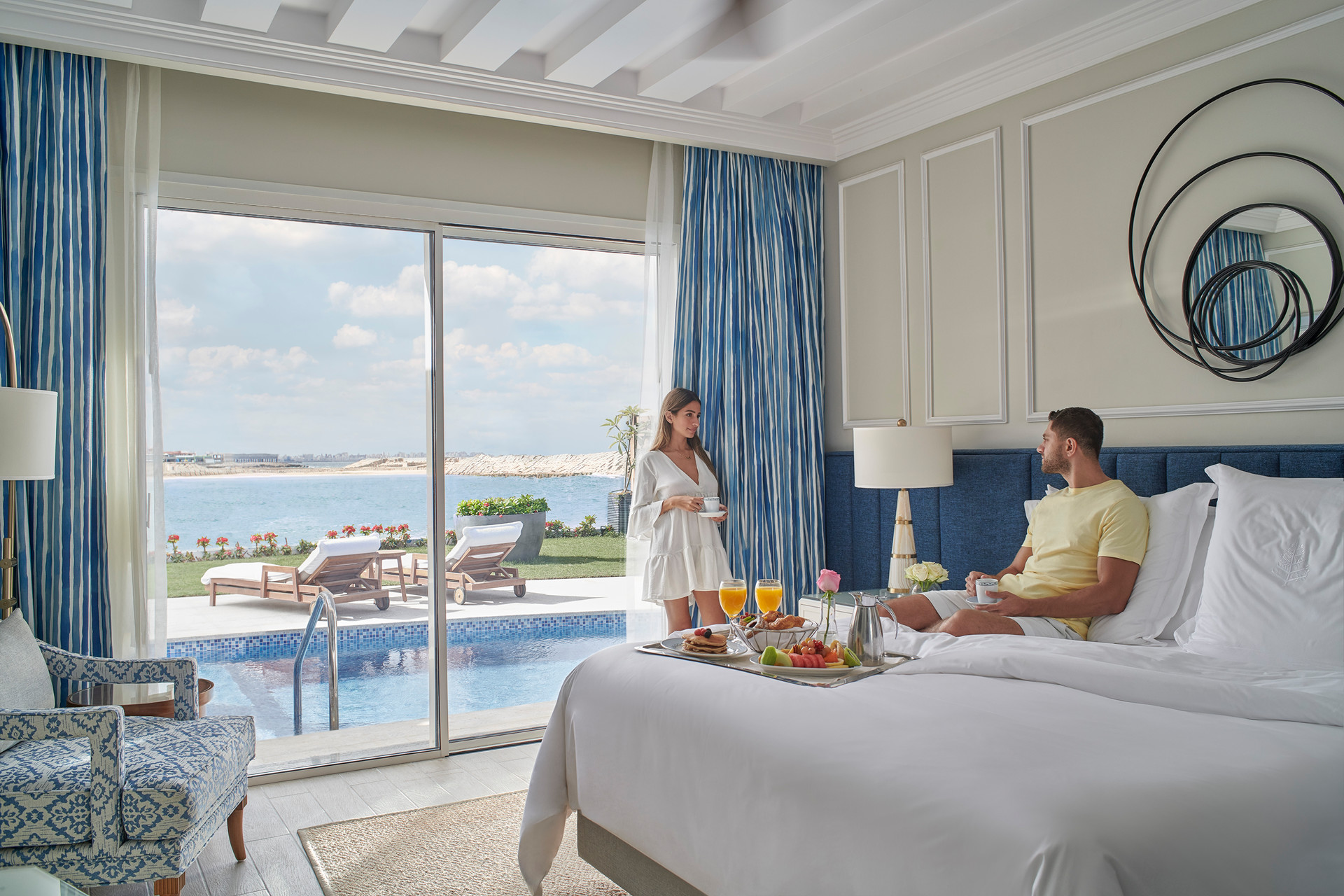 The Four Seasons truly offers something for everyone. Whether you're looking for an idyllic romantic getaway for couples, exciting accommodation for friends celebrating a long weekend, or a beautiful spot for the whole family, the hotel has it all. Thanks to the lush gardens, sun terraces, and the option of a private chef to cater a lovely and delectable dinner party, no one needs to miss out on the incredible experience offered at the hotel.
The Sea-View Villas' location offers a level of undisturbed privacy that is truly unmatched. Separated from the rest of the hotel by a subterranean passageway, these villas invite you to a lovely stroll along the Mediterranean shore or to relax with your loved ones in the private garden. Guests can choose the Two-Bedroom Sea-View Villas or Three-Bedroom Sea-View Villas, both with private pools and mini-resorts with lush greenery, hammocks, a sun terrace, a private gated entrance, and the shimmering Mediterranean on the doorstep. Of course, the new One-Bedroom Villas with Private Pools are also the perfect place to escape it all.
While the Four Seasons Hotel Alexandria feels like a world of its own, making for a complete vacation spot, you will never feel far away from the heart and soul of Alexandria, all the while being away from the hustle and bustle of the city. With the Alexandrian skyline visible from the Beach Villas, some of the city's most enchanting sites and activities can be found a short distance along the Corniche. In addition, gems like the Bibliotheca Alexandrina or the Royal Jewellery Museum are very close to the hotel for those who want to add a dash of culture to their relaxing getaway.
For bookings, call (02) 03 5818222 or click here.