We're midway through December, and just about two weeks separate us from a whole new year. If you're looking to start 2019 with a bang, we have just the thing for you. Christmas vibes are lighting up December, and Four Seasons Nile Plaza are getting in the spirit with a whole lot of happenings, set to make your December lit, and form the best start for 2019.
Christmas Eve Celebrations
If you're looking to celebrate Christmas Eve in style, you can pick out your favourite restaurant from many options at Four Seasons Nile Plaza. To get something authentic, hit their Egyptian restaurant, Zitouni, for a festive dinner buffet that will feel just like home, or an Italian Christmas five-course dinner set menu at Bella. For something more exotic, Chinese restaurant "8" is offering you a six-course set menu.
But if livelier dinners are more your style, hit Upper Deck for an a la carte menu with hot DJ tunes to get you dancing all the way until Christmas morning. The Bar is offering an elegant set menu dinner, along with the live, soothing piano tunes. As for the highlight of the night, you can hit the Pool for the Four Seasons Nile Plaza Christmas Market that'll be spreading some festive joy including a DJ, live entertainment, and the special appearance of Santa himself.
Christmas Day Festivities
Waking up on Christmas morning, with joy and jolliness in the air, one feels like there's something big to celebrate. So if you're looking to start the day the right way, and if you missed them on Christmas Eve, hit Zitouni for their festive lunch buffet. You can also check out the Christmas Market at the Pool. Their celebrations will still be going hard and you do not want to miss all the fun.
New Year's Eve Celebrations
If you're not much of a Christmas person (but come on, who isn't?) you can still enjoy the delightful restaurants on New Year's Eve for delicious food. Zitouni is offering a festive dinner buffet of hearty Egyptian delicacies, while Bella are set up with an Italian five-course set menu dinner. On the other side of the continent, you can enjoy a Chinese feast courtesy of 8 restaurant with their six-course set menu.
At Upper Deck, you can welcome 2019 with open arms while munching on a special set menu, and dancing to the hot beats of the DJ. If elegance is more your style, The Bar is offering a luxurious New Year's dinner along with the captivating tunes of the live pianist. Finally, you can head to the Lobby Lounge for a sweet New Year's celebration, with a celebratory chocolate buffet, along with the soothing tunes of their live piano player that will capture your heart.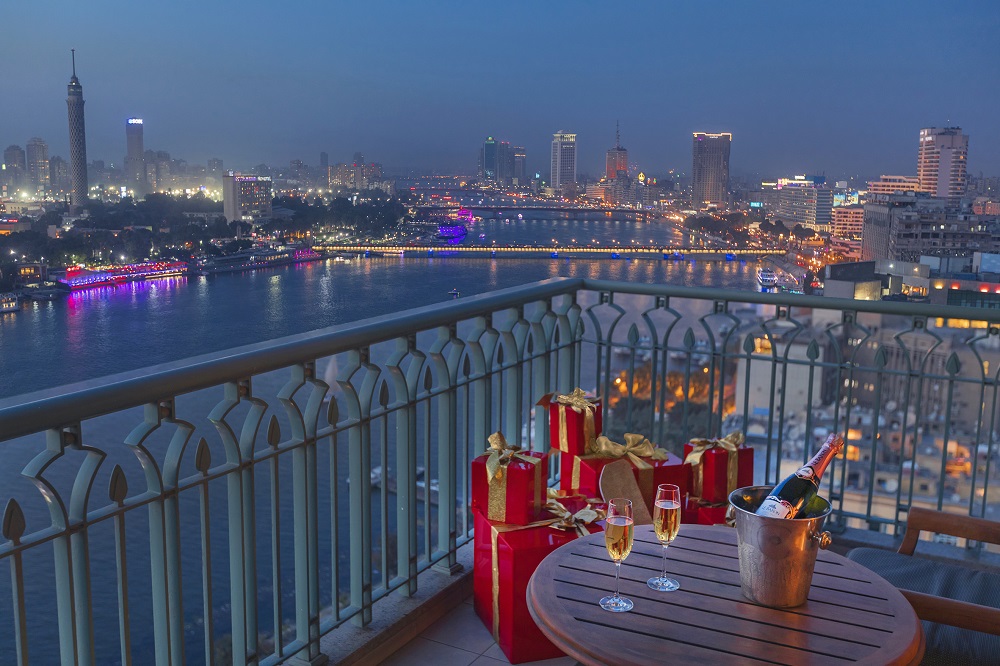 However, the big bang is happening in the Plaza Ballroom, with superstars Wael Jassar, Ramy Sabry, belly dancer Johara and singer Rotana, adding a unique touch to your New Year's celebrations. There is a whole special entertainment program designed for the night, and you don't want to miss it.
Find out more about Four Seasons Nile Plaza's festivities for celebrating Christmas and New Year's Eve on and book your spot right away 0227916923.