Guide to Your Ultimate Weekend in Cairo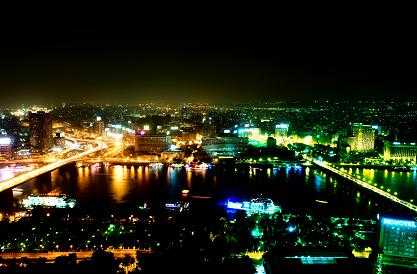 Congratulations, you've made through another heat-ridden
week in Cairo without melting, your car melting or killing the A/C repair man
for not showing up on time. With the Mehwar jamming up as many Cairenes flee to
the North Coast, fret not if you're stuck in Cairo for the weekend; there's so
much to see and do in the Capital while staying cool.
Feeling up to an open-air party This Thursday? The Swiss
Club in Kit Kat is hosting an Afro Fiesta Party in its spacious garden, with African music and a reasonable 50LE-minimum that
includes one free drink. For laid-back drinks with friends, try Johnny's at Le
Pacha, a popular Karaoke
night destination every Sunday. Speaking of Karaoke, Harry's Pub in the Cairo Marriott has a rowdy night of Karaoke
every Thursday from 10PM till 2AM.
Be prepared for a full crowd of jovial revellers singing along to your
rendition of 'Living on A Prayer.' For a spot of live music, head down to the Cairo Jazz Club for Groovy Aspirin's modern, funky jazz–
trust us; Thursdays at the Jazz Club are surprisingly mellow and fun.
If you're in Heliopolis and in need of shisha
in a breezy, chilled location, try Karvin Hotel's Rooftop Garden. Fans of Tamarai's
sophistication will be devastated to hear that the club's last two nights will be
this Thursday and Friday, after which it will take a long holiday and re-open
at the end of Ramadan. However, if you're desperate for your fix, head down to
the North Coast, where Tamarai NC 151
has opened on Bianchi beach- no, not that Bianchi beach, but the beach resort
on the North Coast right after Marassi Beach.
For a relaxed Friday
brunch, start off with people-watching at the Marriott Gardens, or enjoy a luxurious pool day-use at the Fairmont Nile City. For something more budget-friendly but still cooling, head down with your friends to Bandar Mall in Maadi for a spot of
energetic bowling.
The good news is that Fuego and Chili's are next door; so you won't
leave starving.
For some intellectual stimulation, enjoy the poetry reading
by Syrian poet Fouad Barakat at the Sawy
Cultural Wheel.
There's something about a lazy Friday afternoon that compels us to have a large
fish lunch, so why not try out the modest and underestimated Flying Fish in Agouza?
At night, it's back to the Cairo Jazz Club again, where DJ Ramsi consistently gets the dance
floor packed with his progressive house and electronic tracks.
For an equally bustling dance floor, make sure you book in advance if you're
heading to Arabesque,
where a belly dancer performs every weekend as late as 2AM. Yearning for a
low-key, quality and outdoors concert, Copark will play live at El Geneina Theatre at 9PM, performing a lively fusion of
jazz, rock and pop.
As much as we hate to admit it, Saturdays are all about a
relaxed afternoon and mentally preparing for the stressful week ahead. Play
dress up with your friends and try Richoux in Mohandiseen for a posh English tea experience, cucumber sandwiches included.
An excellent way to calm your pre-workweek nerves is to try some yoga, check
out our list of Cairo yoga centres for the closest centre to you. Finish your night off with a quiet meal of
French quiche at Chez Martine's and enjoy a pleasant walk around Zamalek's quiet streets. Take a deep breath
and prepare for tomorrow's onslaught. You're welcome.