Halloween in Cairo: Everything You Need to Know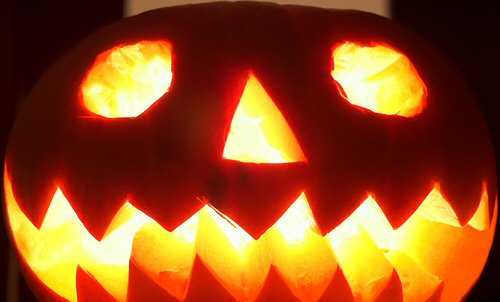 To be fair,
Halloween isn't as big a deal in Egypt as it is in the USA; celebrating
Halloween in Cairo is mostly limited to the expat communities and their
friends. Nonetheless, to many Egyptians, Halloween is yet another excuse to
dress up in funky costumes and hit the many parties happening around the city. Have no clue
what to do? Cairo 360 is here to help!
Where to
Party:
Halloween festivities are happening this Thursday and Friday in Cairo, with many private and
creatively-named parties ranging from Sakkara to Maadi to Kitkat and Garden
City rooftops. We've heard about circus themes, heated swimming pools, Nile
cruise boats and trick-or-treating for adults. However, if you haven't got an
invitation to these parties, we recommend the following:
The
Swiss Club in Kitkat will hold its very own Halloween Party this
Thursday at 10PM for a very reasonable 50LE ticket per person. The dress code
is funny fancy dress, which we can only assume is Victorian dress, French
aristocrats, the Pink Panther and flapper girls! Given its track record for
easygoing parties with an eclectic mix of expat and local patrons, the Swiss
Club is bound to be a fun spot.
On Friday, a
family-friendly
Halloween Craft Day will be held at the Cairo Art Village from 2PM to 6PM,
where children and adults can enjoy face-painting, witch hats, pumpkin paperwork
and horror faces with wire. Located in Fustat, Old Cairo near the Hanging
Church, the Cairo Art Village promises an alternative and fun way to spend your
sunny Cairo afternoon with your family. For
more information, call 0124595425.
Costumes?
What Costumes?
Costume shops
in Cairo are sporadic and well-hidden, a closely kept secret among die-hard
costumers. However, we've managed to find a few in the Mohandiseen/Dokki area:
Party Shop: Located on Mosadaq Street next to
Toptoys, this shop has costumes for adults and kids alike for a reasonable
price range of 150LE to 250LE. Men's costumes include pirates and Lousi XIV,
while women's costumes include flapper girls, French maids and, again, pirates. Hats
and cool Venetian masks are also available if you're looking for a more stylish
getup.
Display: Located on Syria Street across from Metro
Market, this shop will probably knock your politically correct socks off with
its selection of women's costumes. While much of the flimsy clothing caters
predominantly to male fantasies, there are a few good-quality costumes of nurses,
Greek goddess and Pharaonic princess. Prices range from 300LE to 1000LE for
a very elaborate Cleopatra costume with a headdress. Funky men's boxers and
flavoured underwear are also available. Halloween accessories such as vampire
teeth will be in stock soon.
Saxone: To many in the know, Saxone is the undisputed king of
questionable clothing. It's the type of shop that you go to for a hilarious bachelorette
party. With many clothing items border-lining on adult film gear, others are
also fun- it's important that you enter this shop with a sense of humour and
the knowledge that your friends will make fun of you for years afterwards.
Aside from a selection of glittery, flashy and poorly made PVC dresses, we
spotted a maid's outfit, as well as ones for a nurse, a secretary and a female
Santa Clause. Prices are very moderate and range from 65LE to around 100LE.
Boustige: With a branch in Garden City next to
the Semiramis Intercontinental and on El Batal Ahmed Street in Mohandiseen,
Boustige has served the Cairo community for years in funky wigs and real hair
extensions. Take your time in the shop and try on as many wigs as your heart
desires; the shop's attendants are very friendly and accommodating. Sadly, you
can't rent the wigs and their prices are rather steep for a one-off occasion:
wigs start at around 500LE all the way up to 5000LE for long, real hair wigs.
While most
gift and toy shops around Cairo have some form of Halloween accessories on
sale, you can always trust Jumbo. Now completely decked out in scary
Halloween decorations, the shop doesn't have the most imaginative products, but
it is a reliable source for vampire teeth (5LE), fake moustaches, beards, scary
masks, scull axes, bats and a giant toy gorilla. The shop also sells children's costumes and custom-made adult costumes
for up to 300LE, depending on the costume.
Or Just Do
It Yourself!
If you have
the time and creative energy, head to Wekalet
El Balah market, where you can pick up any kind of fabric that you like
as well as very cheap jeans, jackets and other clothing if you head further
inside. Next, go to El
Nomrossy in Mohandiseen or in Darb El Barabra market and pick up sequins,
feather boas and a glue gun that will help you stick your outfit together. Or
you could browse the Downtown streets of Sherif and Kasr El Nil for the many
clothes shops that have some outrageously dated attire without a hint of irony.
Still lost for inspiration? Check out these
interesting costume ideas as well as the 100 most popular costume
ideas of the season.
Happy
Halloween, Cairo!