Healthy Living & Farmers' Market: Monthly Bazaar of Homemade Goodies in Katameya Heights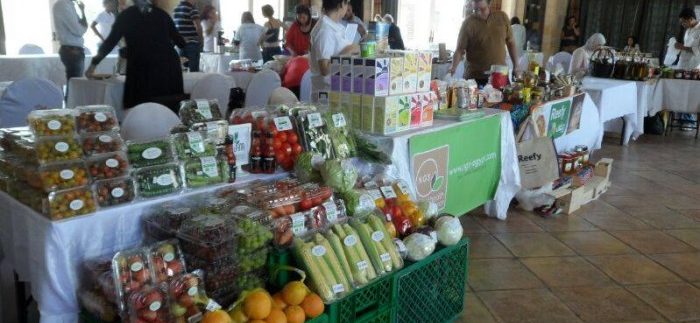 In a world where we're surrounded by big business and are constantly, and rather unconsciously, consuming mass produced products, we seem to have acquired a yearning for something simpler and more natural. In an attempt to stimulate and provide a platform for local social entrepreneurship to the crème de la crème of Egyptian society, Katameya Heights' own farmers' market has come to be.
The social event takes place on a monthly basis in the esteemed compound's clubhouse and we, being the lovers of all things innovative, decided to pay this month's market a visit to see what it has to offer. The whole experience of getting to the market was quite organized for we were told at the gates where to park our car and then were picked up by a golf cart which dropped us off at the entrance of the clubhouse.
The market seems to have an abundance of mini businesses lining up to showcase all their creations, with more brands than we could have imagined. Many home products and household ornaments can be found, from stained glass home accessories from "Glass Styles" to handmade wooden accessories such as trays and makeup holders from "Aliaa Al Wakil", one can spot many pieces to revamp their home. Cushion covers, Plexiglas holders and linens were also on display.
What would a farmers' market be without some tasty, all-natural treats? From healthy baked muffins from "Cookies n' More" to Halloween themed cake pops from "S'mores n' More", there were plenty of goodies to feast upon as you took a look around. The decadent smell of freshly baked baguettes attracted us to the "Sweets and Treats" booth; an Italian Maadi-based patisserie offering some handmade bread, baked goods and chocolates.
All-natural, chemical-free beauty products were also amongst the market's attractions. The "Body Bakes" booth was overflowing with organic soaps, lip balms, body scrubs and deodorants, which are all made using natural oils and glycerine. We were huge fans of the makeup removing soaps they offered and had to keep ourselves from devouring their delicious looking and smelling products.
If you're on the brink of making huge health changes, the famers market is definitely a good place to start shopping and prepping for it. From vegan desserts offered by "Pot De Crème" to immunity-boosting wheat germ from "Nature's Selection" to Quinoa and Flaxseeds offered by "Nature's Gift Store", we found all the premium healthy foods we could never find anywhere in Egypt.
All those who are fans of spreads and condiments can find anything they can think of. "Fino's" were displaying all kinds of natural nut butters in many flavours and sizes which you could try samples of on the spot, and "Reefy" was offering all kinds of pots of natural honey. We also spotted some all natural, homemade fruit jams from "Bil Hana Wal Shifa."
Charity enthusiasts do not hesitate to pay the market a visit for some charity organizations do also participate and sell their products. "Al Zahraa", a renowned charity organization, was offering a wide range of handmade blankets, towels and duvets of appeasing quality. They were also offering some delicious food items including Syrian Kobeiba.
What we found rather strange was the shortage of organic fruit and vegetable vendors. We did, nonetheless, spot "Tabee3y" who had some fresh, organic, pesticide-free produce on display. Whilst on the topic of naturally grown goods, some plants and flowers can also be found in the market for those looking to add some greenery to their houses and/or offices.
We were rather pleasantly struck by the friendliness of all the vendors and small-scale entrepreneurs; they were all quite enthusiastic about their products and were readily up for explaining everything about them, from their prices, to their ingredients to even their future plans for more products. Simply socialising with some of the bright minds behind the quite impressive products was really lovely and gave lots of insight.
The farmers' market concept was, indeed, quite needed in the Egyptian society; we do, in fact, need to encourage small businesses and, from time to time, cut down on our crazy consumerist tendencies. Revelling in all-natural products which were not tainted by chemicals and machinery definitely does carry an unparalleled feeling of satisfaction to it.
Visit the Healthy Living and Famers' Market's Facebook page to know the date of next month's market and get more info about the vendors.