Huawei P8: New, Cutting-Edge Smartphone Sells Out in One Hour at Cairo Launch Event
Chinese telecommunications and technology giant, Huawei, celebrated the Egyptian release of their revolutionary new smart phone, the P8, this week with as special event at the Citystars branch of Virgin Megastore.
The launch, much like the device, attracted much buzz and had people lining up outside waiting to get a glimpse at Huawei's latest creation. But there was plenty to keep shoppers entertained, with live music, freestyle football stunts and a laser light show turning the shop into a carnival of light and sound.
Astoundingly, the phone sold out in under an hour and to celebrate the landmark release, a 'Happy Hour' automatically entered buyers into draw to win a luxurious Fiat 500 Lounge with the lucky winner announced then and there.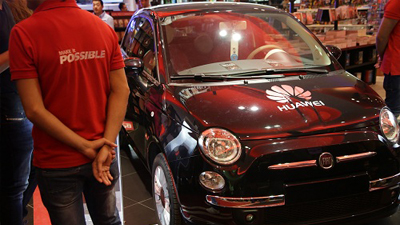 But the fact that the P8 sold out so quickly is no surprise. Said to be redefining the market, the pinnacle of the P Series has been touted the perfect blend of style, durability, function and technology, with the phone's camera functions receiving praise from all quarters. Introducing a new, cutting edge design, the device masterfully combines hardware, software, and complex algorithms that we can't even pretend to understand, to produce the best photos possible, even in the worst of lighting.
For More information on the Huawei P8, click here.