Life in a Day: Your Voice, Your Camera, Your Life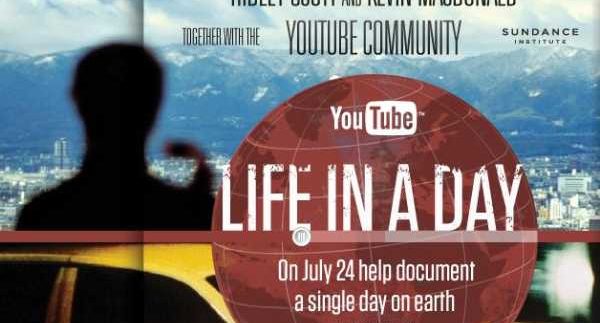 LISTEN UP Cairo! Just when we thought that YouTube couldn't get any cooler, we've run
across something that not only has us excitedly inspired beyond belief but has
the potential to hit the entire globe (and twitter) by
absolute storm. The best part is that You can be a part of it!
While global
events tend to take place in international cities like London or NYC, it's not
every day that Cairenes get the opportunity to have their voices and visions
exposed to the world. Join renowned film producer Ridley Scott and director
Kevin Macdonald as they embark on this one-time historic global experiment; all
created by user-generated film. YouTube's user-generated content is about to be
blown away by this extraordinary adventure.
If the film Baraka described
humanity's idiosyncrasies of the early 1990s, Lifeinaday is taking it a step
further in an attempt to collect compelling footage from all over the world,
which will be edited into an experimental documentary film.
On July 24th,
you have 24 hours to capture your life on camera. Whether you're stuck at home
watching TV, braving Mehwar rush-hour traffic or lounging in the Sahel sun, they
want your film footage. There are no rules to the subject matter, length or
angle; and regardless of whether it's insane or mundane, the filmmakers want
you to submit your film.
There are
three questions that Scott has asked us to keep in mind while we're filming.
What do we love? What do we fear? What do we think is funny? Also, he'd like to
know what's in our pockets. Other than that, the only requirement is that you
shoot your footage on July 24th, preferably shot in hi-res quality,
and send it in by July 31st to the address listed on the website.
Watch Scott's video here and
for more information; check out the FAQ section on the site.
The end
product will then premiere at the Sundance film festival in January 2011, and will
be available to view on YouTube. If your footage makes the cut, expect to be
credited as a co-director.
Just think
about this for a moment: one World, 24 Hours and six billion perspectives. If
that doesn't get your creative and energetic juices flowing; we don't know what
will!
This IS the
weekend; so team up with Lifeinaday and show them what Cairo's all about! If
you want to make Cairo 360 extra happy, send us a copy too for our own viewing
pleasure… we're easily entertained. Enjoy!