Mirinda Brings Together Young Local Artists to Beautify Public Walls in Mohandiseen
For the last few months, Mirinda's proverbial footsteps have been found all across Cairo and beyond. As part of the #DaWalaDa campaign, some of the country's most talented social media influencers have been taking part in all manner of initiatives, the latest of which has come in the form of a novel CSR scheme that aims to beautify public walls across Egypt's capital.
Earlier this week, Mirinda pooled together said talent in Mohandiseen, where artists grabbed some paint, some brushes and let rip on an empty space to stunning effect. With visual artists, Farahzada El Shihy and Amr Allam, taking part in the creation of colorful floral piece, locals of the area initially looked on in bemusement as the young artists set-up shop on the residential street. As the mural came to find more form and colour, however, passersby began to interact with the artists and the bemusement evolved into looks of "Oh, ok – that's a pretty good idea."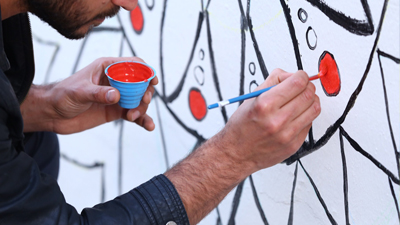 The #DaWalaDa campaign was born of the release of new Mirinda flavours – peach and berries – at the end of 2015, with the ensuing campaign channeling the increasing veins of creativity running through Egypt right now. Mirinda has called on the services all manner of influencer, including funnymen, Mohamed Mekawy and Nour Kababe, photographers such as Noor Emad and Haya Khairat, as well as rising visual artist, , and even Egyptian dance collectives, Swaggers Crew and Kings Crew.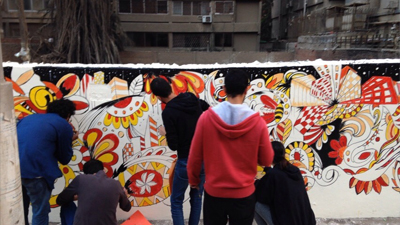 For more information on Mirinda, click here.