Liverpool have reached the Semi-Finals of the UEFA Champions League, Europe's most prestigious football club tournament, and the draw has put them up against Salah's former side, Roma FC. All the news was about the clash between two clubs playing with similar styles, and how the Egyptian King would fair against the Romans.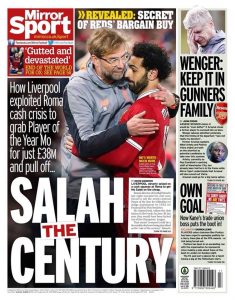 Mo Salah shut down all his critics with his best performance in the Champions League yet, and one of the best all-time performances. He became the first player to score two goals and two assists in one game in the Champions League. Salah's performance got Liverpool a 5-2 win against Roma, and helped them take a solid step towards the final.
Mirror Sport has claimed that Salah's transfer to Liverpool was the bargain of the century, and that the English club was able to get the newly crowned Player of the Year for such a small price by exploiting Roma's cash crisis.
Other newspapers also praised Salah for his incredible performance. The Telegraph lauded the "Irrepressible Mohamed Salah", while BBC Sport labelled him as the "Phenomenal Liverpool Man", and the Daily Star claimed that Salah is now even closer to winning the Ballon d'Or after his match-winning performance against Roma.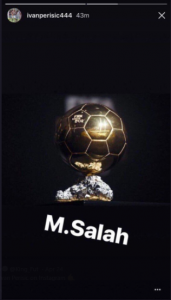 A number of professional footballers also expressed their recognition of Salah's performance by taking to Twitter or Instagram, with the likes of Robin Van Persie, Carles Puyol, and Ivan Perisic all voicing their admiration of the Egyptian winger.
Like the rest of the world, we're baffled by the incredible performances of Mohamed Salah. Perhaps it's all down to the authentic Egyptian cuisine, and the good old Kushari.