Mouled El Akeel: Food, Entertainment & Much More at Mouled-Themed Festival
You don't need Cairo 360 to tell you that, if there's one thing we're sure of in this unpredictable country, it's that we're nation that loves to eat – and eat well. Be it a big Friday lunch with the family, or a quick snack from your local foul and falafel guy, we take eating and food very seriously – it's engrained in Egypt's history and the food and beverage industry only looks like it's getting stronger moving into the future.
As such, many food festivals have been founded over the last 18 months or so and the latest food fiesta comes with a novel spin. Mouled El Akeel is set to take place on Friday 13 of November at Zamalek's Al Hurriya Park and there's plenty to sink your teeth into. Aiming to revive and recreate the traditional Egyptian Mouled experience, the event will welcome some of the country's top restaurants, who are set to open up shop for your eating pleasure, with all manner of cuisine awaiting at the all-day culinary celebration.
That's just the tip of the proverbial iceberg, however; kicking off at 11AM, there's plenty of entertainment lined-up, with traditional Mouled games and activities and dance shows rounding off an eventful day that will see one of Egypt's most versatile and talented singers, Nesma Mahgoub, perform and CBC Sofra host special cooking competitions. Other entertainment will come in the form of tannoura shows, the New Hassaballah Marching Band – thrown in there for a little edge of authenticity – as well as some stand-up comedy.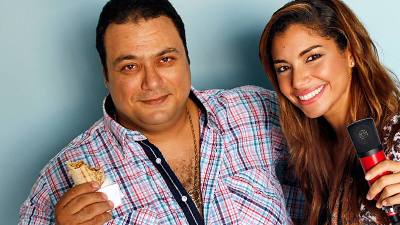 Mourad Makram and Nesma Mahgoub
Organised by Modern Touch and Engezni, the event will be hosted by actor, devoted foodie and presenter of CBC Sofra show, Mourad Makram, and it has seemingly tapped into the renewed appreciation of Egyptian culture that has taken Cairo's restaurant scene by storm – something that comes as a pleasant change to some of the more generic events of this kind. There are few emotions that food can stir up more than nostalgia and the Mouled theme seems to be what they call a match made in heaven.
For more information on Mouled El Akeel, click here.