Royal Maxim Palace Kempinski Prepares for Grand Opening
While some view hotels as functional buildings of short-term lodging there's something a little more special about them in Cairo. More than just ' a place to stay', hotels in Egypt's capital have come to be complexes of dining, entertainment, leisure and even wellness, housing some of the best facilities in the country – the latest of which is the Royal Maxim Palace Kempinski.
Having opened in New Cairo, the hotel is set for its official launch this week on Wednesday 11th of November and Cairenes are thoroughly – and rightfully – excited. Aesthetically, the Royal Maxim Palace is every bit as grand as its name suggests and, coupled with the Kempinski's trademark subtle sophistication, it already has plenty of fans, with many of its restaurants and facilities already frequented regularly by guests.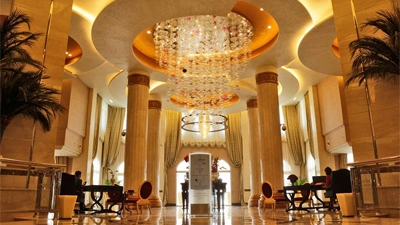 With 245 rooms and suites, the Royal Maxim Palace Kempinski's design ethos is one of both comfort and elegance and even with the use of warm, earthy colours and soft furnishings and fabrics, manages to hot exactly the right note between modern and palatial – a combination that has already made it one of the most unique hotels of its kind.
With over 245 rooms and suites, the hotel boasts en distinctive restaurants and bars, ten meeting rooms, several event spaces and Egypt's first world-class European spa. Said restaurants cover anything and everything – you can dine like an Italian at Lucca, emers yourself in the culture of the Levant at Bab El Qasr and feast on the flavours of the Southeast Asia at Yana. This is not to mention grill room, Romanov, coffe house, Vibes Lounge, and buffet restaurant the State – which has been hosting Thursday night seafood buffets – as well as 1897 Bar, Aqua Chill and 3AM Lounge, to name but a few.
Resense Spa has also impressed early on; aside from a fully-equipped gym and fitness centre, it's the spa's holistic approach that makes it a one-of-a-kind facility.
The official launch is set to signal the beginning of the hotel's full-scale operations and from what we know thus far, the Royal Maxim Palace Kempinski is on its way to becoming one of the most luxurious and unique hotels in the city – we can't wait to get stuck in. Stay tuned for reviews of the facilities on Cairo 360.
For more information, click here.