Ten Great Reasons to Visit Cairo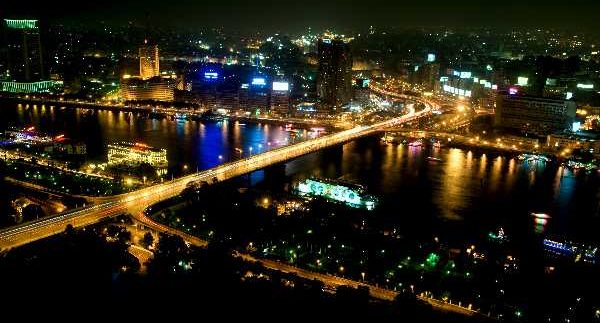 written by
Melissa Howell
Attracting a trove of
tourists, ex-pats, and study abroad students every year, Cairo is the largest metropolis in the Arab
World. This vibrant Capital has a plethora
of historical and cultural attractions sure to excite and inspire even the most
seasoned travellers.We've compiled just
a few of the many reasons to check out one of the most incredible destinations
on Earth.
1. Cairo Never Sleeps
Forget New
York, Cairo literally never sleeps. Few other cities in the world have delivery
services 24/7: it's completely normal to have pizzas, drinks and even movies
delivered or to go for a shawerma snack at My Queen as late
as four in the morning. Pharmacies deliver no matter what time of day, and
there's always a doctor that will make house calls. With summer nights long and
hot, it is entirely common to see families filling up the parks at midnight or
eating in restaurants until the wee hours of the morning. Even the city's nightlife lasts until the
early hours of the mornings: bars,
nightclubs and shisha places really only pick up just before midnight, and
cabarets usually open around 1AM, keeping the heart of Egypt beating around the
clock.
2. Marvel at the Myriad of Minarets
Nicknamed 'The
City of a Thousand Minarets,' Cairo 's
culture boasts a wealth of Islamic tradition and architecture. The spindles atop the city's countless
mosques are peppered across the horizon, illuminating the capital by night with
a soft neon glow. Five times daily, the call
to prayer emanates from these minarets and echoes throughout the city. Make an unforgettable day trip out of
visiting several of Cairo's
noteworthy mosques, such as Al Azhar Mosque, Ibn
Tulun Mosque and the Mosque of Mohammad Ali, all of which feature
incredible displays of classic Islamic art.
3.Carb Load
There's no
denying that Egyptians know how to consume those hearty, delicious carbs! One of the most ubiquitous styles of eatery
in town is the koshary restaurant. On almost
every street, this cheap and delicious national dish is prepared. Bowls of
rice, pasta, lentils, chickpeas and fried onions are mixed in bowls and topped
with spicy tomato sauce. Fava beans
provide a delicious dietary breakfast staple in Egypt, prepared boiled and mashed
as foul or fried in patties as falafel. Check
out our guide to Downtown Cheap
Eats for the best in affordable eating.
4. A River Runs Through It
The
north-flowing Nile runs through Cairo ,
irrigating the city and defining its scenery. A night-time view from the Kasr El Nil Bridge has a breathtaking
panorama of Cairo's skyline reflected in the Nile; it's a popular hangout for young Egyptians and a
prime romantic spot for couples. A fantastic evening can be had cruising around
the river on one of the city's iconic feluccas. The Nile is home to a number of cruise ships as well, offering an
incredible opportunity to experience Egypt's beautiful landscape.
5. Ancient History
It could
almost– but definitely won't– go without saying that Cairo is home to the World's remaining
Ancient Wonder.A trip to the Pyramids
and the Sphinx of Giza is an absolutely essential stop for anyone travelling
through Cairo. These monuments to the Pharaohs are truly
awe-inspiring.Visit early in the
morning to avoid the harsh sun and large crowds.
6. Sweet & Juicy
Cairo's
obsession with sugar can cure even the strongest sweet tooth. Sweet shops are scattered around the city,
serving up traditional treats such as konafa and basbousa; syrup-infused
semolina pastries.These sticky sweets
are year-round favourites, but are especially popular around feasts, birthdays
and religious holidays in Egypt. More
refreshing delights can be found in nearly every neighbourhood at juice
bars.Thick mango, sweet orange, and
tart lemon juices are the most common, but nothing sweetens a summer afternoon
in Cairo like a
tall glass of ice-cold watermelon juice.
7. Shake and Twirl
Sequined
bras, long flowing skirts, and shimmying hips are the ingredients to the
longstanding art of belly-dancing.Cairo's cabarets are home to the some of the region's most stunning
performances of this traditional dance form. Just one performance from hip-popping
belly-dancer will have you grooving along in your seat to the hot Arabic beats of
the Cabaret all night long.
For a more
spiritual experience, Cairo
is one of the world's best venues for watching the traditional Sufi
dance. The Sufis devote their minds to God while twirling in circles to
represent the Solar System's orbit to achieve a heightened state of
consciousness.Whirling dervishes open
their unique form of meditation to the public for a truly mystical
experience.
8.
Shop 'Till You Drop
Khan El Khalili is the ultimate treasure trove of a market. Both tourists and locals frequent the massive
historic souk to find spices and produce, beautiful scarves and fine jewellery.
Chatting with the shop owners is a great way to pick up a bit of Arabic and
haggle for prices. If you venture into the depths of the market, you will even come
across workshops where many of the market's products are crafted.
9. Coffee Craze
From the
early morning hours until late into the night, traditional Egyptian coffee
shops serve up aromatic Turkish coffee, steaming tea with mint, and thick,
smooth shisha. Make no doubt about it;
Turkish– or Arabic, as it is often referred to– coffee is taken very
seriously in Cairo.Various spices are
added to the coffee and the amount of sugar must be requested before the coffee
is made. Some prefer the city's modern
coffee chains, for the lattés and trendy snacks. Whether it is in the traditional or newer
locations, Cairo has a serious café culture.
10. Arab
Hospitality
The Middle
East has a long reputation for Arab hospitality; and Cairo is no
exception. Egyptians are some of the
most helpful and welcoming people in the world. Should you be invited to sit in someone's shop or home; you will be
offered at least something to drink again and again until you accept.And should you ever lose your way in this
busy city; rest assured that more than a few hands will be there to help you
out.