The Cairo 360 Guide to Charities in Ramadan 2012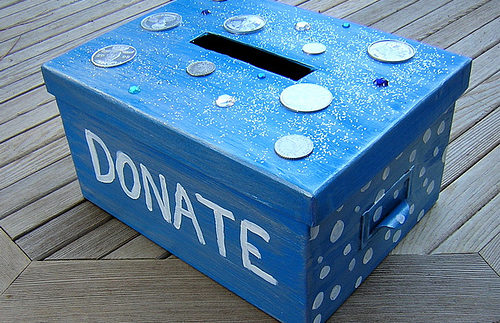 Ramadan is a time of giving; it's a time for reflection, harmony and love. While we encourage this attitude all year round, most of us get caught up in Cairo's daily stresses that often cause us to forget how important it is to offer a helping hand, so what better to remind us than a holy month. Compiling a list of charities, these are just some of the ways you can take part.
Egyptian Food Bank:

Initiated by a group of business men looking to alleviate hunger among the needy, Egyptian Food Bank is one of the more established and longstanding NGOs around. They believe in every person's basic right to food and have a vision of a hunger free Egypt by 2020. EFB works on a simple premise: they take uneaten food that would otherwise be thrown out and instead strategically pass it out to those in need. You can call 16060 for more information.
This Ramadan, EFB offers the 'Breakfast for a Fasting Person Program' made for deprived families and those who are difficult to reach outside of the city. A box of food for 60LE includes basics such as rice, sugar, pasta, several types of beans, tomato paste, tea, oil, salt, kamar el din and dried dates.
You can contribute in several ways; either at the head office in Mokattam or other outlets such as Citystars, Hyper One, Maadi City Center and Heliopolis Sporting Club. Their account number in all banks is 888777; or you can donate online http://egyptianfoodbank.com/card/Payment_ramadan.asp.
Resala:

With 54 branches spread out over Egypt and over 100,000 volunteers, Resala is essentially limitless in its causes. The NGO is impressive with twenty charitable focuses, which include caring for orphans, helping the blind and the deaf, working with children with special needs, literacy training as well as poverty alleviation and recycling – to name just a few.
For the month of Ramadan they offer two means of helping those in need. You can choose to buy a box for 55LE, which will have oil, sugar, pasta, rice, lentils, beans and dried dates; or you have the option of selecting what goes into your box, as well as whether you want to deliver the boxes yourself or have them sent out on your behalf. Another way to take part this Ramadan is buying a meal for 10LE which are delivered to families. Call 19450 for further information on food packages.
Payment can be made through either El Ahly bank or Al Masry Al Khaliji bank accounts or you can ask for it to be picked up from wherever you prefer.
Masryoon Ded El Tamyez:

An organisation with a name that translates to Egyptians against discrimination, Masryoon Ded El Tamyez stands for exactly that. With no political affiliations, religious interests or any sub-group loyalty, Masryoon Ded El Tamyez are about all Egyptians alike. The charity aims to better the country for everyone equally and without partiality, encouraging all to do the same in order to reach our ultimate goal of a developed and harmonised Egypt.
Specifically for the second half of Ramadan, in case you're a little late getting on the charity wagon, MDT are organising Ramadan food boxes to be handed out to those is desperate need. There is no set amount that is required to be paid; the group encourages each person to donate as much as they can. These donations are pooled to gather as many boxes as possible. Donations are set to end on August 6th when the food will begin distribution.
For donations or more information on the charity call 01118446739 or visit their Facebook page:
http://on.fb.me/QUXSXp
Dar El Orman:

Another organisation that focuses on those in need, without discrimination, is Dar El Orman. Established in 1993, this NGO relies on both non-monetary and monetary donations to carry out its social and economic vision. Their focus ranges from orphans, to education, to the aid of cancer patients.
For the month of Ramadan, there are two ways you can lend a helping hand. Dar El Orman offers food boxes for 80LE that are delivered to the poorest, most remote of villages. The NGO also works on the development of less fortunate areas, where they build water and electricity lines, which in turn bring in a monthly fee; these projects welcome any donations offered.
Payment can be made through numerous bank accounts – see
here
for a full list. Or, you can ask for the money to be picked up from wherever you please.
Meals for a Cause:

On a slightly different note, Allegresse Catering Services is doing their part this Ramadan and have food boxes available for distribution throughout the month. With boxes starting at 25LE they will deliver them to whichever charity of your choice.
They have seven different meals available, an example of those includes chicken, rice, vegetables, salad, bread, juice and a dessert. The bigger your order, the better rate you will be given.
For more information on Meals for a Cause call 01006367746 or check out their Facebook page
http://on.fb.me/OChKMo.

What other charities are out there?

For a list of other charities and initiative you can check out http://kherna.com/ and see how you can take part in the endless organizations and events taking place – even all year round.
Ramadan Kareem!