The Cairo 360 Guide to Valentine's Day: Dinners, Drinks & Parties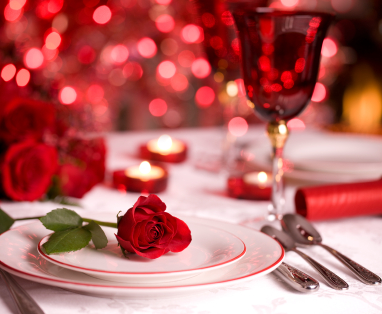 While most restaurants, bars and even shops
will embrace the spirit of Valentine's Day by adorning token heart-shaped
balloons and roses, only a select few places around Cairo really know how to do
the day justice. So if you're an old romantic at heart, a free-spirited lover
or just a bitter and miserly loner; Cairo has thrown up something for everyone.
When in search of grandeur, the Fairmont
Nile City never disappoints. This Valentine's Day, Saigon Restaurant and Lounge
are offering a lavish four-course meal for 250LE per person. The fun won't end when the dinner does,
though. The hotel is offering special
room-rates at 900LE and 1600LE, with special his-and-hers spa packages to boot.

If that's all a little too much for you,
Napa Grill will have some special Valentine's Day items on their already
impressive menu.
Down the river at the Four Seasons Nile
Plaza in Garden City, couples can take advantage of the uncreative but suitably
named 'Romance Package'. Available up until February 18th, the package
affords romantics a buffet dinner at Lebanese restaurant Zitouni, a swanky suite
with a Nile view and a hearty breakfast starting at 1750LE.
Things will get equally as spicy a few
doors down at the Semiramis Intercontinental, where The Grill is serving up a
quintessentially French set-menu for 300LE per person. Also at the Semiramis,
Pane Vino is doing Valentine's the Italian way with fiery set-menu for 230LE
per person. If your idea of romance is more centred on DJs and promiscuous dancing,
the Semiramis has your back, as Rithmo welcomes DJs Johnny and Garo.
Ladies can drag their guys to a couples'
spa session at the Kempinksi for 499LE per person. Enjoy a relaxing body scrub
and chocolate body wrap while the staff lavishes you with chocolates and
champagne. Alternatively, you can settle for a delicious four-course set-menu at the irresistible Turkish restaurant Osmanly.

The InterContinental Citystars is celebrating Valentine's Day in style, with a massive eight-course menu at
Maestro and a luxurious suite for the night, as well as breakfast and late
checkout the next morning, all for 1544LE
Dinner on boat on the Nile should be more
romantic than it actually is and Il Ritrovo is pulling all the ticks out of the
bag for Valentine's Day. Located on the Blue Nile boat in Zamalek, the Italian restaurant
is offering a huge night of live music, champagne and dinner for 300LE++ per
person. That steep price affords you free bouchon though. You can get the same
deal at fellow Blue Nile boat restaurant Asia Bar.
In Giza, Cairo's favourite new Indian restaurant
Asha's is offering a special Valentine's Day menu for 400LE per couple, while neighbouring
pan-Asian restaurant Chop Chop is also offering a special Valentine's menu for
two for 400LE.
For singletons and those who'd rather
forego the whole candle-lit dinner malarkey and head straight for a dance floor,
Cairo's best clubs are hosting huge nights, starting at Cairo Jazz Club's 'Screw
You Cupid…I Love Me!'. Rockabilly band Top Hat Rats are warming up the crowds
before the slightly insane Screwdriver get the night really going.
Yasso Lounge has very quickly become the
place to be seen, and the Nile-side club has drafted in DJ Feedo for a night of
hip-hop and r&b. Downstairs at new club Bamboo, residents DJs Honey and
Kiko are joined by special guest DJ Aly for 'Red Roses Valentine'.
2012 is looking like a big year for Risas
in Zamalek and there's no better time to see what all the fuss is about this
Valentine's Day. The 250LE tickets for 'Valentine's REMIX'D' provides partygoers
with free bouchon, soft drinks and mezzas to snack on throughout the night
while DJ Shaggy provides the entertainment.
Still not satisfied? Why not have a look at our opinion of Cairo's best date restaurants.

There you Cairo, have a great Valentine's
Day.