The Cairo Dish-Painting Initiative: Quirky Project Adds Colour to Cairo Skyline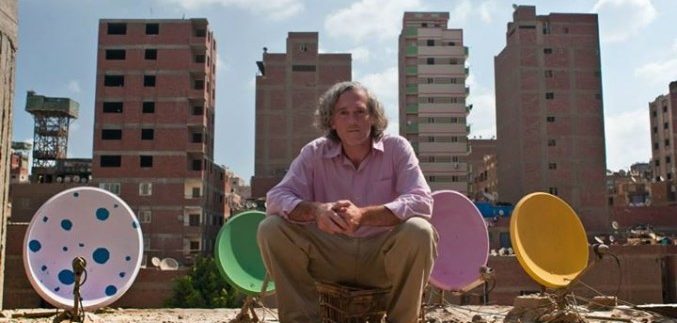 When you look at the Cairo skyline, chances are you'll see a grey and polluted mass of concrete dotted with a forest of satellite dishes.
"It's so depressing," a friend told Jason Stoneking. "If you paint all those dishes in bright colours, the entire city would brighten up," the American writer responded. It was this throwaway, possibly ludicrous, comment that gave birth to the Cairo-Dish Painting Initiative.
Stoneking and his girlfriend, Leslie McAllister, are visiting Cairo for three months as artists in residence at the Artellewa located in a Cairene suburb of almost the same name – Ard El Lewa.
"Initially, we had very different ideas about what we wanted to do here," he explains. "I primarily work as a writer and Leslie does photography and painting, but considering the current political situation in Egypt we were told it would be very unwise to go out on the streets of Cairo hauling big camera equipment and such with us."
As a writer, Stoneking spends most of his time at home sitting at a desk, which seemed to defeat the purpose of his travels.
"Cairo is such an amazing environment; I want to spend as much time outside interacting with locals as possible. The people are so nice and welcoming I really want to give something back."
Ard El Lewwa is one of the poorer neighbourhoods in the city and the couple were mainly interested in undertaking a project that would involve the local community.
"I don't want this to become a foreigner-in-Cairo thing," Stoneking emphasises, "Or to just have people in the wealthier parts of the city be a part of this. People here are already missing out on so much and I wanted to do something that is very easy and cheap but that would still empower them to improve their living space."
Stoneking also explains that planning the project in Egypt has been more difficult than the planning he's used to in the US.
"Before we can go and paint on a roof, we need permission from all the people that have dishes up there as to whether they want them painted or not," he says. "In New York, you would call them up or visit their house and say 'let me know by 3pm this afternoon whether you're in or not' and within a day everything would be sorted'."
But in Egypt, things are done a little differently.
"You have to drop by on a visit, have some coffee and then you won't hear from them again," he says. "So you have to drop by again, follow up with a phone call and then send someone else around to ask the same thing. It can take days, sometimes weeks, before you get a definite answer on anything."
Despite this,, the project has been a big success and has even begun to gather quite a following.
"The first roofs have been conquered and their dishes painted. We started on the roof of the building we're staying at, with bright yellow, orange, green and purple dishes. The kids that live across the street saw us and cheered us on from their balcony."
The writer then created a short video and posted a few pictures on the initiative's Facebook page.
For people looking to brighten up their own roofs, Stoneking offers some advice. "You have to use paint that is lead free and non-metallic, otherwise you might mess up the signal."
Additionally, the writer advises against painting the arms or receivers, and to use bright colours because they stand out better when the dishes get dusty.
"Ever since, people have been sending us photos of them painting their own dishes – I think that's incredible," he exclaims.
For more on the Cairo Dish Painting initiative, click here.
Photos courtesy of Leslie McAllister and Giacomo Crescenzi (Facebook)