The Expat Guide to Life in Cairo During Ramadan 2012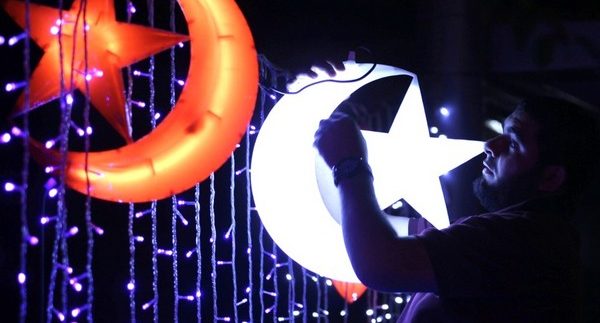 It's that wonderful time of
year again when Cairo is decked out with lanterns and tents, and everyone stays
up late consuming too many sweets and soap operas. Taking part in the month-long spiritual month of Ramadan, fasting Cairenes will abstain from sunrise to sunset from food, drink, and all – despite the
heat – impure thoughts. Because alcohol is extra sinful during this time, keep
in mind that many of your favourite bars and clubs will be closed for the next
four weeks. Also, late afternoon traffic will be a nightmare, with excessive
honking and shouting – in the nicest possible way of course. While Ramadan can
be overwhelming for foreigners, both fresh and veteran, we're here to guide you
through the month so you'll be as happy as a fasting Cairenes with a sambousak at
sundown.

Where to Eat

By now you've noticed that
your neighbourhood foul shop is closed all day and your favourite lunch spot is
locked up. But the fact that most of the city is fasting doesn't mean that you are expected
to do the same. You'd do well to refrain from eating, drinking and smoking in
the street or a taxi during the day, but a number of dining options remain open
to those who are not fasting. The city's chain cafés, such as Pottery Cafe and Costa (link)
serve food from morning to night, as do most fast-food chains and delivery
options.

For more substantial
daytime dining, head to any of Cairo's upscale hotels, or visit neighbourhood
favourites such as, Zamalek's Blackstone Bistro, serving both breakfast
and lunch; Cairo Kitchen will be open for lunch from noon until 4PM and Zooba
serves starting 1PM. Over in Maadi, newly opened Begum in Maadi opens each
day at 1pm and Bua Khao is open as usual at noon.

However, we do recommend
that you save some room for sundown, when Egyptian cuisine – in massive
quantities – takes centre stage for the night. Restaurants and hotels will be
hosting tents and special
fetar and sohour menus throughout the month. Check back for our reviews and be
sure to head out to a few. Or sit at home with a kilo of konafa – we won't
judge. Either way, even though you're not fasting, the night-time gorging is
contagious.

Where to Drink

Got your passport handy?
You'll need that if you want to go out drinking this month. Not that you'll
have to travel far to do it. While we shed a collective tear at the temporary
closure of our favourite balady bars and open air lounges, plenty of venues are
still serving.

Cairo's upscale hotels
leave their bars open to foreign passport holders, so this is a great chance
for you to fall in love with a new bar(tender). Head to Library Bar at the Four Season's First
Residence for cocktails and delicious tapas, or have a Heineken on draught at
Harry's Pub in the Marriott.

Expat clubs are also an
option, usually requiring an entrance fee. Why not check out the Swiss Club or BCA. Or get friendly with a member of the invite-only ACE Club to see what all the fuss is
about.

If you're more of the
reclusive drinker-type, we hope you responded to the texts from Cheers and
Drinkies before Ramadan began, since both businesses will be closed for the
month. If you live in Maadi however, you're in luck since Massoud Supermarket sells
beer and wine throughout the month.

What to Do

Take it easy during the
day. Cairo becomes quite nocturnal in Ramadan, and fighting it is futile.
Chances are your office hours have been cut back, so you should take the extra
time off to relax during the day. You'll need your rest for all the lively
Ramadan nightlife Cairo has on offer. Ramadan tents often feature entertainment
ranging from big screen televisions to tannoura dancing, while El Sawy
Culturewheel holds nightly concerts and plays. Also be sure to check out
Mawaweel Festival, opening at Darb 1718 on the 26th July. We'll
tell you more about this year's Ramadan nightlife throughout the month on the Cairo 360 events calendar.

Aside from the
entertainment, there are a few other things you should do this month.

-Dress contentiously. We
know, it's a million degrees and you want to don a sundress, but remember that
whole abstention from impure thoughts thing?

-If you're attending fetar
at a family home, go with an appetite. You don't need to fast, but you should
at least arrive ravenously hungry, basbousa in hand. It's not a matter of
offending the host by refusing a third helping of food; refusing is not an
option.

-Be patient and generous. Everything
takes a little longer during Ramadan and you just have to go with the flow.
It's hot and people are hungry. Also, it's a season of giving; if you're so
inclined, give a little extra this month.
Despite all this, there is but one piece of advice to go by; embrace Ramadan. This is a magical time of year if you stop fighting it and let yourself be swept away by it. If you have any questions or queiries about Ramadan, don't hesitate to contact us on info@cairo360.com, Twitter.com/Cairo360 or Facebook.com/Cairo360.
Ramadan Kareem!