The Foul Festival: Special Event in Zamalek Aims to Set World Record
Whether it's for breakfast, a working lunch or an on-the-go dinner, there are few foods that Egyptians love more than foul – taameya and koshary loyalists may have something to say about that, but foul – in all its varieties – still stands a staple of Egyptian food culture. It's something we can call our own, something that many of the city's newer restaurants have gotten creative with and is, by-and-large, good value for money – that's not to mention that it's also delicious and, when done right, good for you.
Knorr Fine Foods understands this and, in a move that pays testament to how much Cairenes really do love to eat, are set to hold very unique and quirky event this weekend.
'Food festivals' have become en vogue in recent times, but the Egyptian Foul Festival is threatening to top them all. Set to take place at Zamalek's Al Horreya Park on Saturday 21st of March, a whole day of activities awaits, with the main event set to be an attempt to produce the biggest serving of foul in the world – a serving that is said will over a whopping 100m2 of space.
Yes, that's a lot of foul and we had her appetites well and truly whetted with a little taste of things to come thanks to a very generous – and very delicious – Egyptian breakfast hamper at the Cairo 360 offices this week.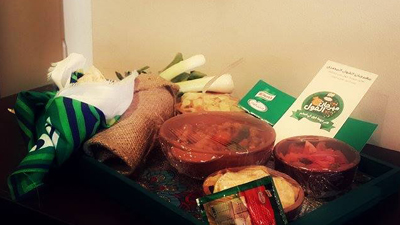 Breakfast is served!
In addition to the world record attempt, there is plenty to see, do and, of course, eat, with some the country's top names in food all setting up shop for visitors to work their way through – leave dieting plans and your shame at the door.
You can even do a spot of shopping, with local brands, designers and artisans showcasing a wide range of goodies, covering everything from accessories to hand-made knickknacks. Later on in the evening, meanwhile, local favourites, Wust El Balad, take to the stage with a special performance that will see the popular band bring their unique fusion of rock, Oriental and pop music.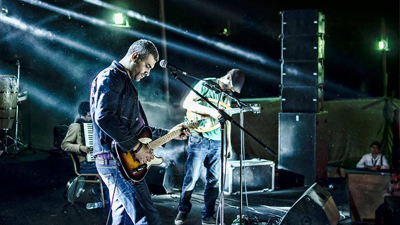 Wust El Balad in action in Cairo last month (Photo: Wust El Balad Facebook)
Opening its doors from 2PM, the festival is set to rage on throughout the day and what is set to be a wholesome day out has already attracted plenty of interest from Cairenes. We just hope there's enough baladi bread and torshy pickle to cover all that foul.
For ticket information and more, click here or check out the official Knorr Facebook page.