The Idea Paintball Tournament for Private Universities in Cairo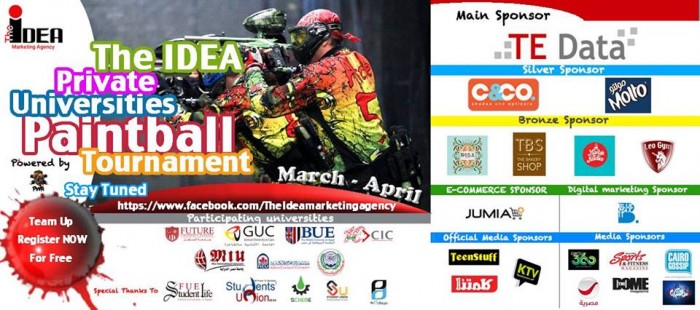 Of all the activities and sports enjoyed in Egypt, there's nothing quite like shooting water soluble dye-filled gelatin capsules at a friend. Yes, we of course speak of paintball.
While paintballing has enjoyed global popularity around the world since the eighties, it's only in the last five years or so that the game has cemented itself as a favourite in Egypt, with more and more top-notch paintballing facilities opening across Cairo.
There's an intangible element in paintballing that brings out the competitive side of anyone daring to don those spiffy fatigues – something that Cairo-based marketing agency, the Idea, is channelling with a huge event spanning several weeks across universities in Cairo.
Sponsored by TE Data, C&Co., Molto, Nola Cupcakes, TBS, Marly's Kitchen, LEO Gym, JUMIA, Blue Max, Teen Stuff, Kelmtena, KTV, Sports & Fitness Magazine, The Dome Magazine, our sister website, Cairo Gossip, and yours truly, the Idea Paintballing Tournament for Private Universities is set to pit students from the German University in Cairo, Future University, Misr International University, Ahram Canadian University, Canadian International College and the Arab Academy for Science & Technology against each other in a mammoth tourney, the likes of which Cairo has never seen.
Kicking off at GUC on Sunday 16th March, the first round will see teams fight it out to represent their university in the finals, which will take place at a neutral venue. After the inaugural internal tournament at GUC between the 16th and 19th, first round eliminators will then go on to take place at BUE (March 23rd–25th), FUE (March 30th–April 1st), MIU (April 2nd, 3rd and 6th), ACU (April 8th–10th), CIC New Cairo (April 14th and 15th), CIC Sheikh Zayed (April 16th and 17th) and AAST (April 28th-30th), with the grand final following soon after.
Now, while university sports in Egypt are not on the level of, say, US universities, the tournament has created a palpable excitement around participating campuses – afterall, university pride is at stake. All that students looking to participate need is a team of five and a take-no-prisoners attitude – because paintballing is so much more than just a game.
Let the battle commence! For more information on how to register, click here.