written by
Christina John
Is anyone truly ready for the New Year? Ready or not, it seems like the countdown to 2023 is closer than we all think. If you forgot to make plans or can't seem to decide where to go, we are here to make the decision easier for you. We've gathered all the fun events happening on the last weekend of 2022 for you to say goodbye to this year on a good note.
Thursday
Dozee & Momo at Cairo Jazz Club 610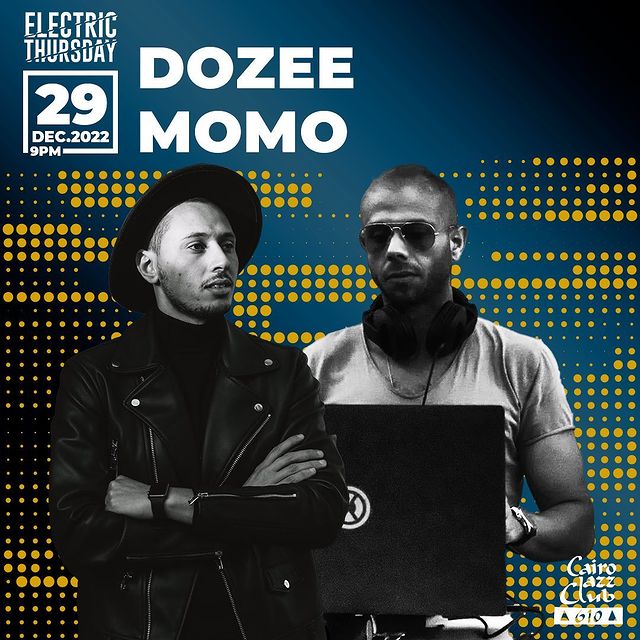 You still have a chance to fix this year and end it right this weekend. So start this last weekend of 2022 with the best house beats from Dozee and Momo that'll keep you dancing till late.
For reservations, send CJC 610 a FB message between 12-8 PM.
Egyptian Project at Cairo Jazz Club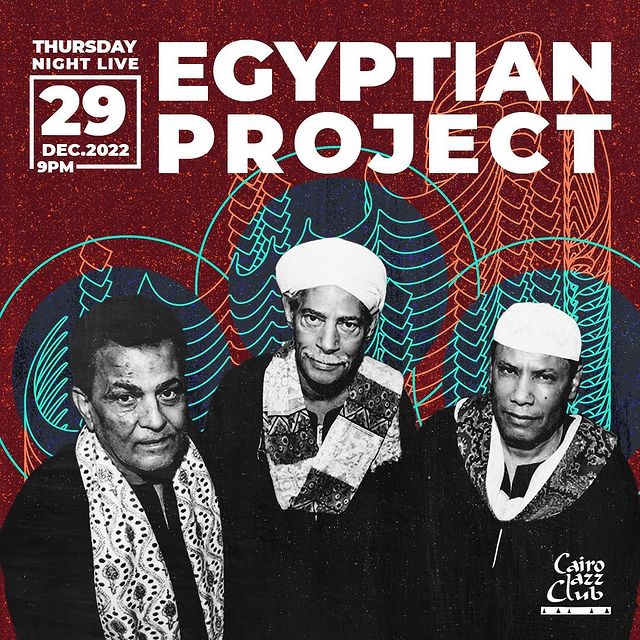 We feel like we all need one more performance from the folk band Egyptian Project before the year is over. So enjoy the tranquil atmosphere and their masterful tunes one more time before starting the New Year's celebrations.
For reservations, send CJC a FB message between 12-8 PM.
New Year's Weekend at Somabay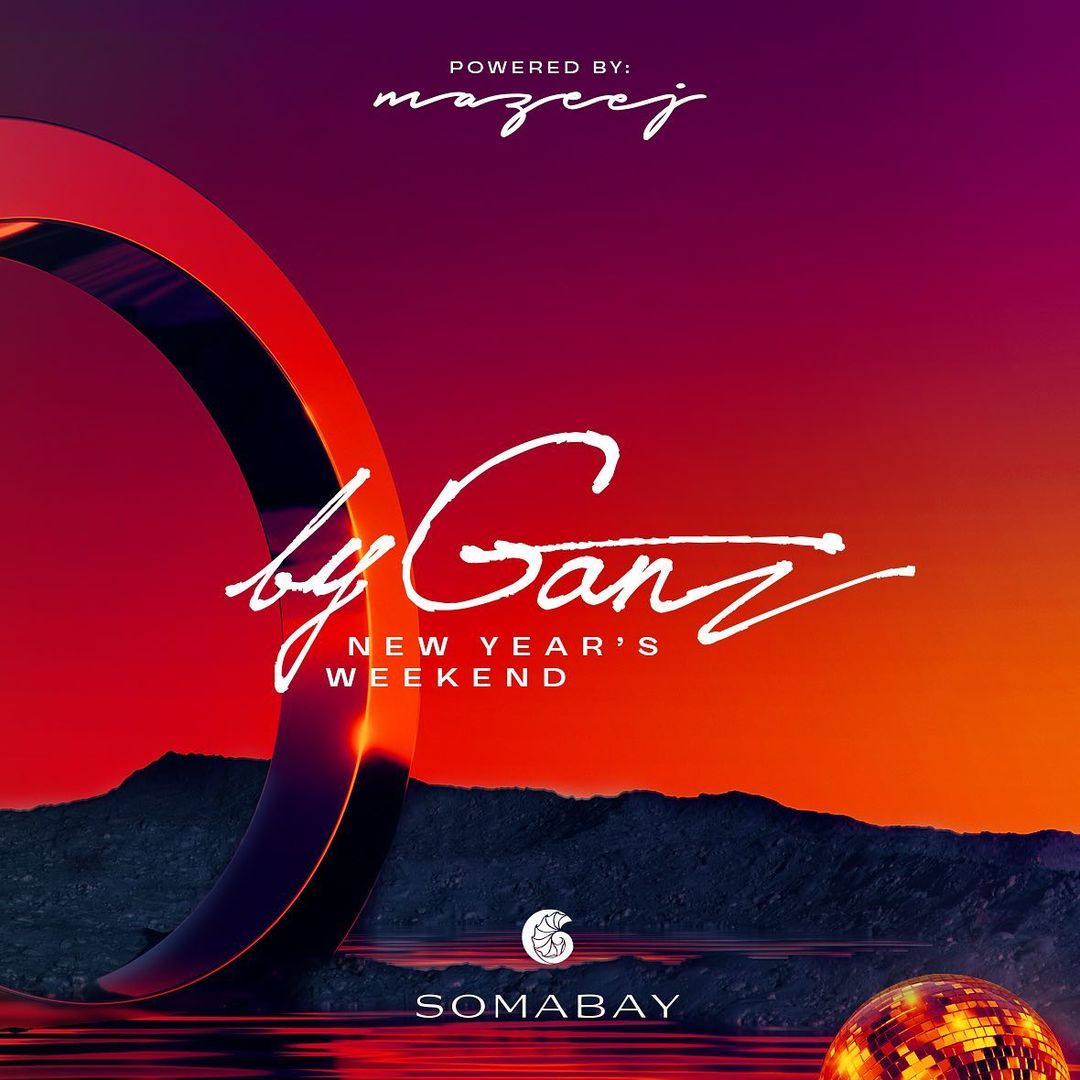 Turn New Year's Eve into a whole week's worth of celebrations! Join the fun this weekend at Somabay, Red Sea, with performances by many renowned artists and DJs, such as DJunkie, Gawdat, Chaos in the CBD, more. The fabulous event hosted by Ganz will have each night of your weekend dedicated to different themes with lavish accommodations options to make your trip worthwhile.
Mina Milad at Ubuntu Art Gallery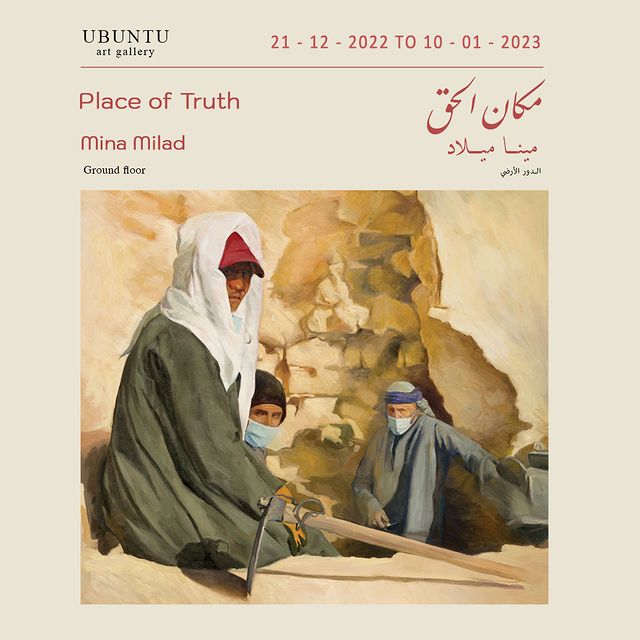 You can now admire the work of Mina Milad's newest collection titled "Place of Truth" as his exhibit is available at Ubuntu Art Gallery. The masterpieces displayed in this exhibit are just as mesmerising as all of his previous work. The exhibit will be available until the 10th of January, and you have to see his work for yourself.
For more info, click here.
Friday
Laugh About (New Year) at Room Art Space Garden City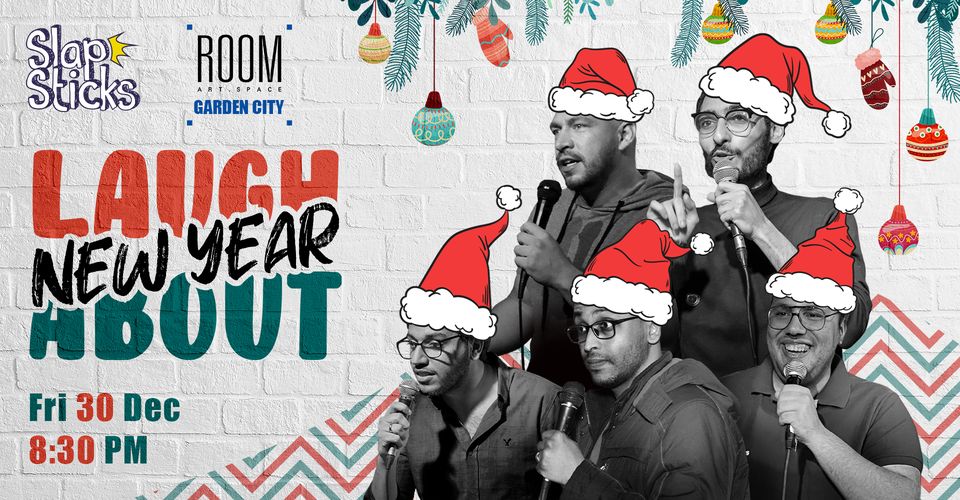 For a year that has had its ups and downs, 2022 was surely full of surprises. Come laugh at all the random things that happened this year with a lineup of exceptionally talented comedians. Mohamed Hassanien, Ahmed Magdy, Shehab El Ashry and Ahmed Hassan will be making sure you leave this year behind with a huge smile on your face.
For more info, click here.
Urban Candy at Cairo Jazz Club 610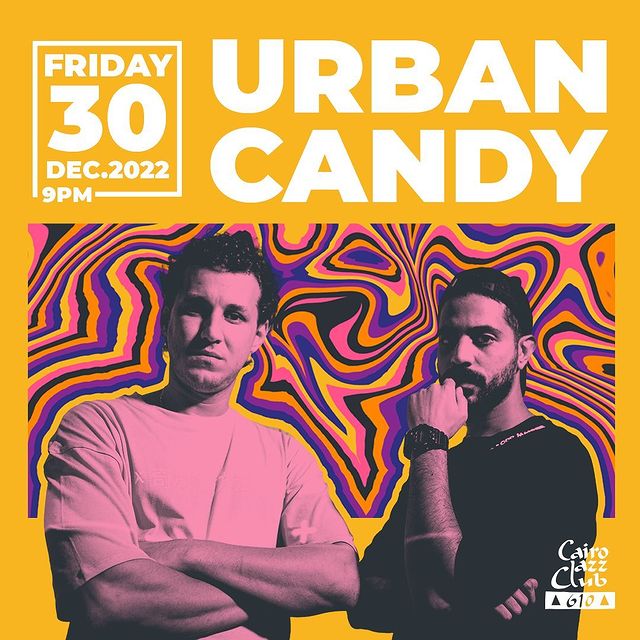 Why have only one New Year's celebration when you can party all weekend long? Join Urban Candy at CJC 610 as they play all your favourite pop hits for you and your friends to enjoy.
For reservations, send CJC 610 a FB message between 12-8 PM.
The Nutcracker at Cairo Opera House

Before the partying and the craziness of NYE start, you can end the year with a grand ballet concert of Tchaikovsky's The Nutcracker. So put on your favourite formal attire and take your loved ones for an experience that they will cherish for years to come.
For more info, click here.
Saturday
Glitter and Gold Night at Dusit Thani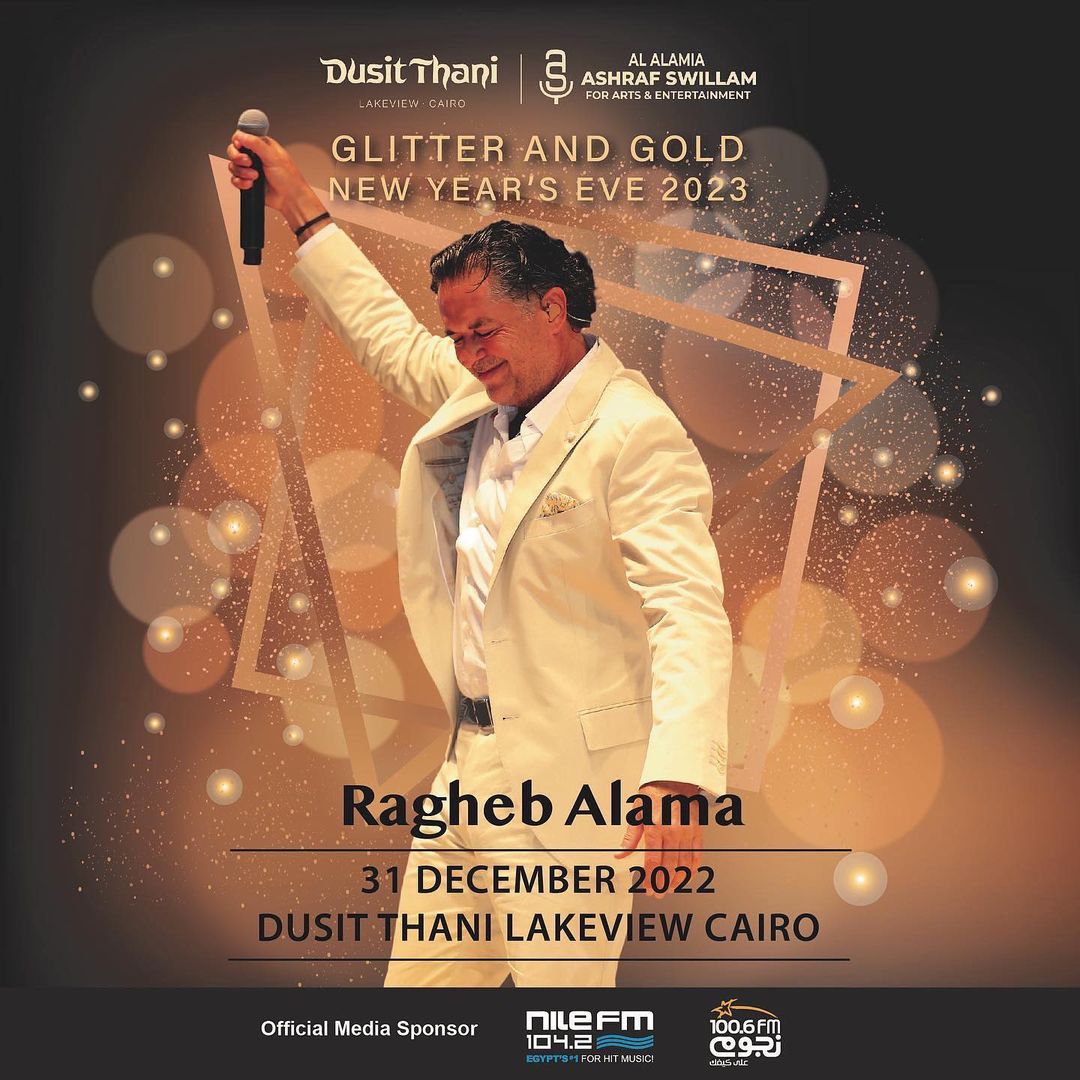 Ladies doll up and gentlemen suit up, It's a Glitter and Gold night at Dusit Thani this New Year's Eve 2023. Enjoy performances by superstars Ragheb Alama and Nicole Saba.
For tickets, call 01006116677. 
Goom Gum, Lith K, & Etch at Space Sharm El Sheikh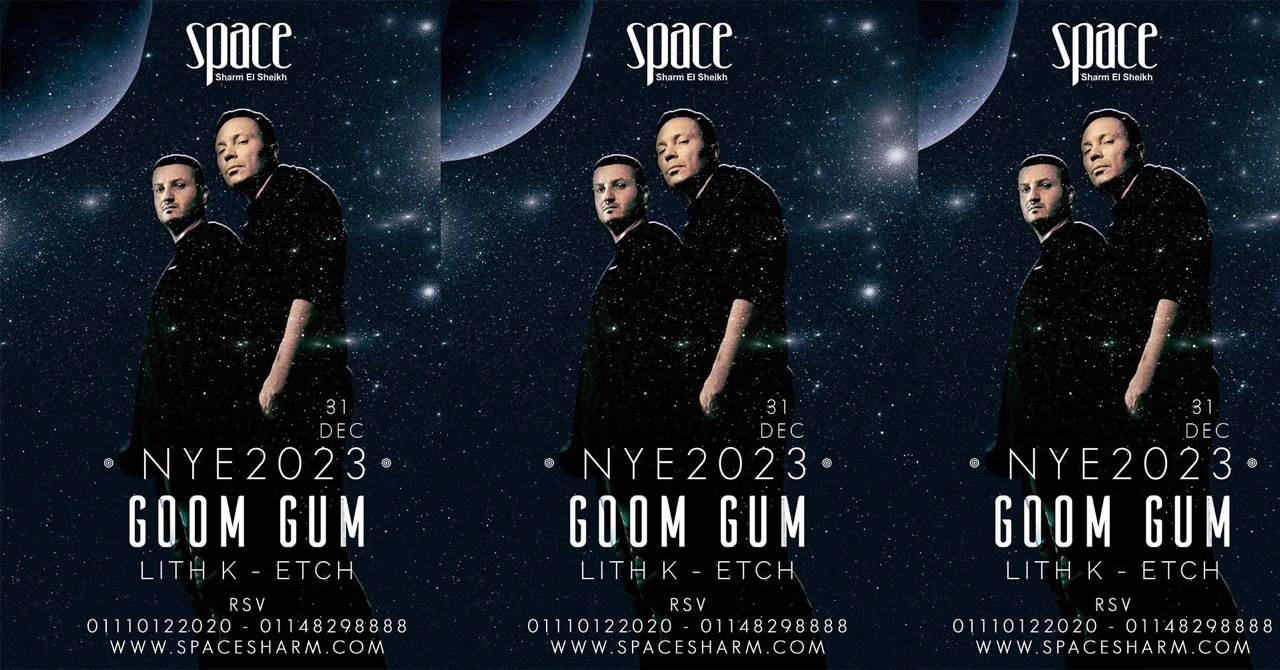 Take your New Year's Eve plans to Sharm El Sheikh for an unforgettable night. DJs Goom Gum, Lith K, and Etch are in charge of providing the room with electrifying beats to count down the start of the new year.
For more info, click here.
Karaoke Night & Funny Hats at Room Art Space New Cairo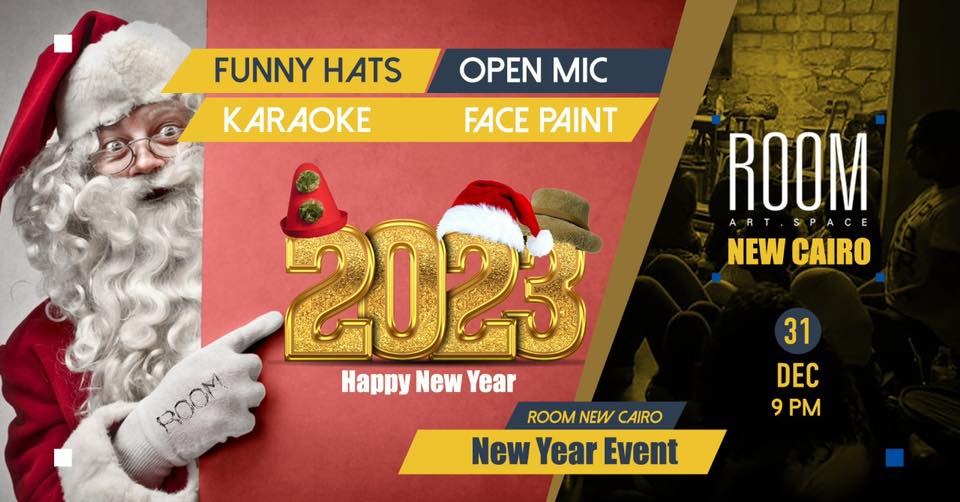 Step into this New Year with a new perspective on fun with the help of Room Art Space in New Cairo. This year Room New Cairo is celebrating with karaoke, funny hats, face painting and an open mic. Book yourself and your loved ones a spot at this exceptional NYE event.
For more info, click here.
Moustafa Amar & Bubblegum Kollectiv at Cairo Jazz Club 610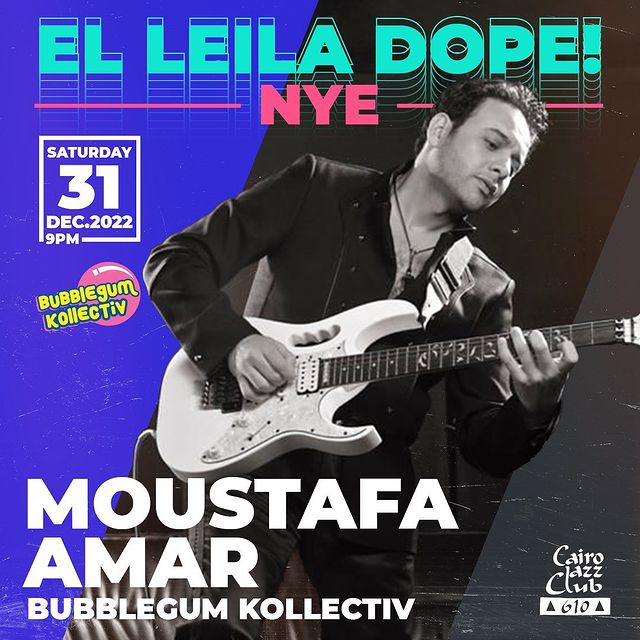 As always, Cairo Jazz Club 610 never disappoints. This New Year's Eve, the Egyptian superstar Moustafa Amar will make sure of that at El Leila Dope by performing some of his greatest hits. Bubblegum Kollectiv will be in control of the decks afterwards with all your favourite pop hits.
For reservations, send CJC 610 a FB message between 12-8 PM.
Heavy Pins & Junior Music at Cairo Jazz Club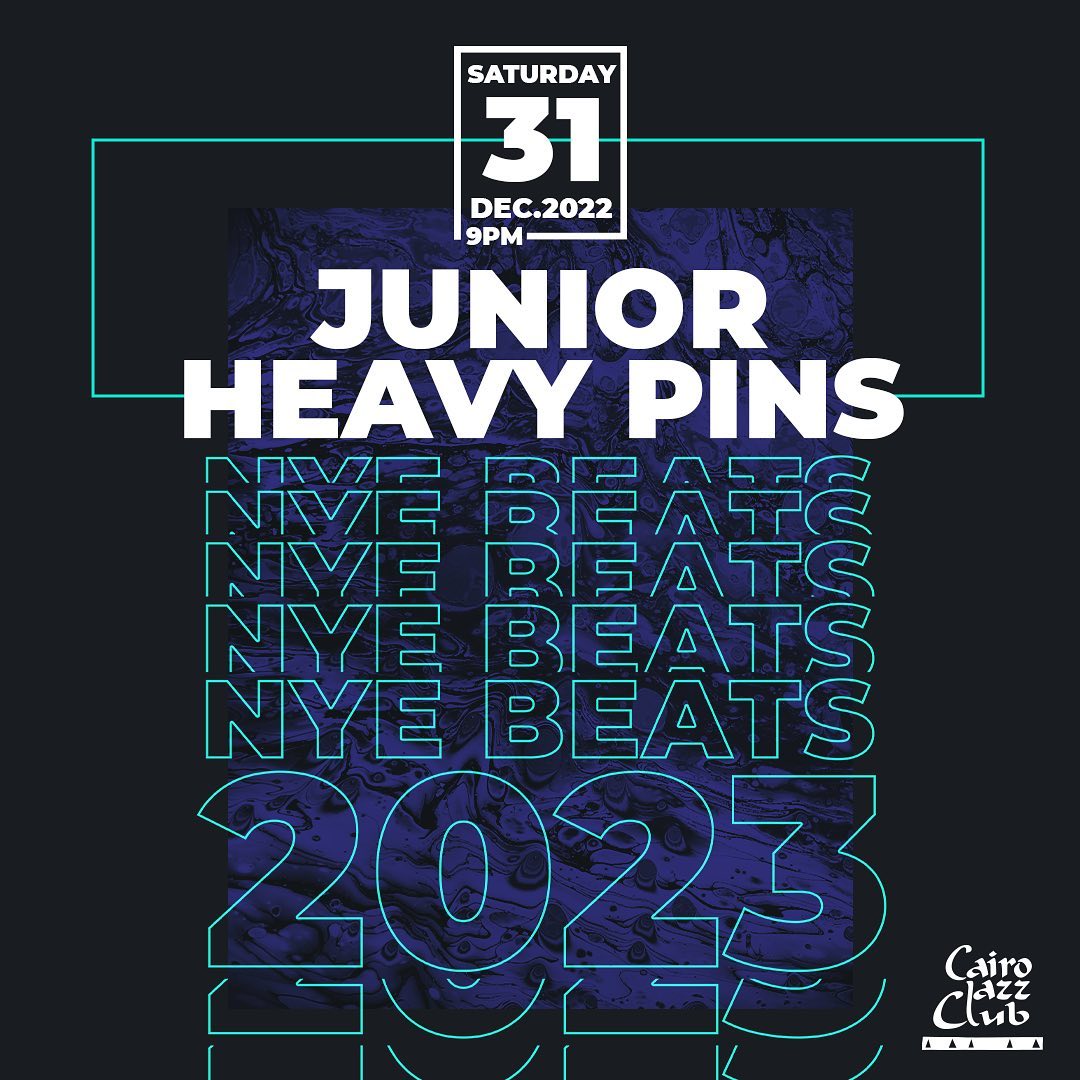 Let's make this year's resolution to have more fun. Where else to start than by heading to CJC? Dance all the way to 2023 with uplifting beats that will keep you moving all night. Heavy Pins and Junior Music will be in charge of the decks, and you won't leave the dance floor till late.
For reservations, send CJC a FB message between 12-8 PM.
Cabaret Night at Code Restaurant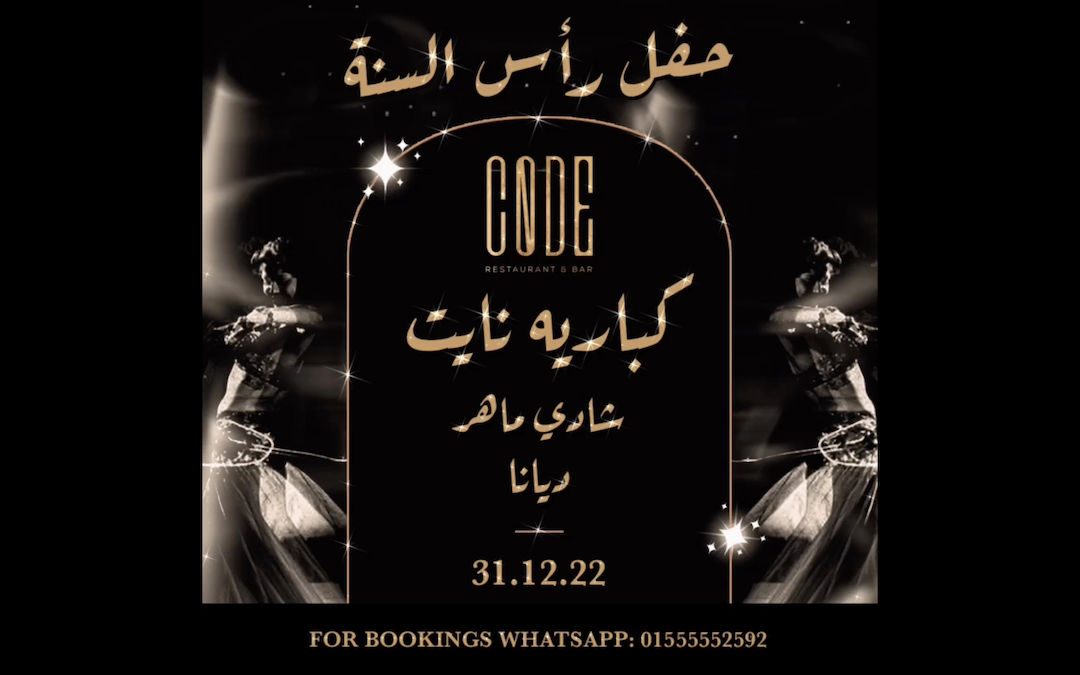 End the year the old Egyptian way, at the Cabaret. Code restaurant provides more than just delicious bites and tasty cocktails. Belly dancer Diana and DJ Shady Maher will be joining the night for a proper farewell party for 2022.
For more info, click here.
Block Party at El Gouna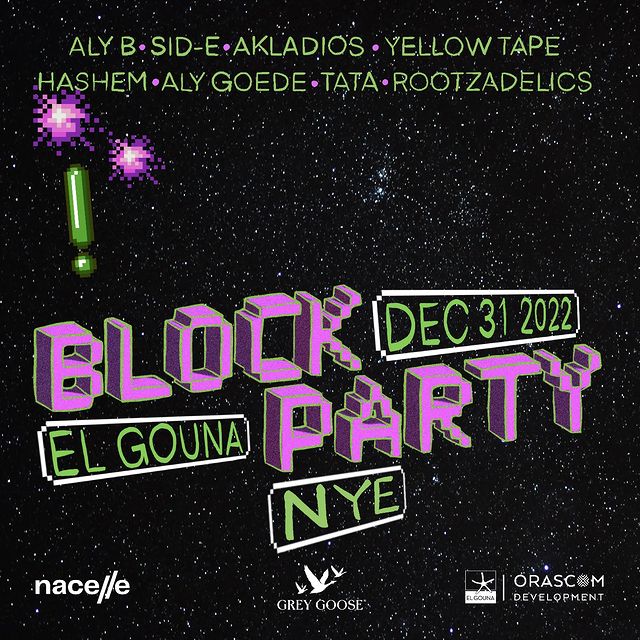 Instead of spending the night posting things on Facebook like "tomorrow is the first blank page of a 365-page book" hop on a ride to Gouna and make the last page of this chapter worth remembering. A lineup of local DJs will be ready to help you turn up. Reggae to house and much more will be played. Akladios, Aly Goede, and many more are waiting to start the new year with you.
For more info, click here.
The Marmalade Jam, Soul Medicine Man & DJ A K at The Tap West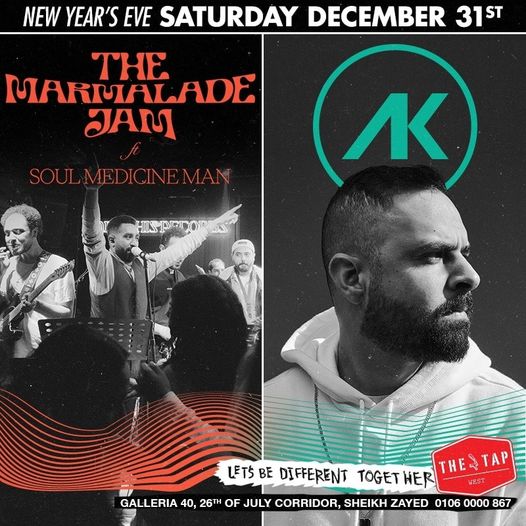 Party like tomorrow is a fresh start, and everything you do will be forgotten the next day. The Tap West will host many talented artists who'll make your night worthwhile. Soul, funk and psychedelic will be the job of The Marmalade Jam and Soul Medicine Man. Before the clock strikes 12, A K will start spinning some of the hottest Hip-Hop and RnB beats.
For more info, click here.
New Year's Concert at Cairo Opera House

We honestly love how the Cairo Opera House is always ready with events and concerts dedicated to whatever we want to celebrate. This is a concert for everyone looking to keep it classy this New Year's Eve. Expect some incredible music and a very cheerful atmosphere.
For more info, click here.