Weekend Roundup: Cool Weather, Cooler Music!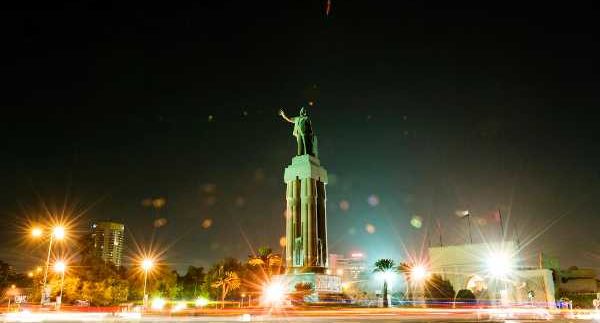 Enough about
the season's refreshing and cool weather; by this point, it's just plain cold
in Cairo- so break out the winter coats! The end of November brings with it the
good cheer and cosiness of the Christmas season, and we've set to work
to bring you all of Cairo's coming Christmas fairs and bazaars in advance, such
as the DEO Christmas Bazaar in Dokki,
which promises a reunion of DEO alumni as well as bratwurst, glühwein, lebkuchen
and other spicy German Christmas delicacies.
This weekend,
we have an exciting mix of art, music and foods lined up for your
entertainment.
Screwdriver will
bring their good vibes and classic rock covers at the Cairo Jazz Club this
Thursday, so be sure to stop by for some weekend celebrations. Sahara Band will
perform at After Eight on Thursday as well, while the Sawy Culturewheel will
host the launch of the Arterial Network with a performance by Sudanese singer Salma El Asal. For something a little different, try your hand at the Chess Festival, also at the Sawy Culturewheel, which is free of charge and held every day from 4PM to 9PM until December 1st. Enjoy the rich rhythms of Sudanese music
with a Rango concert by Mystic Sounds at Downtown's Tanboura Theatre.
Looking for a culinary
adventure? Stop by Mezza Luna to sample their brand-new gourmet pasta dishes
for the restaurant's Verrigni Pasta Event, which continues through the weekend.
This Friday, break out of the
wining, dining and dancing box for something a little different, and attend the
350 Earth Project at Wadi Natroun. The event plans to stage a human formation
in the shape of a scarab, to be captured by satellite cameras for Egypt to
leave its mark. Or head over to the Citadel to attend the 2010 Freedom to Create Award Ceremony, featuring Amr Waked, Hakim and Donia Massoud, among others. Entrance is free.
Later, Salalem band will perform
at After Eight, DJ Amir Sharara will take the booth at Cairo Jazz Club, and
Eftekesat will bring its acclaimed fusion of oriental instrumentals and
contemporary rock n' roll to the Sawy Culturewheel stage.
Saturday night shows no sign
of slowing down musically, with contemporary Egyptian band Basata performing at
Sawy Culturewheel, Cairokee playing the Cairo Jazz Club, and an as-yet unannounced
resident DJ playing at After Eight for a night of heel-kicking and
carpet-tearing.
Get ready for a musical
weekend in Cairo, and enjoy!