Christmas in Cairo: The Film Guide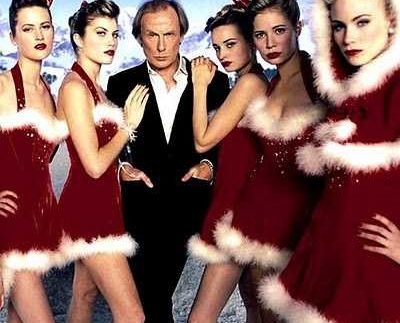 written by
Melissa Howell
You've spent the day running around Cairo buying
Christmas presents for your family and friends, worked for hours in the kitchen
preparing the perfect holiday feast and decorated your house to spread festive
cheer. After all of this hard work,
Christmas can seem a little chaotic. There's
no better way to relax and remember what the season is all about than by
curling up on the couch with some fresh cookies and one of these Christmas classics.
Home Alone: This 1990 classic starring Macaulay Culkin is a
hilarious and heart-warming film for the whole family! Kevin McCallister is
accidentally left behind as his family rushes off to the airport to fly off for
Christmas in Paris. At first, being home
alone is a dream come true until two burglars target his house. While he's busy
outsmarting the dim-witted thieves, Kevin's family is frantically trying to
return home to be with their son in time for Christmas.
Love
Actually: Hugh Grant, Bill Nighy, Emma Thompson, Colin Firth
and Keira Knightley are just part of the star-studded cast in this 2003
romantic comedy. The film follows eight stories of love, loss, betrayal and
friendship in the weeks leading up to Christmas in London. While we admit to adoring this film all year round, it is especially a
Christmas favourite thanks to a great soundtrack of holiday hits.
Ernest
Saves Christmas: At 151-years-old, Santa Claus wants to pass the torch to a younger man,
and he heads to Orlando Florida to find a replacement. With the host of a children's television show
in mind for the job, Santa hops into Ernest's taxi and heads for the set. After leaving his magic sack of gifts in the
back of the car, this senile Santa gets arrested on suspicion of being insane. It's up to the iconic comedy character Ernest
P. Worell to break Santa out of jail and save Christmas.
Miracle on
34th Street: Although his name is Kris
Kringle, Ms. Walker doesn't expect the stand-in Santa that she hires for the
Thanksgiving Day Parade to be the real thing. This no-nonsense corporate woman has stopped believing in Santa Claus
and her young daughter has followed suit, until Kris Kringle comes into their
lives; leaving them forever changed. Originally made in 1947 starring Maureen O'Hara, Edmund Gwenn and
Natalie Wood, a 1994 remake featured Elizabeth Perkins, Richard Attenborough
and Mara Wilson.
The Santa
Clause: This 1994 film starring Tim Allen is a Christmas
family favourite. A divorced Tim Allen
spends Christmas Eve with his son and gets more than he bargains for when Santa
falls off his roof, hands Allen a business card and promptly dies. The card turns out to be a clause that states
that Allen must take on the role as Santa Claus for the night. As the New Year begins, Allen begins to
resemble Santa Claus against his best efforts while his ex-wife begins to
question his sanity.
How the
Grinch Stole Christmas: Based on the book of the same name by beloved
children's author Dr. Seuss, the 2000 film
adaptation stars Jim Carrey as the Grinch that has it out for the Whos down in
Whoville and all their Christmas fun. Despite
his best efforts to rob them of all things Christmas, he is unable to break
their spirit and finally joins in the celebration.
A
Christmas Story: We don't usually associate guns with Christmas films, but much of the
plot of A Christmas Story revolves
around young Ralphie Parker's single Christmas wish: a Red Ryder BB gun. Ralphie talks about his wish to anyone who
will listen, even using it as the topic of a school paper, but everyone seems
to have the same response, that 'you'll shoot your eye out.' The family-friendly comedy pokes fun at
typical winter madness, while Ralphie waits in anticipation of Christmas
morning.
It's a
Wonderful Life: Despite living a life of
selflessness and good deeds, George Bailey has repeated hard times and on
Christmas Eve, down on his luck, he finds himself thinking about ending his
life. Prayers from family and friends
are heard and George is sent a guardian angel to help him through his
turmoil. With the aid of caring family
and friends, George realises that despite his problems, it's a wonderful life.
Elf:
Buddy is just a baby in an orphanage when he climbs into Santa's sack one
Christmas Eve. The young stowaway is
discovered upon Santa's return to the North Pole and is cared for by the
elves. It's not until Buddy (Will
Ferrell) is grown and doesn't have the knack for toy-making when he realises that he
isn't an elf. So after finding out the
name of his father, Buddy sets off on a hilarious journey of culture shock in
New York City.
A
Christmas Carol: Charles
Dickens' 1843 novella about the miserable and greedy Ebenezer Scrooge and his
holiday tale of redemption has become the quintessential score for second
chances at Christmas. The long-celebrated
tale has been recounted in a number of stage and film productions. Our favourite version of the story has to be The Muppet Christmas Carol starring
Kermit the Frog as Bob Cratchit.