Preview: Eid El Adha's New Films in Cairo Cinemas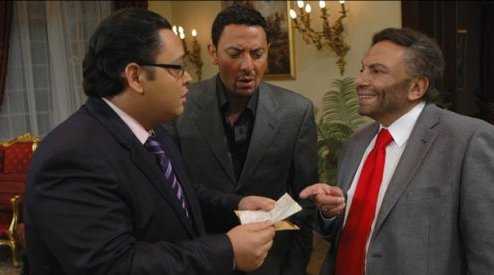 written by
Haisam Abu-Samra
The nice weather and sizeable Eid El Adha holiday call for one last
beach getaway, but the occasion also marks the last time that we'll have a nice
batch of local films until next summer.
Whether you're spending your holiday in Cairo
or planning to check the releases later, this season's films look far
more promising than last Eid's offers, at least in terms of star power. Here is
a roundup of the four new Egyptians films playing at a multiplex near
you.
Zaheimer (Alzheimer's Disease)

Starring: Adel Imam, Nelly Karim, Fathy Abdel Wahab,
Ahmed Rizk

Director: Amr Arafa
After a
string of sexually charged turns, Imam's new film finds him playing a less racy
character, where he gracefully embraces his advancing age. Imam plays an old
business tycoon with an onset of Alzheimer's disease. While the aging man
prepares himself for the long battle, his two ungrateful sons take advantage of
his mental fragility and try to seize control of his fortune.
Judging by
the trailer, Zaheimer looks like a
classic Imam affair with the right balance of comedy and substance. We
certainly hope that Imam can redeem himself after the huge disappointment that
is Bobbos.

Bolbol Hayran (A Bewildered Bulbul)

Starring: Ahmed Helmy, Zeina, Amy Samir Ghanem

Director: Khaled Marie
There is
very little known about Bolbol Hayran
at this point, but this is not some sort of marketing strategy. Helmy's second
undertaking for 2010 had a tight production schedule, and as we speak, the
crew is working around the clock so that the film can make it to cinema theatres on time; hence, the absence of a trailer.
In Bolbol Hayran, Helmy is torn between two
women that he loves equally; so the lover boy seeks the help of a professional
psychiatrist (Ghanem) to help him make up his mind. Ironically, the therapist
herself is caught in the same predicament, and instead of labouring over the
right choice; the two hook up and hilarity ensues.
Ibn Al Konsol (Son of The Ambassador)
Starring: Ahmed El Sakka, Khaled Saleh, Ghada Adel
Director: Amr Arafa
If you're wondering how director Amr Arafa was able to supply 50% of
this season's films, the answer is simple: it was circumstantial. Ibn Al Konsol was actually shot, edited
and locked a few months ago, but the film didn't make it to cinema theatres because it missed the
small release window that Egyptian films got last summer. The film
still doesn't have a preview trailer.
The story
revolves around a seasoned forger (Saleh), who finally gets sent to jail after
years of evading the authorities. El Sakka attempts to fill the void in the
market and to establish credibility by assuming the identity of Saleh's
son.
Mohtaram Ela Robaa (Respectable Minus a Quarter)

Starring: Mohammed Ragab

Director: Mohamed Hamdy
This season's
obligatory dosage of Sobky Production crass comes from up-and-comer Mohammed
Ragab. In typical Sobky fashion, the plot makes little to no sense at all,
acting as a sorry excuse for countless scenes of bedroom antics and pot
smoking, all of which are forgivable slips; seeing as how the main character
ends up defending national pride in the face of evil (shorthand for Israel).
Forget
about the story, all you need to do is watch the film's trailer and revel in
the odd combination of cleavage close-ups intertwined with patriotic speeches.
If this dichotomy floats your boat; then Mohtaram
Ela Robaa is your season's must-see.