Ramadan Preview: Ayza Atgawez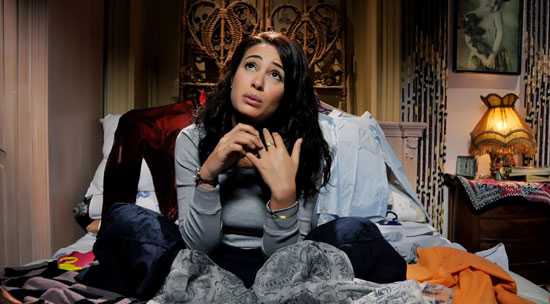 If the powers that be can put together a film based on the drunk-texts
of popular blog Texts from Last Night; then
anything is possible. Not that Ghada Abdel Al's blog-turned-best-selling novel Ayza Atgawez (I Want To Get Married) offers such bemusing
bathroom reading tropes as TFLN; but both of these blogs got one thing right: they
have their finger on the pulse.
Based on a concept so relevant that you may want to slap yourself for
not having thought of it first, Ayza Atgawez chronicles
the ever-unfolding quest of an average Egyptian woman shuffling through
different suitors; resulting in very real and very relatable comedy. Abdel Al
started out by documenting her real-life struggle on her blog, but little by little she exaggerated
the tales for the sake of keeping it interesting; the results are exceedingly
hilarious episodes of living-room conundrums. Abdel Al's blog was picked up by
Dar El Shorouk in 2008 and published as a novel, which is now a bestseller and
in its second-edition print.
Actress Hend Sabry was a fan of the blog and approached Dar El Shorouk
with the idea of turning the bestseller into a TV show, an offer to which they
immediately agreed. And even though the deal was finalised just eight month
before Ramadan, the production team quickly set into action casting and
prepping for the show.
Sabry plays the role of Ola, a 29-year-old pharmacist who's intelligent,
witty and well-educated. Her only shortcoming seems to be her inability to find
a husband and settle down. The fact that she's nearing what society regards a
spinster age only throws Ola and her conservative, middle-class family into a
constant state of panic. Ola reluctantly meets with suitors that have been
recommended by her rather dubious aunt; and much hilarity ensues.
Seasoned comedy director Ramy Adel Emam was signed to direct the series, and taking a
cue from Juno screenwriter Diablo
Cody, Abdel Al adapted the novel for the series' script. If the series is
anything as close to as funny as the novel; then this series will be a sure-fire
comedic hit.
Production
wrapped only a few weeks before Ramadan, and a recently released promo has
given us a taste of the different guest stars, the book's distinctively sharp
and witty dialogue, and the countless red teddy bears given to Sabry as a token
of her potential partners' love.
Emam's track record as a comedy director isn't the best indicator of
quality, but there is no doubt that Ayza
Atgawez will be one of the most promising shows to air during Ramadan. Produced
by Al Shorouk Production Company and T-Vision, the series boasts a strong cast,
including Sawsan Badr, Mahmoud El Guindy, Ahmed Sakka, Edward and Ahmed Fouad
Selim. Newcomers Tarek El Ibiary and Caroline Khalil also star.
Judging by the preview promo, we're excited about Ahmed Sakka's turn as
the police officer, though we're rather apprehensive about Sabry's comedic
overacting. Comedic timing is one thing; brash slapstick is a whole other.
Save for some abysmal stereotypes and an episode featuring the always
tanned Tamer Hagras, this looks like an interesting and satirical take on a
social problem that still plagues modern Egypt today.
The show will
be aired on at least nine different TV channels, including MBC, Orbit Series, Abu Dhabi , Dream 2 and
Nile Comedy.