360 Essentials: Five Great Workout Podcasts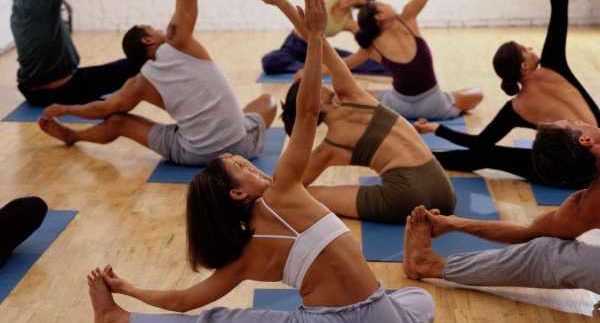 For some, the mere thought of working out in a crowded Cairo gym or getting stuck in the front row
of an aerobics class is enough to induce an anxious sweat. Luckily, a number of
fitness-related podcasts make working out in the privacy of our own homes
easier than ever before.
Cairo 360 has compiled a list of our favourite fitness
podcasts; so you can work out in your home on your own time for absolutely free. Visit the iTunes store online to download one
episode or subscribe to a whole series of the audio or video podcasts.
Motion Traxx: Fuel for
Fitness
Perfect for avid runners and cyclists as well as a great accompaniment
to an aerobic program, Motion Traxx
is a collection of upbeat songs and motivational beats to keep you on pace for
your workout. There is a wide range of sessions that vary in length
from just under half an hour to an hour-long. Each session's soundtrack is a
little different: some feature only high-energy beats while others provide gentle
encouragement and visualisations.
You can choose your desired beats-per-minute to set the pace of your run
or spinning session, with segments such as '128 BPM Disco Stroll' or '175 BPM
High Voltage', or you can opt for interval workouts, where a bell signals the
change of the pace such as a 150-170 BPM session known as 'The Climb.' Deekron the Fitness DJ spins everything from
pop and dance to Latin and tribal beats to keep you motivated through your
individualised, high-intensity workouts. Try a different one every time to keep your workout exciting and new!
Get-Fit Guy's Quick and Dirty
Tips to Slim Down and Shape Up
Get-Fit Guy's Quick and Dirty
Tips to Slim Down and Shape Up offers some great tips to those curious about
starting a new fitness routine. The short podcasts are barely eight-minutes
long, so Get-Fit Guy doesn't coach
you through any workouts, but he does give you some great advice before you
head out on your own. A number of nutritional and fitness topics are covered in
these brief episodes, including a guide to water exercise or improving
abdominal definition. Each guide gives a
few tips for people struggling with injuries or obesity to help you get back on
track.
Yoga Classes – Baptiste Power
Vinyasa narrated by Philip Urso
One of our favourite yoga podcasts follows the yoga method of Baron
Baptiste, one of the most renowned and popular yoga instructors in the USA. With twleve years' experience in teaching yoga, Baptiste has developed a
unique brand of power yoga that burns fat while building physical and mental
strength. Philip Urso is a certified
instructor of the Baptiste-style of yoga, and narrates 90-minute-long practice
sessions. What we love most about this podcast is that the recordings are of
actual classes, so it is as close to a Baptiste yoga class as you can get without
actually stepping into a yoga studio.
Although Baptiste yoga is safe and beneficial for all levels of yogic
ability, this podcast implies knowledge of the poses, so if you're not familiar
with yoga, you'll want to do some research or take a few real classes
first. Also, Baptiste power yoga is
practiced in the heat; so make sure to start with some extra layers of clothing
and you'll work up a good sweat to burn fat!
20 Minute Yoga Sessions from
Yogadownload.com
If you love yoga but are short on time or new to the game, then 20 Minute Yoga Sessions is the podcast
for you. Soothing music opens these
short exercises, which are easy to follow thanks to downloadable guides
depicting the poses for each session. Some of the sessions even come with a
video option; so you can follow along if you get a little lost!
To date, there are over 100 sessions of this podcast and a range of yoga
styles from gentle hatha flow to power vinyasa. Lunar flow sessions are great
for evening exercise, helping you gently distress after a long day. Classes help
target specific needs for your workout, such as prenatal yoga, yoga for
runners, hip-openers and chakra balance.
Turbulence Training
This weight-training podcast is all about building muscle while burning
fat. Narrated by Craig Ballantyne, this
weekly podcast offers tips for all fitness levels while targeting different
areas of the body. Much like the Fit-Guy podcasts, an outline is given
for how you should tackle your next session with your weight equipment. However, Turbulence Training is more focused in style, featuring tips on mostly non-cardio
exercise and nutritional research discussions. Each episode ranges from about
fifteen minutes to a half hour with topics such as 'Abs Workout and Cheerios
Diet Research Review.' For anyone trying
to lose some weight and get buff, listening to the 'Meathead Fat Loss Workout'
is a good inspirational starting point.