Allegria Golf Club: Cairo's Green Coming Soon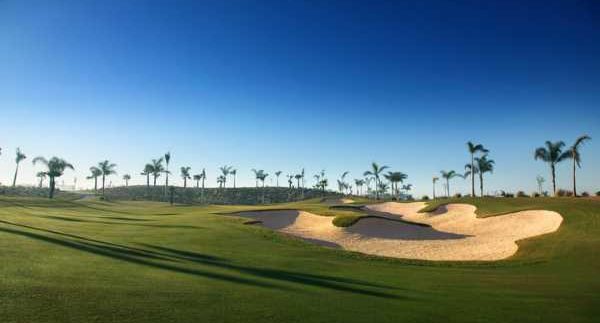 Golf is one of those sports
that requires an immense amount of patience, concentration, introversion
and
most of all, discipline. A perfect swing is noiseless, cutting through
the air
effortlessly, connecting with the ball with a simple 'cluck'. The ball
sails
off into the distance, and the golfer is no more than an instrument;
like the
golf club in his hands.
If a perfect golf swing is
poetry in motion, then shouldn't it have a golf course to match?
Greg Norman is a golfing legend;
he was the Tiger Woods of his generation. After retiring, he took to
designing
golf courses– no easy feat, mind you– and we are fortunate enough to
have one
of these courses on Egyptian soil; albeit in the desert sands abutting
the Cairo-Alexandria Desert Road.
The course that he's designed has a sage-like quality: not terribly
difficult, but
challenging enough to get you thinking. The course teaches you the
unspoken
lessons of the sport, all the while providing beautiful vistas of nature
and
the wide blue unpolluted skies outside of Cairo.
Seasoned golfers enjoy the course as much as neophytes and this course
wants
you to come back. And so do the staff.
The
course is managed by Troon Golf, and they bring a wealth of
international
experience to bear. The course is maintained almost obsessively, while the
caddies and instructors on hand are always ready with a quick smile and a
helpful hand. And on hot days (of which, of course, there are quite a
few) they
appear with a silver tray offering ice cold refreshing towelettes after
every
few holes.
It's the details that
elevate the experience: monogrammed ball chips, sharpened pencils and
fresh
scorecard in each golf cart, also equipped with a cooler, full of ice-cold
complimentary water bottles. It is often said that golf is a rich man's
game,
and the golfing experience at Allegria will do nothing to debunk that
impression.
So how do you get a round
in? What are the green fees? Is there a driving range? How much does it
cost to
rent the clubs etc? All excellent questions, and sadly, most of them
have no
answer. The reason there are no prices is because they have not yet been
set.
The course is currently open for trial, meaning it's available on an invitational basis until September 1st; you'll have to wait to hear the green fee prices and membership fees, which are set to be announced in August. Allegria
expects to
hold its grand opening in Fall 2010, by when it will have completed its practice range as well as the Allegria academy building.
Stay tuned to Cairo 360 to keep
up with
the latest news.