Baby Yoga: Mother-Baby Bonding at FLOW Wellness Centers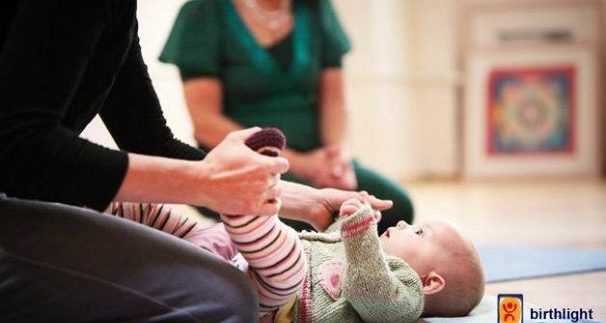 The benefits of yoga cover a range of physical, emotional and wellness issues in adults – but what it could do for babies? Most mothers strive to foster a happy, healthy home, however finding the right balance can be a little tricky.
For all mothers and mothers-to-be, the new Mother and Children Movement and Wellness Center, FLOW, has just opened up in Heliopolis, welcoming all women to a soothing and comfortable environment. Founded by three successful young mothers, Jamie El Helw, Mariam Kamel, and Rania El Masry, these inspiring women are all certified as Infant Massage Instructor's and Mom-Baby Yoga teachers, and have set out to create a relaxed space for mothers and children to engage in balanced activities.
Baby Yoga affords mothers and babies an hour each day in a carefree environment, allowing the time to bond, interact and relax.
Guided by certified instructors, Baby Yoga encourages mothers to understand the importance of spending time with their own bundles of joy, by practicing a positive form of activity together, helping to develop a connection with their child, along with encouraging their wellbeing. Mothers get to support and massage their babies as they perform basic yoga movements that enhance their physical, rational and emotional development. With that said, baby yoga becomes a beneficial aspect to both mothers and their toddlers, by increasing their strength, flexibility and coordination, as well as stimulating their sleeping patterns, boosting their immune system and take the edge off of common physical ailments.
Offering several different classes, including baby massage & yoga, family classes and women's yoga sessions, sessions are held from Sundays to Thursdays between 8AM until 2PM at FLOW in Heliopolis, as well as other classes at the Nun Center in Zamalek and Kattemeya Heights Compound.
With baby massage & yoga, the classes vary with age. 'Infant Massage' classes are designed for mothers with babies from 4 weeks to 6 months old; mothers gently massage their babies and move them harmoniously as they hold them, as well as practice post-birth recovery techniques and relaxation methods. The class aims to promote positive, quality time spent between mothers and their babies.
Offering two stages of baby yoga, 'Baby Yoga 1′ is designed for ages 3-12 months old, where babies are exposed to basic yoga stretches and movements on their stomach's, backs and in their mothers arms, joined with rhythmic songs for a more enjoyable and interactive experience. In 'Baby Yoga 2', the little ones are between 12 and 18 months and are able to move around unaided. These classes combine a more active playtime, balancing physical contact with their mothers and free movement, ending the class with mother-baby relaxation time.
For ages 18months to 4 years old, the center offers 'Toddler Yoga', promoting a more advanced exercise program called 'SMART', where mothers and children engage in stretching, moving, and relaxing together, in more energetic ways that stimulate the child's self-awareness, contributing to their language and listening skills.
At family yoga, FLOW offers a variety of creative classes including 'FitTods' for ages 3-5 years, 'Music & Moves' for 6 months to 3 years old, 'ART' for 18 months to 4 years old, and 'Story Time' where all ages are welcomed. The classes tend to explore new activities that encourage the children's sense of imagination and self-expression.
Because FLOW also supports women wanting to get in shape, as well as to improve the quality of their health, the center offers 'Women's Yoga' consisting of three different classes, varying in the participant's goals. 'Prenatal Yoga' helps pregnant women stay in shape and strengthen their muscles in preparation for delivery. The second class, 'Postnatal Yoga', focuses on recovery for new mothers by strengthening their abdominal, pelvic and back muscles, while relieving tension in their necks, shoulders and upper backs. Lastly, 'Power Yoga' is for women to enjoy basic yoga postures, renewing their energy in a relaxed and undisturbed environment.
With yoga being a popular practice to create harmony between mind and body, credit is due to FLOW for applying this philosophy and offering a positive form of exercise for both mothers and their children. While at times all mothers do need their own personal space, most will agree that spending an hour of quality time with their children creates the bond of a lifetime.
To find out more about FLOW and their yoga programs, click here.