Cairo Guide to the Best Swimming Pools in Town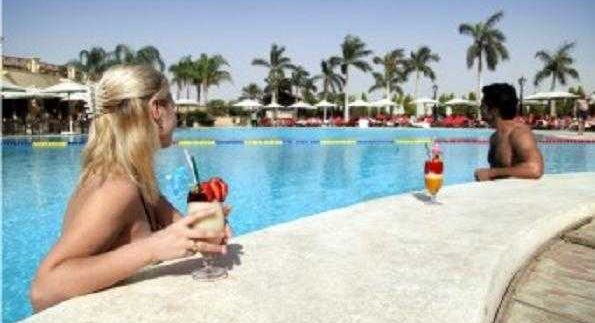 With Cairo weather reaching scorching high degrees and
humidity completely massacring our hair, our only source of comfort is to run
for shelter in the closest swimming pool. Following weeks of laborious work and
research (sigh), Cairo 360 has found you the best pools in Cairo,
with prices, details et al.
Fifth
Settlement/Heliopolis:
JW Marriott:
The only hotel pool in Cairo to have man-made waves and a beach, the JW
Marriott certainly promises an entertaining afternoon by the pool. And so it
should be, considering that you have to rent a room (700LE) or a cabana (950LE)
to access the pool from 11AM to 7PM. Poolside food is expensive; be prepared to
pay up to 200LE for a few sandwiches and drinks. Tip to the wise: a room
can be split among four people, which makes the fee per person actually quite
reasonable for such a five-star hotel.
Maadi:
Nile Country Club: Probably the most
affordable pool in Cairo, the Nile Country Club's pool is adequate for just
40LE for a day-use. You can also rent a cabin for the day at 250LE, which can
fit up to six people (their words, not ours) and can provide some shaded shelter. The pool is adequately sized, though you'd better go as early as
possible, as it tends to be packed after 11AM on weekends. Be warned that when
it gets crowded, you may find women swimming in shari'a swimsuits. If that
makes you uncomfortable, it's best to hit this pool mid-week or on a sublimely
early morning.
Katameya:
Katameya Heights Country
Club: This country club's
pool is a popular destination for Maadi and Katameya residents. The large pool is kid-friendly with a
lifeguard always on standby, and there's a nice bar at the deeper end of the
pool, where you can order a drink from the nearby Breeze.
During weekdays, entrance to the country will cost 80LE, plus another 60LE for
the pool. On weekends, the price increases to 150LE for entrance plus another 60LE for the pool.
Day use includes access to the changing rooms and spa, which has three
different Jacuzzis, a sauna and steam room. The major downside is that the club is
restricted to members only and their guests; but if your member friend has
coupons, you can use them to enter the club free of charge and then only pay
for the pool.
Zamalek:
Zamalek Residence
Hotel:
This hotel was formerly known as Safir before it underwent a major renovation and
is now part of the Hilton franchise. The kidney-shaped pool is not large enough
for swimming laps, but with a Nile view and a moderate rate of 150LE for
day-use from 9AM till sunset, it's an affordable option to chill poolside.
Warning: due to the hotel's design, the building's shade falls onto the pool after
2PM; so you'll be swimming in the shade and missing out on the scorching sun. The
neighbouring Nile Breeze Caf é has an annoying 100LE-minimum, even if you just
want to grab a drink.
Cairo Marriott Hotel
& Omar Khayyam Casino: Using this pool for the day will set you back 310LE, and
nothing is included. You can't access a room to change in, you can't use their
spa or their gym, and they'll be very keen to remind you of that if you so much
as go near the facilities. The Marriott pool is almost always full of people,
especially on weekends. So even though its 25m-length makes it perfect for
swimming laps; good luck trying to when you have to navigate through the
crowds. A three-tiered terrace area around the pool gives everyone a prime view
of the pool, though the waiters will barely notice you if you sit too far up.
Gezirah Sporting Club:
Zamalek's biggest park and only sports club, the Gezirah Sporting Club has two swimming
pools: an eight-lane, Olympic-sized pool and the affectionately named lido,
which is only 25m-long with around six lanes. Although the Olympic pool is best
for laps, kids' practice takes over every day at five, while the lido stays
open well into the night. A popular hangout on weekends for the young and beautiful,
the lido also has two Jacuzzi-like pools, and you can go for a swim as late as 10PM. Access for guests costs
30LE for Egyptians and 100LE for foreigners. You'll need a member to accompany
you in, and it's often difficult to get into the club on weekends;, when it's seriously
crowded.
Mohandiseen:
Nabila Hotel Pool: Situated in the heart of Mohandiseen,
Nabila Hotel's pool has the cheapest day-use deal at only 40LE. However, use of
the pool is only permitted between 10AM and 5PM, which hampers any plans for
late-evening chilling. The pool is small; it's not great for
swimming laps but perfect for relaxation, especially since the pool area is
quiet and lacks the loud music often associated with other hotel pools.
Giza:
Mohamed Ali Club: Located on the Giza Nile Banks across from Maadi in a quiet and secluded area,
this club is full of greenery, chaise longues and an infinity pool where you
can swim a few laps, or you can lounge in the Jacuzzi at the north edge of the
pool. A day use of the pool costs 100LE and includes a big fluffy towel, but
you'll have to pay extra for food. This is a great place for a pool party or an
all-day adventure.
Heliopolis:
Intercontinental
Citystars: One of the most expensive day-use options in Cairo, the InterContinental's
large swimming pool wraps around a Las-Vegas-like pyramid, with a kids' area and
a depth of up to 8-feet. It's difficult to swim laps here; so just enjoy the
cool water and the excellent poolside service. To access the pool, you have to rent a single room for 830LE or a double
for 950LE, which allows you use of the pool and the room from 10AM to 8PM. The
deal includes 150LE per person for food and drink, as well as free use of the
gym and the hydro-pool; supposedly the largest hot tub in Cairo.
Corniche El Nil:
Fairmont Nile City: Located on the 25th floor of the luxurious hotel, the negative-edged
Fairmont pool is big enough for some healthy laps-swimming, while a smaller
pool nearby makes for excellent lounging and paddling. 600LE will
give you access to the pool and a single room to change and leave your stuff in.
The room's bathroom is decked out with Miller Harris products and super fluffy
towels.
Garden City:
Grand Hyatt Hotel: With arguably the best Nile view smack
dab on the Garden city Corniche, the Hyatt's rectangular-sized pool is
22meters-long, so great for swimming laps, while the chaise longues around the
pool provide some luxurious tanning with a view. For such an upscale hotel,
200LE per person seems like a good deal. The day use fee includes a
complimentary towel, but food and drinks are extra.
6th of October City:
Mövenpick Hotel Cairo Media City: Located in the far edge of the suburbs
and in the heart of Media City, the Mövenpick has two large swimming pools,
which wind elaborately around little islands with chaise longues. The pools are basically circular ponds; so it's very hard to
swim laps in them, and your safest bet is to paddle casually. The pools are shallow;
so kid-friendly, and for 129LE; you get to use the pool from 9AM to 7PM. A complimentary
towel is provided and you get your own locker in the Health Club nearby.